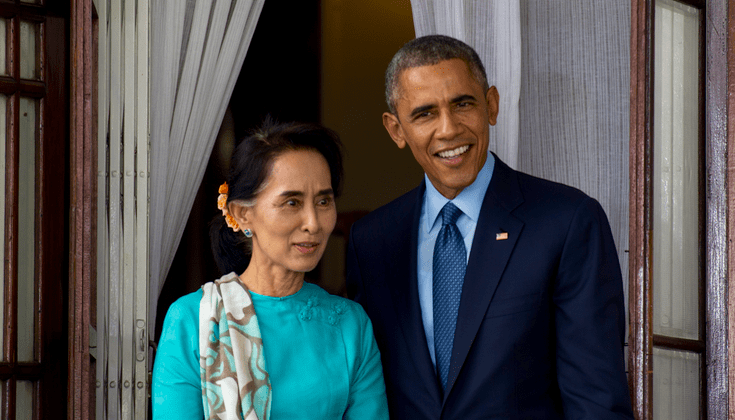 Aung San Suu Kyi meeting with President Obama in Myanmar in 2014. Photo by
William Ng
.
For the first time in her capacity as leader of Myanmar, Aung San Suu Kyi met with President Obama yesterday in Washington. Following the meeting, Obama announced that he was prepared to lift sanctions on Myanmar. Myanmar has had a "national emergency" designation from the White House for two decades, which prevented much investment in the country. Suu Kyi's landslide victory in Myanmar's elections last fall seems to have signaled to Obama that the country is entering a new period of democracy.
The move may draw ire from advocates of Myanmar's persecuted Muslim minority, many of whom have criticized Suu Kyi for largely ignoring violence against Burmese Muslims.
THANK YOU FOR READING LION'S ROAR. CAN WE ASK FOR YOUR HELP?
At Lion's Roar, our mission is to communicate Buddhist wisdom in today's world. The connections we share with you — our readers — are what drive us to fulfill this mission.

Today, we're asking you to make a further connection with Lion's Roar. Can you help us with a donation today?
As an independent nonprofit committed to sharing Buddhist wisdom in all its diversity and breadth, Lion's Roar depends on the support of readers like you. If you have felt the benefit of Buddhist practice and wisdom in your own life, please support our work so that many others can benefit, too.

Please donate today — your support makes all the difference.

Lion's Roar is a registered charity in the US and Canada. All US & Canadian donations are tax deductible to the full extent allowed by law.