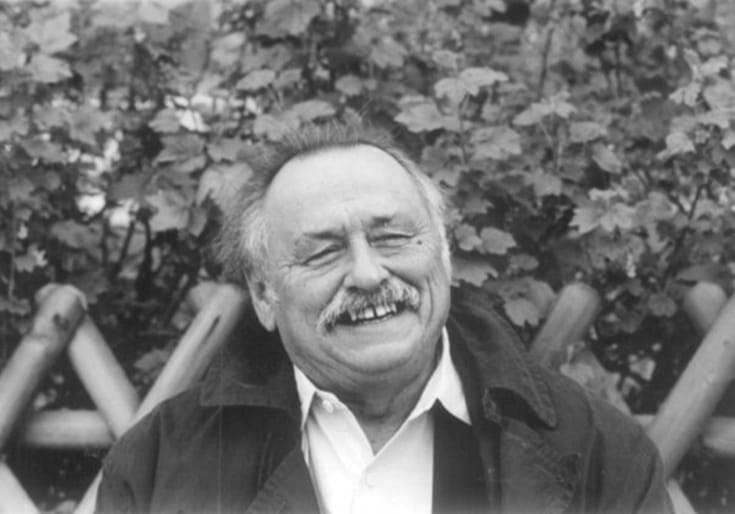 Photo via
Josh Burbank
on Facebook.
Jim Harrison, the celebrated author, poet, and practitioner of Zen Buddhism, died Saturday in his Arizona home at the age of 78, according to The New York Times.
Harrison wrote more than 30 books in his lifetime, his most famous work being the 1979 novella Legends of the Fall. His body of work includes poetry, fiction, food writings, and essays exploring topics surrounding nature and even his own practice. He lived most of his life in the countryside of Montana. He spent the winters of his final years in the Arizona desert. As a hunter, fisher and overall outdoorsman, Harrison has been admired for his ability to poetically describe man's relationship with the natural world.
In his essay Everyday Life, the Question of Zen, Harrison writes:
'Who dies?' is a koan I posed for myself several years ago. To know the self, of course, is hopefully to forget the self. The especially banal wine of illusion is to hold on tightly to all the resonances of what we see in the mirror, inside and out. In our practice the self is not pushed away, it drifts away. When you are a poet there is a residual fear that if you lose the self you will lose your art. Gradually, however, (for me it took 15 years!) you discover that what you thought was the self had little to do with your own true nature. Or your art, for that matter.
As Pico Iyer wrote in an exploration of Leonard Cohen for Lion's Roar, Harrison was known to draw upon his Zen practice in order to "express a wide-awake, embracing transcription of all that the natural world might offer us, in its mixed beauty and capriciousness."
Can you help us at a critical time?

COVID-19 has brought tremendous suffering, uncertainty, fear, and strain to the world.
Our sincere wish is that these Buddhist teachings, guided practices, and stories can be a balm in these difficult times. Over the past month, over 400,000 readers like you have visited our site, reading almost a million pages and streaming over 120,000 hours of video teachings. We want to provide even more Buddhist wisdom but our resources are strained. Can you help us?
No one is free from the pandemic's impact, including Lion's Roar. We rely significantly on advertising and newsstand sales to support our work — both of which have dropped precipitously this year. Can you lend your support to Lion's Roar at this critical time?