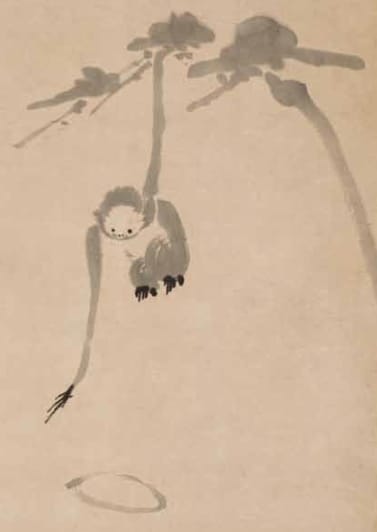 Hakuin Ekaku: Monkey Catching the Moon, Ink on Paper. From the Art Gallery of Greater Victoria collection.
Can animals meditation? Steve Silberman discusses the possibility, using sutra and science alike.
Images of animals gathering to listen to the Buddha's sermons are traditional in Southeast Asia, where a body of folklore called the Jataka Tales recounts Shakyamuni Buddha's pre-human incarnations. But do animals actually meditate? Many cat-owners – seeing their beloved felines at rest in a shaft of sunlight, with paws in full lotus and eyes half-lidded – would say yes. Yesterday on National Public Radio, Robert Krulwich of the supremely lively science show Radiolab interviewed a biologist who may have witnessed something like collective baboon samadhi.
Primatologist Barbara Smuts has spent 25 years in the jungles of Kenya and Tanzania, observing baboon behavior.  She has watched the animals fight, hunt, flirt, and mate, and gradually, they have come to accept her as one of their own. One day several years ago, however, Smuts saw a kind of behavior she'd never seen before. A troop of Gombe baboons were en route to the trees where they sleep when they passed a small stream. In a paper for the Journal of Consciousness Studies, Smuts described what happened next:
"Without any signal perceptible to me, each baboon sat at the edge of a pool on one of the many smooth rocks that lined the edges of the stream. They sat alone or in small clusters, completely quiet, gazing at the water. Even the perpetually noisy juveniles fell into silent contemplation. I joined them. Half an hour later, again with no perceptible signal, they resumed their journey in what felt like an almost sacramental procession. I was stunned by this mysterious expression of what I have come to think of as baboon sangha."
While no one knows what was really going on in the monkey-minds of the baboons that day (Krulwich's cohost Jad Abumrad sounds skeptical that anything special was happening at all), the experience left Smuts profoundly moved, convinced that observant humans can attain a shared state of understanding with animals that she calls "intersubjectivity." "I felt as if I got a glimpse into a part of baboon life that humans just don't get to see," Smuts tells Radiolab.
In Praise of Ch'an Master Wang
You who Cares for the Bonnet Monkeys around his Mountain Studio

From
Tree after tree
In the undisturbed courtyard
The fruit's dropped
On the frost.
They even love
Entering the thatched hall
To listen to Dharma. How is it
Other species know courtesy
And limits?
Coming in each time,
They sit opposite one another
On the meditation benches.

–Chi Yuan (late 10th century)