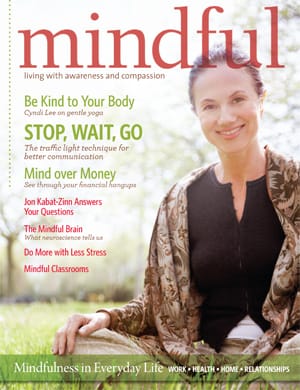 It's been a very exciting time around the Shambhala Sun offices. We've been preparing a special print publication called Mindful, with the tag-line "Living with Awareness and Compassion." Mindful will be a 40-page mini-magazine that will be inserted into the December-January issue of the Shambhala Sun. It will also be distributed across North America for free in health food stores, bookstores, health clinics and other places where those who seek mindfulness might congregate.
Mindful, which I've been asked to take charge of, will have short articles about mindfulness and other forms of awareness, body, and compassion practices, all written from an entirely secular viewpoint.
And a new website—Mindful.org—will launch in late November, just when the mini-mag will start reaching people. It will carry the latest information on bringing mindfulness, awareness, and compassion into your life, updated every day with fresh stories and news. Mindful.org will offer mindfulness-based approaches to all the important issues of life today, from health, emotional well-being, relationships, and family life, to work, creativity, activism, and the science that's proving the benefits. We think it's going to become the go-to destination for everything mindful. See you there!