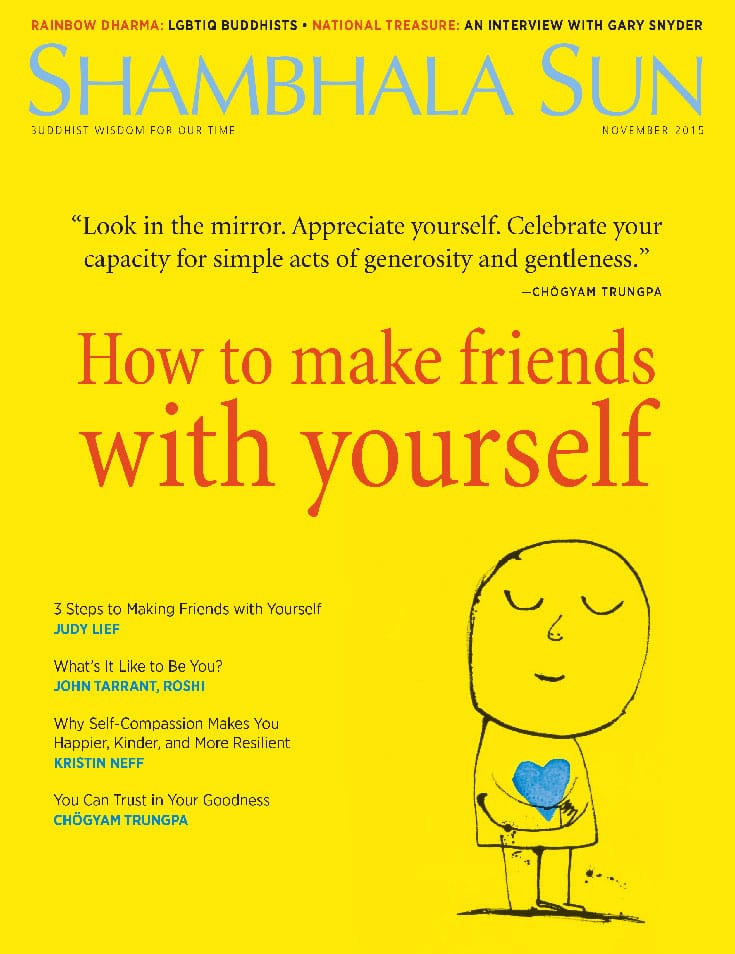 Cover illustration: "Love" by Serge Block / Marlena Agency.
I think the biggest problem in our lives today is how bad we feel about ourselves. The self-doubt, guilt, and self-criticism so many of us feel deep inside spoils our enjoyment of life, hurts our relationships, and makes us compensate in all kinds of damaging ways.
As self-compassion pioneer Kristin Neff says in this issue, letting go of our self-criticism and making friends with ourselves makes us happier, more resilient, and kinder.
Far from being selfish, this is the best thing we can do for those we care about. For how can we truly love others when we don't love ourselves? How can we recognize others' goodness when we can't feel our own? How can we make others happy when we are not happy ourselves?
There are so many forces in our society that conspire to make us feel bad about ourselves: original sin, parents who undermine their children's self-worth as their own was undermined, an economic system that motivates people using fear and aggression.
But this is not just an emotional or societal problem. It goes much deeper. Trying to be someone or something else is the root of samsara. Making friends with ourselves is the essence of the Buddhist path.
The great turning point in the Buddha's story was a simple act of self-compassion. After years of ascetic struggle to transcend who he was as a human being, he made friends with himself by accepting a healing gift of milk-rice. As he sat under the Bodhi tree, he dropped all his struggles to be someone else and realized that he was fine as he was. He was a buddha, in fact, and always had been. And so are we.
This is the deep truth of the dharma: that by making friends with who we are, we awaken to our true nature. But Buddhism is practical as well as profound, because we have to start where we are.
This issue features four teachings on making friends with ourselves that can transform our lives. They show us how to recognize and cultivate our own goodness, while facing our problems honestly. Together, they offer us a path to a happier life, healthier relationships, a better society, and maybe even a glimpse of enlightenment. Let's be our own best friends. It's the most important thing we'll ever do.