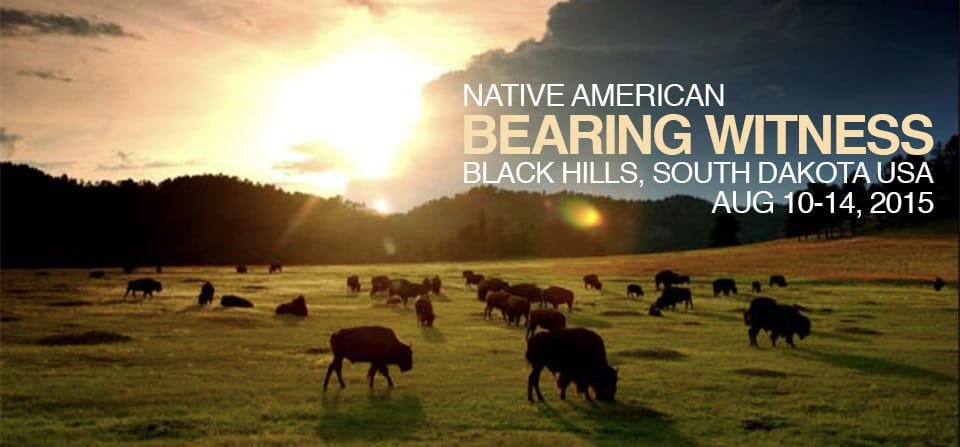 The Zen Peacemaker Order and the Lakota Elders are organizing a five-day retreat in the Black Hills of South Dakota, USA to bear witness to the genocide and suffering of Native Americans.
The Zen Peacemaker Order is known for organizing these Bearing Witness retreats, for example at Auschwitz-Birkenau and other "places where humanity's shadow appears."
"In this retreat we will bear witness to the genocide of the American Indians beginning in the 16th century, the injustice and abuse that continue to this day, and the thievery and exploitation of their land," say the organizers.
"Come and pray with us, for the Lakota, for ourselves, for us, and for this earth," invites a Lakota Elder and Bearing Witness Retreat Spirit Holder.
The multifaith and multinational retreat will include a visit to the Pine Ridge Reservation and will be governed by the tenets of the Zen Peacemaker Order and by the Seven Laws of the Lakota:
Wacante Oganake: Be generous
Wowaunsila: Have Compassion
Wowauonihan: Give Respect and Honor
Wowacintanka: Have Patience and Tolerance
Wowahwala: Be Humble
Woohitike: Be Guided By Your Principles, Disciplined, Brave and Courageous
Woksape: Cultivate Understanding and Wisdom
The Zen Peacemaker Order was co-founded in 1996 by Roshi Bernard (Bernie) Glassman and his late wife, Sensei Jishu Holmes. In November 2015, the ZPO will hold its 20th Bearing Witness retreat at Auschwitz-Birkenau and in May 2016 there will be a retreat in Bosnia-Herzegovina to bear witness to ethnic cleansing.
"When we bear witness, when we become the situation — homelessness, poverty, illness, violence, death — the right action arises by itself," says Bernie Glassman. "We don't have to worry about what to do. We don't have to figure out solutions ahead of time. Peacemaking is the functioning of bearing witness. Once we listen with our entire body and mind, loving action arises."
Register and learn more about the Bearing Witness Black Hills Retreat.