We wanted to make a statement with the first cover of Lion's Roar—not just about our new name but about Buddhism today. We wanted a cover that showed Buddhism in America's dynamism, diversity, and deep engagement in all of life's challenges.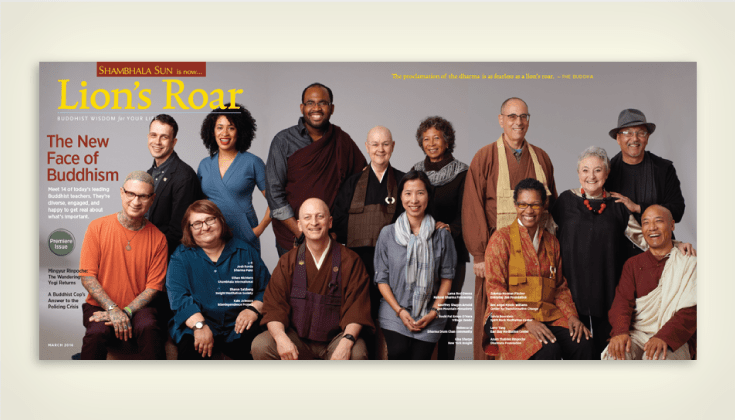 It took a lot of work—and luck—to pull off, but we're very proud of the issue's special foldout cover. The fourteen teachers on the cover represent a Buddhism that is engaging, vibrant, multigenerational, and more and more diverse. Today's Buddhism is joyfully bringing the best of American culture and thought to this profound ancient religion—and the best of Buddhism to America. Lion's Roar will reflect, support, and celebrate it.
It took at lot of magic for this complex cover to come together as fast as it did. We wanted to include old friends and new, representing different traditions and communities, all excellent teachers and practitioners. We planned to shoot one panel in the Bay Area and two in New York, and had a tight window to make it happen. To our amazement, everyone we asked was willing—and actually available on the same days!
Shooting group portraits like this requires a highly skilled photographer, lots of equipment, assistants, and a good location. The whole professional setup that big magazines do all the time but that we never really have. Our first choice was Christine Alicino, a longtime friend, Buddhist, and top photographer who most recently shot our Pema Chödrön/kd lang cover. We were so pleased that Christine was available for both shoots. You can see the result on the cover, but not necessarily the hard work and talent that went into it. It takes a lot of effort to make something look effortless.
Liza Matthews, Lion's Roar's art director, and I flew to Berkeley and New York for the shoots—Liza to art direct and me primarily to serve lunch. It's amazing how much space one needs to shoot a group portrait like this, and we were very grateful to the Berkeley Shambhala Center and New York Insight Meditation Center for offering us their meditation halls for the day. They were great hosts.
Of course, we're most grateful to the fourteen teachers who grace our cover. They each gave us most of a day out of their busy schedules and were willing to be photographed for an hour and a half per group, which isn't easy work. Again, looking natural doesn't necessarily come naturally.
One of the key roles that Lion's Roar performs is to bring together Buddhists of different traditions. Some of the teachers on this cover were old friends, some were meeting for the first time. Over lunch and during the shoot, I think everyone had a great time. It was a teaching on the spot about the cheerfulness, conviviality, and patience that marks people who've done years of Buddhist practice.
I'm so glad to have been there and participated in the creation of this special cover. I think it says something important about Buddhism's present and future in America, and Lion's Roar's mission to support it.