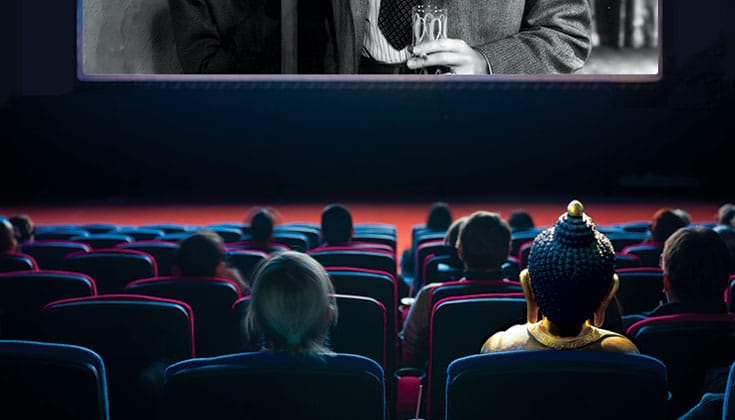 Photo (c) Alexander Podshivalov / dreamstime.com.
In our May 2016 magazine, 10 figures familiar to movie buffs and Buddhist alike — including Krista Tippett, Jeff Bridges, Peter Coyote, Naima Mora, and more — nominated their favorite Buddhist-themed films, from Groundhog Day to Kung Fu Panda. Here, renowned feminist theorist, author, and cultural critic bell hooks writes about her pick.
A Zen Life: D.T. Suzuki
Directed by Michael Goldberg (2006)
Meeting many years ago with Gary Snyder, coupled with my passionate interest in the Beat poets, led me to Zen Buddhism. Indeed, it was at a May celebration at Snyder's home where I first encountered Buddhist nuns. Up until that point I knew little about women in the spread of Zen Buddhism.
My interest in Snyder's poetry and his critical thinking on culture and politics coincided with a desire to learn more about Zen Buddhism. Eager to "study" Zen, I began by reading the works of Daisetz Teitaro Suzuki. This generous bringer of Zen to the West also brought Zen to me—as both a way to learn and a way to practice.
No wonder that more than thirty years later, when I heard that there was a documentary featuring the life and work of D.T. Suzuki, I immediately placed my order for the film, eagerly awaiting this opportunity to actually "see" images of this teacher whose lifelong passion was to bring awareness and understanding of Zen to the West.
The film begins with a historical overview so that viewers can understand the cultural backdrop—imperialist wars, Japanese resistance to colonization, and family history—to Suzuki's development. Recently watching the film again, I thought about the resurgence of racial conflict and hatred in this society. I was fascinated by a black-and-white image of a white woman standing in front of a house with a large sign declaring JAPS KEEP MOVING: THIS IS A WHITE MAN'S NEIGHBORHOOD. Given the current public celebration of Buddhist Asian teachers (Thich Nhat Hanh, the Dalai Lama, and so many more) it is easy to forget the fierce anti-Asian, anti-Japanese climate that was for so long a crucial aspect of U.S. ethnic politics and racial relationships.
Then viewers shift from the external chaos to see and sit with the quietly calm D.T. Suzuki. He is impressively the same in whatever culture he is teaching and learning. Always assuming a humble demeanor, he jokes, he laughs, he affirms the joy of community.
An aura of gentleness and tenderness surrounds Suzuki. That tender heart is revealed in his thoughtful consideration of the eighteen-year-old girl Mihoko Okamura who comes to him seeking spiritual sanctuary, a way to see life as meaningful. Throughout the film, we witness the role women play in his life, almost always in the background yet always working to help create a sustainable environment for Suzuki to live and work. It is impossible to watch this film and not want to know more about Mihoko Okamura. Though she is interviewed, she is never asked about her intentions, her motivations, and her lifelong service to Suzuki, and he is never asked about the significance to him of her service.
A Zen Life is on many levels a testament to contemplative life lived with devotion as its heartbeat. In the film, Gary Snyder comments, "To be devotional is to take great faith in life as it is." D.T. Suzuki declares, "Real freedom is to see things as they are."