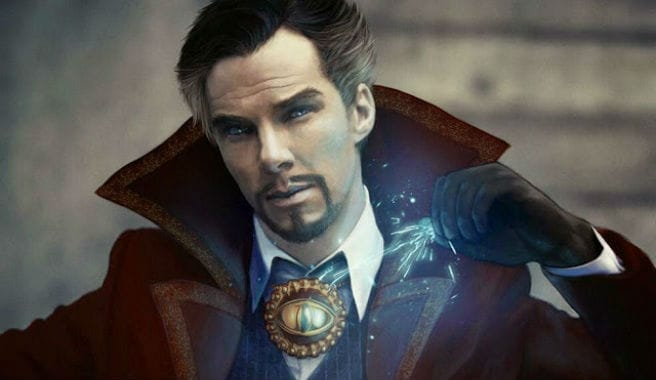 A mocked-up image of Cumberbatch as Strange has been circulating since the announcement of his hiring for the role.
As a comic-book nut with a bit of a spiritual bent, I was intrigued when, last year, Marvel announced plans to release a film featuring Doctor Strange, the comics company's famed "master of the mystic arts." But who would play the very-strange-indeed "Doctor"? A follow-up announcement told us it would be none other than Benedict Cumberbatch, star of Sherlock — and, seemingly, the entire Internet these days.
It's inspired casting, not least of all because Cumberbatch has an affinity for the material. He's spent time with Buddhist monks in India, teaching them English, and a couple years back shot a special Sherlock webisode that took place inside a monastery. He touches on said affinity in a new interview with the Wall Street Journal:
"I meditate a lot. That's a huge tool in trying to calm myself, get away from the crazy circus of it all, have a focused mind as well as be a kinder, considerate person in the world. I took a lot of stuff away from my experience in Darjeeling, West Bengal, right at the Nepali border. It was Tibetan Buddhist monks in a converted Nepali house in India, with a view of Bhutan. It was a profoundly formative experience at a very young age. It's something I've tried to keep in my life. It features already."
As for the character of Doctor Strange, while Cumberbatch was a comics fan as a kid, he's never read him — until now. "We didn't have Marvel [comics] so much," he said about his childhood. "But you can bet your bottom dollar I'm reading them now, avidly."
Read more here.