Here is Part Two of Buddhadharma's selection of the Best Buddhist Books of the year so far. These are books that will expand and deepen your understanding of Buddhism to help you navigate the waters of samsara.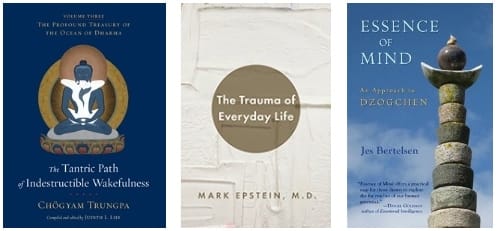 The Profound Treasury
Chögyam Trungpam, Shambhala Publications
Many of us will be delighted to sink deep this summer into the three volumes of Chögyam Trungpa's teachings. Made available publicly for the first time, these are edited transcripts of teachings that Trungpa Rinpoche delivered to his students during seminars over the course of several years. With his elegant and inventive language, Trungpa Rinpoche coined phrases and introduced concepts — like "spiritual materialism" and "idiot compassion" — that have become hallmarks for conveying the Buddhadharma in English. Volume one covers the Hinayana, volume two the Mahayana, and volume three the Vajrayana. In sum, these three volumes give us a holistic view of the entire Buddhist path of transformation as presented by Trungpa Rinpoche, and cherished by many.
The Trauma of Everyday Life
Mark Epstein, The Penguin Press
Though you might not reach for a book about trauma to head to the beach, this book could be an exception. Taking as a premise that trauma happens to everyone, Epstein begins by analyzing the life of the Buddha, suggesting that the death of his mother during his birth later spurred his spiritual path. Without oversimplifying or getting caught in the rut of psychological jargon, the book is sprinkled with stories from the life and discourses of the Buddha, Western therapeutic theories, and cases from anonymous patients that give practical explanation of fundamental Buddhist ideas, as well as commentary on the psychology of Western culture.
The Essence of Mind
Jes Bertelsen, North Atlantic
This book presents itself as not being about self-development or psychotherapy, but rather about "the dimension of spirituality itself." In its own language, without Buddhist terms that many readers will be familiar with but with the occasional mention of Christ or Jung, a training system of wordless prayer and meditation is presented as being derived from the Dzogchen tradition. Though the author makes comments on such topics as the need for a spiritual teacher and the necessary preconditions for embarking on the path of spirituality, much of the content is concerned with describing the ebbs and flows of consciousness. The last part of the book gives us a lucid read on how dream and sleep can become integral to meditation practice.
Read our Book Review Editor's Best Buddhist Books for Summer 2013, Part One.