Lilly Koppel on the Buddhist backstory of her best-selling book, the Red Leather Diary.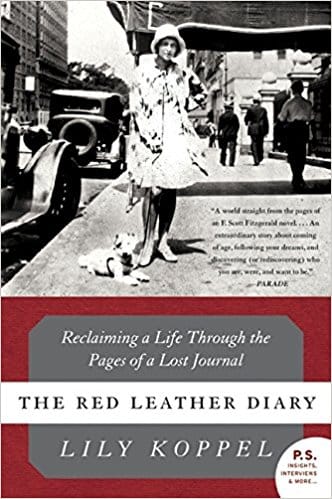 When I opened the red leather diary, I had no idea of the world that was about to unfold before me and change the course of my life and that of ninety-year-old Florence Wolfson Howitt.
I left my New York apartment one morning in 2003 and encountered a Dumpster full of old steamer trunks that had belonged to various tenants who had lived in my building. Among other artifacts—flapper dresses and old photographs—I recovered the diary, discarded after years in my building's storage unit. Its pages revealed the adventures of a young woman growing up in Manhattan in the 1930s. What I couldn't know until later was that reading the diary would provide me with insights into my own life and Buddhist practice.
Back in my room, I released the brass latch. Despite the rusted keyhole, the diary was unlocked. Little pieces of red leather sprinkled onto my white comforter. From 1929 to 1934, not a single day had been skipped. The journal painted a vivid picture of 1930s New York—horseback riding in Central Park, summer excursions to the Catskills, and an obsession with a famous avant-garde actress, Eva Le Gallienne. Its nearly 2,000 entries, written in ink that was now faded, captured the passions and ambitions of an intensely creative young woman. Brief, breathless dispatches filled every page of the five-year chronicle.
"Milestones Five Year Diary" was in gold letters across the book's worn cover. Inside, a blue vine grew around the frontispiece, stamped with a zodiac wheel: "This book belongs to… Florence Wolfson." The diary seemed to respond to being back in warm hands, its pages coming unstuck and fanning out. I flipped through the entries, dense with girlish cursive. I could tell the journal had been cherished. I read the date when Florence began writing: August 11, 1929, the day she received the diary as a gift for her fourteenth birthday.
As I slipped under the blankets, trying to imagine what Florence had looked like, a brittle clipping fell from between two stuck pages. It came from the Forward, a Yiddish newspaper, and showed Florence's picture from when, at fifteen, she had won the New York State Regents scholarship. Except for her marcelled blond hair, she appeared completely contemporary, as if she were a young woman of today. Her eyes were sensual and intelligent. I could see myself in her face; we were both writers and painters. Florence seemed so alive—intensely introspective yet fully engaged with the world around her.
I couldn't help but read her entries as if they were personal letters to me. Florence and I shared a longing for love and desire to carve out our own paths. Her entries confessing loneliness spoke to my insecurities about being single and alone in New York. We both felt the need to create lasting beauty out of our daily experience. As I read her diary, I was drawn into Florence's day-to-day existence—her trips to the theater and escapes to the Museum of Modern Art, which had opened in 1929.
Florence's writing possessed the literary equivalent of perfect pitch. Her handwriting looped and soared dreamily across the page in blue and black ink, as in this entry from when she was fifteen: "Stuffed myself with Mozart and Beethoven—I feel like a ripe apricot—I'm dizzy with the exotic." She was a theater nut and wrote on another occasion: "To a dance recital of Star-Ron, a Hindu of such exquisite beauty and grace as to seem almost as planned as his dances—what a body! As slender as a woman's and exceedingly chaste, I am certain."
The Metropolitan Museum of Art, free and almost deserted during the week, was a temple that she wandered in, solitary and content, for hours. Like a disciple, Florence stood before contemplative stone Buddhas and felt herself magically transported to the Orient. Blissfully wandering on, she was reminded of the words, "Life is but a dream," from the children's song. She writes, "Spent all afternoon in the museum and saw the Chinese snuff bottles of jade & onyx and carnelian—oh, to touch them!" On another occasion, "Am on the lookout for a really satis ed per- son—and so far I've discovered that happiness is an alien bless- ing to those who are true to themselves."
The diary was a portal into this lost world. I felt as if I was one with this young woman from the thirties. My lavender bed room filled with an orange glow from the streetlamp outside my second-story windows as I continued to read. February 6, 1934: "Hours repairing torn music books and they look perfectly hideous with adhesive plastered all over them—But what beauty within! My love is so sporadic."
Although written at a time when sex was a subject discussed discreetly, the diary was studded with intimate details of relationships with both men and women. April 11, 1932: "Slept with Pearl tonight—it was beautiful—there is nothing so gratifying as physical intimacy with one you like." April 19, 1933: "Dear God, I'm sick of this mess! What am I—man or woman? Both? Is it possible—it's all become so hard, so loathsome—the forced decision—the pain."
What she craved most was to be enveloped in a grand passion that would transform her life. July 3, 1932: "Five hours of tennis and glorious happiness—all I want is someone to love—I feel incomplete."
Compelled by the hopes and heartaches, I set out to find Florence, my only clue her name and address on the Forward clipping. Staring out of the sepia newsprint, her luminous eyes would not let me go.
Three years later, a private investigator—responding to a story I had written about Manhattan's last typewriter repairman— phoned me while I was at work at the New York Times. I told him about my hunt for Florence and he offered to search the city's birth records, where he discovered one Florence Wolfson, born in New York City on August 11, 1915, to a pair of Jewish immigrants from Russia, a doctor and his wife. The investigator led me to Florence Howitt, a ninety-year-old woman living with her ninety-five-year-old husband, a retired oral surgeon named Nathan Howitt. Florence and Nathan had been married for sixty-seven years and had homes in Westport, Connecticut, and Pompano Beach, Florida.
One Sunday afternoon in April 2006 I dialed their Florida number on my cell phone. After two rings, a refined voice with the command of a stage actress answered. "Hell-o?"
When I met Florence for the first time in May 2006 in Westport, she hugged me. She seemed an ageless phenom, radiant and full of spunk. During weekly Sunday visits over bagels and lox, we got to know each other. She and her husband had lived in my apartment building about fifty years before me, and when they'd moved out they'd forgotten about the trunk they'd left in the basement storage space. Now, reunited with her diary, Florence rediscovered a lost self that had burned with creative fervor.
As a nineteen-year-old Columbia student, Florence had hosted a literary salon in her parents' apartment. Her friends, the young poets Delmore Schwartz and John Berryman, were members.
During our talks, Florence shared old scalloped-edged, black- and-white photographs, which re-created the world of the sophisticated young Manhattanite from the upper East Side. In the snapshots, Florence is outfitted in clothes designed by her mother, a couture dressmaker with a shop on Madison Avenue. Her mother had come to America alone as a teenager and worked her way up to being a respected business owner, a rare accomplishment for a woman in those days. I met Florence's granddaughters, one of whom was an actress working as a yoga instructor.
Stern family portraits projected the intellectual strength and fearlessness of the Wolfsons. Both of Florence's parents came from families of prominent rabbis and they went to work the day they arrived in the united States.
After Florence married, she drifted from her art and spent most of her life in the roles of mother, grandmother, and great-grandmother. In April 2007, Florence's husband died. I learned from her diary that they had met when she was thirteen at his parents' Catskills ho- tel, which was later turned into a yoga retreat. I flew down to Florida to be with her. "Lily and her new grandmother," Florence said, as a photo was taken. "You've brought back my life."
The diary was a time machine transporting me to Florence's 1930s New York, inspiring me, now at twenty-seven, to write my first completed book, The Red Leather Diary: Reclaiming a Life Through the Pages of a Lost Journal.
When I decided to become a writer, I made a pact with myself: If I wanted to write, I had to become an interesting person, take chances.
"I keep on waking up a different person in a different city," I wrote in my journal shortly after I moved to New York to attend college.
At Barnard College, part of Columbia university, I studied Buddhism with Robert Thurman, who commanded the class from his throne-like chair on stage in the auditorium. He was the first American to be ordained as a Tibetan Buddhist monk. I was intrigued by his lucid explanations of philosophical complexities, such as comparisons he drew between Buddhism and the lm The Matrix. He called the Dalai Lama his buddy and spoke of his daughter, the actress Uma Thurman. I took his seminar in non-dualism, and delighted in how his own personal story crossed Eastern philosophy with Western celebrity culture.
I picked up the prayer Om Mani Padme Hum. It is said that all the teachings of the Buddha are contained in this mantra, which is difficult to translate literally but is said to mean "the jewel in the lotus."
While I was in college, one of my best friends left the university of Michigan and enrolled at Naropa university. She recommended that I read Be Here Now by Ram Dass, which I happened upon at a little bookstore called Be Here Now while driving through Bristol, Rhode Island.
"You find things, don't you," a person I had recently met declared after visiting my apartment, which is furnished with found objects, including a few of the trunks from the Dumpster. "You're a person who finds things."
"Yes, I think I am," I said.
While my friend seemed to crave quiet retreats and meditation, I was pulled into the life of New York, with its crowded streets and subway cars, its bars and chaos. I related to what Florence wrote in her diary so many years ago, "There's so much to do—music, art, books, people—can one absorb it all?"
On Sunday afternoons at the Metropolitan Museum of Art, I sought out the illuminated manuscripts, which Florence had also admired—the ones painted by monks in small cells by candlelight. I lost myself in the rich coloring of mandalas from Himalayan kingdoms and found balance in front of sculptures of Shiva. I went to Central Park to hear the Dalai Lama speak.
I was looking for my own "jewel in the lotus," which I thought of as the potential in each human I encountered. I was searching for a story that completely touched my life and that of other people. In short, I was on a spiritual quest. What was I doing here?
New York is the place of endless possibilities. The city is a living text. During college, I wrote papers, short stories, started a novel, and filled up diaries. I wrote in journals, in the margins of my class notes, on the subway, in my room on my laptop. I wrote when I was happy, nostalgic, lonely, and between books. I wrote a screenplay for my thesis.
I kept on waking up with this empty feeling: Who am I? Do I have anything to contribute?
I wrote from that feeling of emptiness. While lonely at times, I recognized the potential of being like an empty vessel. I was looking for love, meaning in my life, and a good story.
After graduating, I landed a job at the New York Times as a news clerk by day, celebrity reporter by night. "Bravest Gossip Reporter Ever" the media site Gawker called me when James Gandolfini asked me out on a date. But I wasn't really interested in the celebrities I was covering.
I flew to the Netherlands to interview Maharishi Mahesh Yogi. I studied with and wrote an article about an eighty-three-year- old Japanese sumi-e master who had learned the ancient art form in an internment camp and who was now teaching classes in her dusty studio nestled between the designer boutiques of SoHo.
While working on my novel, I stumbled upon the magical gem of the diary. Where do we record our inner lives? I wondered. What windows do we have into the human soul? Do teenagers keep diaries anymore? The diary led me to find real meaning in our youth-obsessed, celebrity-crazed, materialistic culture, and led me to connect with a like-minded spirit across time.
You can think of a diary as a record of the Buddhist notion of impermanence. All things and experiences are ever changing. We are constantly coming into being and ceasing to be. Nothing lasts.
When Florence held her diary again after all those years, she caressed its fragile cover with hands still supple enough to practice scales daily on the piano. Gently thumbing through the pages, she sat by the window and journeyed back to the girl she had once been.
"I'm fourteen years old! 1929!" she read in a husky voice. Then she read from the next year's entry: "At last I've arrived! The year has left me wiser, less happy, but still! I'm 15!"
"Florence, finding your diary, and then finding you, it's like I found this young girl and she's ninety!"
"You'll remember me when you're ninety," Florence joked.
"You know, you are the heroine of the story," I told her.
"Well, I'm happy to hear you say that, because I don't feel like a heroine in my own life," confessed Florence, clasping her diary. "But I have to tell you, I'm much happier now than I was a few years ago when I wasn't very true to myself. I had a country-club mentality and I'm through with that now. I am what I am, who I am, what I was when I wrote this."
Florence spoke of a dear friend of hers, Gertrude, from the diary, who would go on to marry the preeminent poet of their generation, Delmore Schwartz, "We had so much in common. Gertrude was artistic, creative, and pure. She was purer than I was in terms of material possessions. I think I liked material pos- sessions even in those days."
When Florence hosted her salon, Gertrude, Delmore and the other members were pursuing the Socratic quest, to "know thy-self." Three quarters of a century later, this remains Florence's ongoing journey.
"How do you feel when a forgotten chunk of your life, full of adolescent angst and passion, is handed to you?" she asks in the foreword she wrote to The Red Leather Diary. "How do you feel when you see your striving, feeling, immature self through your now elderly eyes? It stopped my heart for a moment. That was me?"
Florence asks the searching questions about paths not taken: "Where did all of that creativity go? If I was true to myself, would I have ended up living this ordinary life?"
Florence recently celebrated her ninety-third birthday. On one of my trips to visit her in Pompano Beach, Florence invited her circle of friends over, a group she began in the sixties, which she called her "Women's Assertiveness Group." At the height of the feminist movement, the women gathered to talk about asserting themselves in their marriages and their roles as mothers, plus orgasms, spirituality, the whole kitchen sink. The reason for today's get-together was that one of the women and her husband were moving into an assisted living arrangement.
Once Mad Men-era housewives, now women in their seven- ties and eighties, many had lost husbands and some were cautiously looking for love and companionship again. Florence was the oldest. Many of the women confided in me that Florence had changed their life. With her irreverent, independent nature, she had helped them find a place of freedom in their seemingly ordinary lives. On this day, the subject switched to life after death.
Florence was skeptical, but listened, curious as always, as one woman spoke of the heaven she believed was waiting for her.
I asked Florence what, at ninety-three, she wanted to do with the rest of her life. "I'm interested in Buddhism," she said. On our following visit, I arrived with dark-chocolate-covered orange peel from Russ & Daughters, an old world shop still on the Lower East Side, which has sold smoked fish, bagels, and sweets since 1914. I handed Florence the brown paper bag and a book on Buddhism by Robert Thurman.
I asked Florence why she was interested in Buddhism.
"Buddhism always interested me be- cause of its promise of emotional control," said Florence. She had never formally pursued it until now. "I did, however, take a course in Transcendental Meditation and meditated for years, then finally gave it up when I realized that I wasn't doing it right. I remember my mantra and every now and again I try it."
"Getting your mind to focus and to live in the moment is a rare talent," Florence admitted. It has been one of her lifelong goals.
"From the diary, I could tell you had a rich internal life," I told her.
"Also an external life," she said.
At sixty-two, Florence went back to school and earned a degree in geriatric counseling. "So I could live with my old age," she told me.
For many years she had seen a Freudian psychoanalyst who had told her sternly, "Your goal in life should be to be a wife and mother."
"And I was weak enough to believe him," Florence told me recently.
In the 1960s, she went on a Transactional Analysis group therapy retreat (like something out of the movie Bob & Ted & Carol & Alice). Florence, in her early fifties, was the oldest one in the group. One of the guided exercises was for Florence to close her eyes and feel the face of the partner with whom she had been matched up. Another activity Florence recorded in her notebook:
Write down the kind of flower you are— Tiger Lily
Food—Rare meat
Animal—Pony
Music—Fugue
(She saw her partner as a rose–roast beef–collie–quartet.)
"What does it feel like, looking back on your life?" I asked Florence. She peered into her diary. "I love that girl, Lily," she said. "I love her when she was young and optimistic…" Her voice trailed off. "Self- consciousness has been the biggest curse of my life. It's like carrying a heavy shell, all the time. Are you that way? Lily, my advice is to get rid of it as fast as you can."
The Red Leather Diary has been read by 150 book clubs and I have traveled with it to more than twenty cities. The paperback came out on January 20, Inauguration Day, which is particularly meaningful to me because I grew up in Hyde Park in Chicago, the neighborhood Obama and his family have called home. At readings, there is always the question, inevitably asked: Was the discovery of the diary fate? Was there a cosmic force at work? Karma?
I see it as a physics equation, which I could outline in chalk on a blackboard. In 1929, Florence, a starry-eyed young woman, searching for love and meaning, confided her deepest passions and confusions in her diary. In 2003, searching, I came across the Dumpster brimming with trunks and found the diary. Then I picked up her story where she left off. Who was Florence? Who was I? I believe we wrote our way to each other. Florence recorded on April 10, 1932, "Wrote all day—and my story is still incomplete."
Florence has become a celebrity through my discovery of her teenage diary and we have been doing TV appearances, including The Today Show.
"Do you keep a diary now?" a female anchor in a bright-pink suit and lipstick asked Florence.
"No." At ninety-three, Florence said she was happy just breathing and feeling more alive than she had in years.
"Should people keep diaries?" asked the anchor.
"Absolutely, because it's a wonderful way to get a perspective on yourself," said Florence, looking at me, squeezing my hand. "When you read it, you suddenly see yourself from the outside."
If she did keep a diary today, she might write, "Studying Buddhism—taking a life drawing class."