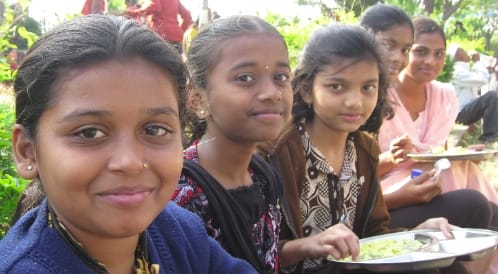 Meean Sriniyasan visits the Dalit Buddhist community in Nagpur, India, reporting on their conversion and struggle to transcend the Hindu caste system.
Within minutes of my arrival to the Nagpur retreat site, where more than 500 Dalit Buddhists had gathered, a beautiful, bright-eyed, eleven-year-old girl named Ruchika ran up to me and asked, "Hello Ma'am. What's your surname?"
"Kyon?" I inquired, which means "Why" in Hindi, although I already knew that she was asking for my surname to determine my caste.
Sure enough, her next question was, "What is your caste?"
I looked her straight in the eyes, found a smile within my heart, and answered, "I'm Buddhist. Like you, I have no caste."
Approximately 860 miles from Mumbai, the city of Nagpur is home to the largest population of Indian Buddhists. Not only is this community bigger than any other Buddhist population in India, but these Buddhists are unlike any others. Previously lower-caste Hindus, the Indian Buddhists in Nagpur converted under the political influence of Babasaheb Bhimrao Ambedkar, author of India's constitution, to denounce caste oppression. They became Buddhist for political and spiritual reasons, and today, the implications of their actions continue to unfold.
In the fall of 2010, a leader in the Dalit Buddhist community invited me to Nagpur to share mindfulness practices with children. Spending time with this community was especially important for me because, like the Dalit Buddhists, I've experienced the evils of caste oppression. However, unlike the Dalit Buddhists, who were born at the very "bottom" of caste hierarchy, my Brahmin birth placed me at the "top."
I am American and Indian. My parents grew up in India and moved to the United States more than 40 years ago, where they raised a family. Like many others in similar circumstances, I'm a product of extreme privilege and have a deep sense of gratitude for the opportunities I've been given. A few years after graduating from college, I had an unexplainable, heartfelt calling to live in India, and I moved back to the land of my ancestors. During the past five years, I've seen firsthand the divisiveness of caste. More than anything else, this experience fueled my embrace of Buddhism. In turn, my mindfulness practice brought me to Nagpur.
Buddhists in a Hindu Country
Although more than 10 million Dalit Buddhists reside in Nagpur, the magnitude of the community and the fact of their religious conversion doesn't alter the fact that they still live in a Hindu-dominated nation—one which fails to acknowledge them as equals. According to Prashita, a sharp, articulate, fourteen year-old girl who served as my Marathi translator, "In India, people don't usually ask your name; they ask you, 'What is your surname?' and their intention is to know what caste you belong to."
For a community that converted to Buddhism to transcend caste, I was shocked by how frequently Dalit Buddhists in Nagpur asked what caste I belonged to! When I shared this with Prashita, she told me that people from her community never say, "We are Buddhists. We don't have any caste."  Instead they say, "We are Mahars," which are the untouchable caste in the Hindu religion. She then introduced me to a Marathi saying, Jzaat manathun kadhi nahi jzaat, which means "caste never leaves one's mind."
According to Prashita, "Conversion does not actually change you. Though you are converted, you need to struggle very hard. In Buddhism there is no caste system; we are all free, we are all equal, but we have to put that in our mind first, and only then can we tell society, convince them about this." In other words, conversion is a step in the process of changing your mindset about caste.  Prashita's message is profound: that we only go beyond caste from within.
In India, those who are from lower castes are legally classified as Scheduled Castes and are referred to as either Adivasi, which means "indigenous" in Sanskrit, or Dalit, a self-referential Marathi term implying "those who have been oppressed by those above." According to the 2001 census, Scheduled Castes account for 16.23 percent (167 million) of India's population. While the government of India's Constitutional and Legislative Mechanisms affirm that they are adequately protecting Dalits from discrimination, the National Campaign for Dalit Human Rights has many documented cases of violence recently committed against Dalits. India does have Caste Reservation, a controversial scheme similar to the American Affirmative Action.  However, that National Campaign data shows that Scheduled Caste children who manage to secure spaces in higher education still continuously experience exclusion and discrimination.
In October of 2008, my Buddhist mentor, Dharmacharya Shantum Seth, organized a trip to Nagpur for my root teacher, Venerable Thich Nhat Hanh, and more than 40 monks and nuns from Plum Village.  The purpose of this visit was to give teachings to the Dalit Buddhists.  Of particular importance was a teaching given at Disksha Bhumi, or "Ground of Conversion," which took place on the anniversary of Babasaheb Bhimrao Ambedkar's conversion to Buddhism (October 14, 1956). Ambedkar did more than anyone else to bring Buddhism back to India.  As my dear mentor, Shantum, explains, "In order to understand the Dalit Buddhist community, one must first understand Ambedkar and where he was coming from, because all of these people are inspired by Ambedkar and, through him, to Buddha."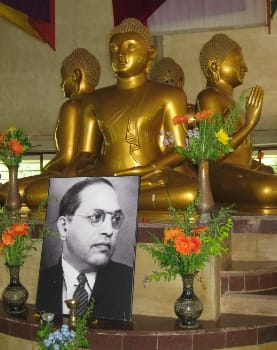 Born into the ex-untouchable Mahar caste, Ambedkar rose against the odds to become one of the most educated men of his generation and one of the few Indian leaders of his time to have studied in the United States (Columbia University).  However, even with his privileged education, he continuously suffered from humiliating experiences of discrimination because of his caste.  His experience motivated him to stand for the complete emancipation of his people and the elimination of the Hindu caste system.
In 1935 he declared that even though he had been born a Hindu, he would not die as one. The following year at a Mahar conference in Bombay, Ambedkar urged his community to convert to Buddhism.  He said, "Religion is for man; man is not for religion. If you want to gain self -respect, change your religion. If you want to create a cooperating society, change your religion. If you want power, change your religion. If you want equality, change your religion. If you want independence, change your religion. If you want to make the world in which you live, happy, change your religion…" Clearly, for Ambedkar, the call to convert was political.
Unfortunately, Ambedkar died on December 6, 1956, barely two months after the great conversion, leaving behind only his book, The Buddha and His Dhamma, which is embraced as the Bible by the Dalit Buddhist community. The book presents Buddhism as ethical and rational, giving minimal attention to the contemplative tradition usually associated with Buddhism. Key to his teachings are his Twenty-Two Buddhists Oaths, of which Number Nineteen reads, "I embrace today the Buddha Dhamma, discarding the Hindu Religion, which is detrimental to the emancipation of human beings and which believes in inequality and regards human beings other than the Brahmins as low born."
Shantum shared that for Ambedkar, "the path of liberation is liberation from suffering, including discrimination by caste that is coming from external factors that call upon us to change the political and economic situations, by organizing, agitating, and educating." While my beloved teacher, Thich Nhat Hanh, is often seen as the founder of the Engaged Buddhism movement, he is very clear that the Sangha is not a political instrument. Thich Nhat Hanh teaches that the root of our suffering lies within ourselves and we can transform it through the practice of mindfulness. Thus, the transformation of society begins with inner transformation.
The Dalit Buddhist movement is, at its root, a political movement.  This explains why many still follow Hindu rituals.  However, there is a strong interest in learning more about the spiritual and religious aspects of Buddhism.  Organizations including the India Branch of the Triratna Buddhist Community (formerly known as Friends of the Western Buddhist Order) now bring Dharma teachings to numerous Dalit Buddhists, and many attend the popular Goenka-ji Vipassana courses. When Thich Nhat Hanh was in Nagpur 350,000 gathered for his teaching at Dhiksha Bhumi, 10,000 engaged in walking meditation at the Nagaloka grounds, and every Hindi and Marathi copy of his books sold out.
The Triratna Buddhist Community, which has done more for the Dalit Buddhists than any other Buddhist organization in Nagpur, held the retreat that I attended. Prashita believes that such retreats for the community are essential. She explains, "Though people are converted, they don't have that much knowledge of Buddhism, and that is why they are following the old religion. Coming to retreats is so important, so we can get what Buddhism is all about. Being a Buddhist, we should know Buddha's teachings."
When I arrived in Nagpur, I was amazed by my reception.  I was surrounded by hundreds of warm hearts and curious minds.  I came to understand that my presence was unusual.  Although familiar with foreigners from the international Triratna Buddhist Community, the Dalit Buddhists had not previously encountered a very Indian-looking—but American-sounding—Buddhist.  That I have a popular Brahmin surname was especially novel to them. Few members of the community had ever left Nagpur, and my adopted city of Delhi seemed like a world away, let alone America.  They were deeply surprised that a Brahmin would convert to Buddhism.  The more I understood the situation in Nagpur, the greater my efforts to stress the importance of using the Buddha's teachings to move beyond caste and embrace Interbeing.
I create my livelihood as a school teacher at the American Embassy School in New Delhi. Teaching allows me to carry out many of Thich Nhat Hanh's practices with the children in my classroom.  I believe that bringing mindfulness into the lives of children is the most important thing educators can do.  Doing so helps children cultivate the awareness that comes with mindfulness practice, which provides a strong foundation for creating real, lasting change in the world. I was so happy to have the opportunity to share these same practices with the children of the Dalit Buddhist community!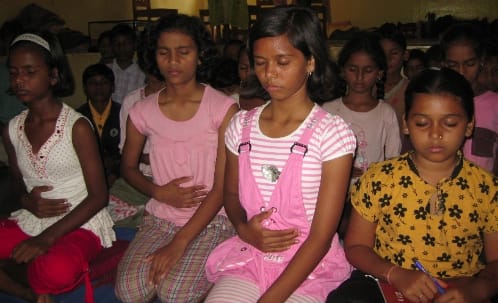 Armed with my mindfulness bell, I led more than 100 children through a program which consisted of belly breathing, singing meditation, smiling meditation, learning how to invite the bell, watering seeds, mindful eating, the two promises, and deep relaxation. During our time together, I discovered that only a few Dalit children had any significant understanding of Buddhism. Since I never mention the Buddha in my Delhi classroom, I welcomed the opportunity to share more openly with these children. Their receptivity to Buddhist mindfulness practices was incredible, and perhaps this is because they rarely have such programs. The children were starving for the Dharma. And, they could really connect with the teachings and feel the Dharma in their hearts.
At the last minute I had to cut my Nagpur trip short because I was invited to meet President Barack Obama and First Lady Michelle Obama at the US Embassy in New Delhi. When I shared this with the children, they became very excited and made a special card for me to present to the President and the First Lady. As I watched these precious children work so hard on the card, I felt a deep sense of gratitude for having been born and raised in the United States of America.  Although there are class divisions in the USA, it is incomparable to the legacy of centuries of caste oppression in India.
Growing up, my family made trips to India, where I witnessed older-generation relatives make comments about how non-Brahmins are "dirty," and refuse to touch anything that had been touched by one of "them." When I was in Nagpur these memories kept arising, and I could feel the seeds of anger growing within.  As these feeling arose, I went to my breath, embraced my anger with mindfulness.  Then, as I gladly drank from the same cup and ate and from the same plate as my newfound Indian Dharma Brothers and Sisters, I connected inwardly with all of my ancestors and tried to make peace.
Ambedkar is seen as a Bodhisattva for the Dalit Buddhists, primarily because he gave them hope. But hope, as Vaclav Havel reminds us, is "definitely not the same thing as optimism. It is not the conviction that something will turn out well, but the certainty that something makes sense, regardless of how it turns out." When I was a child, it seemed inconceivable that we would ever have an African-American President. Here I am, age 30, and the inconceivable has become true.
Just hours after I returned from Nagpur, I made my way to the US Embassy to meet the President and First Lady. I never expected I would get to present the Dalit Buddhist children's card to them, but not only did they receive it; they also graciously signed the card, which I then couriered back to the very happy children!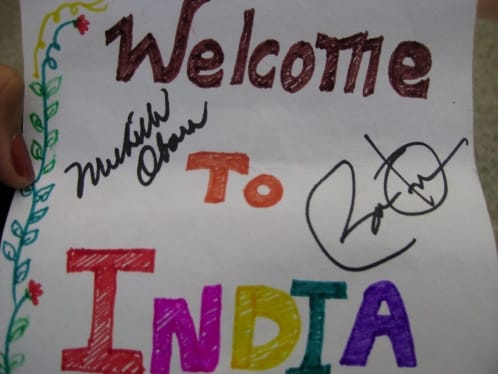 During my brief moments with Barack and Michelle, I held the children in my heart. I practiced Tonglen even as I shook the President and First Lady's hands, looked into their eyes, took on their suffering with my breath and said, "Keep the hope alive."
See also, from the Buddhadharma archives: Ambedkar's Vision.