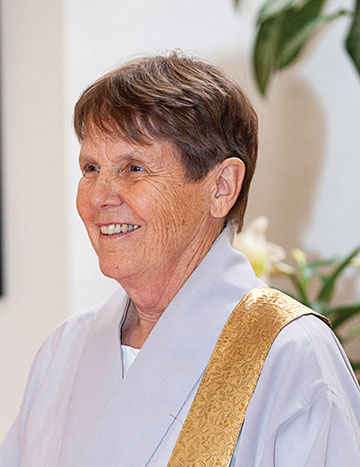 It takes intensive meditation practice to wear away your habitual patterns and discover the enlightened nature underneath, says Barbara Rhodes (Zen Master Soeng Hyang).
It's important for the future of Buddhism to have practitioners who have practiced deeply and intensely. We have a saying in our Korean Zen tradition: "Big shout, big echo; small shout, small echo." The big shout doesn't come from good looks, money, or a prominent place in the community. It comes from an authentic practice.
With any spiritual practice, you have to know for yourself why you're doing it. Then, if you have an intelligent understanding of the practice and why you're doing it, you'll be able to sustain the strong, continuous effort that leads to deep experience.
Extended formal practice gives you the opportunity to examine your mind and see its repeating patterns. The longer you meditate, the more you become aware of the part of your brain that's programmed by past experiences: your likes, dislikes, fears, and attachments. Our clear mind is veiled by those patterns.
The problem with this world is that we don't usually realize our habit force is controlling us a good part of the time. But when you mediate long enough, you can let go of your pesky backseat driver. You can let go of your tainted views and see what's actually going on. Then your innate intuition, honesty, and compassion will surface.
When you do a long retreat in the Kwan Um School of Zen, in which I am a teacher, the practice is the same, day after day. The daily routine of chanting, bowing, and sitting helps clear your mind, and as you continue to practice, you begin to see how your backseat driver has been controlling you. Seeing your habitual thoughts, you begin to ask, "What's really happening here?" Just looking, just listening, your mind is at rest and yet alert. You're able to drop preconceived ideas, you feel clearer, and with that clarity comes the desire to help others.
Longer meditation retreats give you the opportunity to watch your feelings and ideas change over time. Once, about halfway through a hundred-day solo retreat, I noticed myself complaining about the weather. Then I noticed what was going on around me—the trees, birds, and cabin were all fine. The only one having any trouble with the cold, rainy weather was me.
As simple and obvious as it may seem, this realization hit me like a bolt of lightning. It led me to appreciate deeply that I was getting everything I needed. It was my mind, not the weather, that needed to change. This insight could happen because of the extended period practice—by the continuous repetition of the forms, day after day. Strong practice leads to a strong, grateful mind.
In group meditation retreats, the silent presence of others is inspiring and supportive. There's an intimacy that develops on long group retreats. It isn't personal—there's no talking or eye contact—but people end up bonding with each other. This heartfelt connection is satisfying and sustaining.
Being on retreat with others also gives you many opportunities to see the workings of your mind, let go of them, and return to this moment. For example, if you judge someone's behavior as inadequate, this becomes an opportunity to see your judging mind and feel how unhelpful it is.
Long solo retreats are simpler, because there are no other people around creating distractions or disturbing your mind. But when you're meditating alone, you own the whole thing—there's no one else to blame.
The challenge with solo retreats is having the integrity to stick to your schedule, because there's no one else to hold you accountable. When I did solo retreats, I put the schedule next to my altar. It was my anchor. Being able to keep that schedule on a hundred-day solo retreat helped give me more self-confidence, something we all need.
Setting up the schedule for a solo retreat needs to be done in discussion with your teacher. In my case, we realized that sitting meditation was difficult for me. My nature prefers movement, so my solo retreats contained extra prostrations and chanting, with less sitting. Zen is not about the forms, anyway. It's finding your true, untethered self and walking the bodhisattva path.
My teacher, Zen Master Seung Sahn, often said, "This world is completely rotten." He was referring to the greed, anger, and ignorance that lead to wars, dishonest politics, climate change, etc. But the good thing about being rotten is that the rotten parts give way to new life. Rotten wood becomes nurturing soil. Rotten fruit offers its seeds to the soil. It's the endless wheel of life and death. So, if the world is rotten, what is it that can be depended on? What's our place in this world? What are we? These questions are our gift. Give yourself all the time you need in a nurturing environment to answer them.
It's a rare person who finds the bodhisattva path without a good teacher and a strong community. But by the same token, a community cannot survive if it depends solely on its teacher to hold up the teachings and the community's integrity. In other words, a teacher isn't a good teacher until their students can stand on their own, and even exceed their teacher's abilities. Just as a building's cement foundation must be fortified with rebar, a community must build itself from a strong practice that penetrates trappings such as dogma, misplaced power, and attachment to forms and styles.
I believe Buddhist communities need to offer long retreats that are regularly scheduled. The teachers need to watch their students' efforts and also watch their own. Here's another saying: "It's very easy to reach enlightenment, but it's very difficult to keep it." We must watch our step! We should never lose sight of our need for courage, faith, and questioning. Drop all ideas and enter each moment with a wide-open mind.
Barbara Rhodes thanks her student Elizabeth Goldstein for her help writing this article.
Read the rest of the series, "Buddhism's Next 40 Years: Deepening Our Practice and Study."