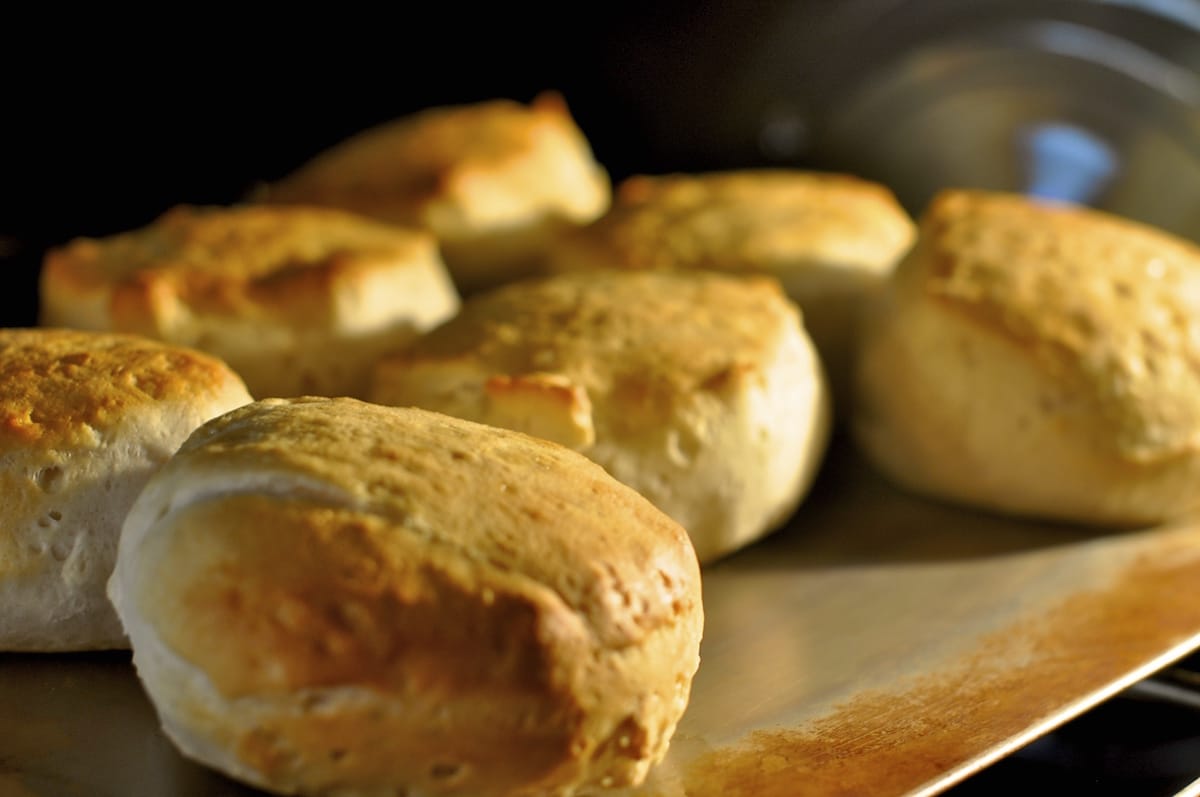 Photo by
James.
When I first started cooking at Tassajara, I had a problem. I couldn't get my biscuits to come out the way they were supposed to. I'd follow the recipe and try variations, but nothing worked. These biscuits just didn't measure up.
Growing up I had "made" two kinds of biscuits: one was from Bisquik and the other from Pillsbury. For the Bisquik biscuits you added milk to the mix and then blobbed the dough in spoonfuls onto the pan—you didn't even need to roll them out. The biscuits from Pillsbury came in a kind of cardboard can. You rapped the can on a corner of the counter and it popped open. Then you twisted the can open more, put the premade biscuits on a pan and baked them. I really liked those Pillsbury biscuits. Isn't that what biscuits should taste like? Mine just weren't coming out right.
It's wonderful and amazing the ideas we get about what biscuits should taste like, or what a life should look like. Compared to what? Canned biscuits from Pillsbury? Leave It to Beaver? People who ate my biscuits could extoll their virtues, eating one after another, but to me these (perfectly good) biscuits just weren't "right."
Finally one day came a shifting-into-place, an awakening: not "right" compared to what? Oh, my word, I'd been trying to make canned Pillsbury biscuits! Then came an exquisite moment of actually tasting my biscuits without comparing them to some (previously hidden) standard. They were wheaty, flakey, buttery, "sunny, earthy, real" (as Rilke's sonnet proclaims). They were incomparably alive, present, vibrant—in fact much more satisfying than any memory.
These occasions can be so stunning, so liberating, these moments when you realize your life is just fine as it is, thank you. Only the insidious comparison to a beautifully prepared, beautifully packaged product made it seem insufficient. Trying to produce a biscuit—a life—with no dirty bowls, no messy feelings, no depression, no anger was so frustrating. Then savoring, actually tasting the present moment of experience—how much more complex and multi-faceted. How unfathomable. A thought… a feeling… ants crawling on the ground in the sunlight.
As Zen students we spent years trying to make it look right, trying to cover the faults, conceal the messes. We knew what the Bisquik Zen student looked like: calm, buoyant, cheerful, energetic, deep, profound. Our motto, as one of my friends said, was, "Looking good." We've all done it: trying to look good as a husband, wife, or parent. Trying to attain perfection. Trying to make Pillsbury biscuits.
Well, to heck with it I say, wake up and smell the coffee. How about some good old home cooking, the biscuits of today. Handle each ingredient with sincerity and wholeheartedness. The results will take care of themselves. Savor them.
The New Flakey Biscuits
(adapted from The Tassajara Bread Book)
Makes about 1 dozen biscuits.
Preheat oven to 475-500°
1 cup whole wheat flour
1 cup unbleached white flour
¼ tsp salt
½ tsp baking soda
1 tsp baking powder
½ cup butter
½ tsp vanilla extract
1 egg
½ cup yogurt
Sugar or cinnamon sugar, optional
Combine the flours, salt, soda, and baking powder, and cut in the butter until it is in small lumps. Make a well in the center and put in the vanilla, egg, and yogurt. Mix these together with a fork, then lightly mix in the flour. (Overmixing will make the biscuits tough.)
Roll out on a floured board to about a half-inch thick. Fold in thirds. Repeat this twice. Then roll out to a half-inch thickness, and using a biscuit cutter (glass or cup), cut into biscuits. Dip the cutter in flour, if necessary, so that the biscuits will not stick to the cutter. Place cut biscuits on an ungreased baking sheet. Use the remains to make more biscuits.
Bake on the top shelf of a very hot oven, 475-500°, for 8 to 10 minutes. The biscuits are done when they are brown on the bottom. Lift one up to check. Don't wait for them to get brown on top—then they will be too dried out.
Ginger Muffins
Makes one dozen good-sized muffins.
Preheat oven to 375°
1 cup unbleached white flour
1 ½ cups whole wheat flour
¼ tsp salt
2 tsp baking powder
½ tsp baking soda
2 eggs
1½ cups plain yogurt
½ cup honey
Zest of one orange
1/3 cup canola oil (or safflower or corn)
2 tbsp fresh ginger, grated
Nutmeg
Combine flours with salt, baking powder, and soda. In a separate bowl mix together the eggs, yogurt, honey, orange zest, oil, and fresh ginger. Pour wets into dries, and mix with as few strokes as possible (twenty stirs is usually about right). I use a rubber spatula for this so I can get the batter off the sides. Over-mixing will make the muffins tough.
Grease a muffin tin (unless you have one of those nice, new non-stick ones). Spoon in the muffin batter to near the top of the muffin cup. Grate some nutmeg over the tops of the muffins.
Bake in a 375° oven for about 30 minutes until the tops are rounded and cracked, the sides and bottoms browned. On a recent batch I discovered once again that it is not a good idea to use the bottom shelf of the oven, as the bottoms of the muffins will tend to blacken.
Corn Sesame Breakfast Cake
This is a somewhat unusual recipe: a corn-bread that is more of a cake with a crust on the bottom. Don't know the real name for it, but it is adapted from the Turkish Coffee Cake Cookie Bars in The Tassajara Bread Book.
Makes one 9-inch cake.
Preheat oven to 375°
1 ½ cups unbleached white flour
1 ¼ cups corn flour
½ cup brown sugar
¼ cup white sugar
1 cup butter
½ cup sesame butter (or tahini)
¼ cup honey
1 ¼ cups yogurt
1 egg
¾ tsp baking soda
Combine the flours and sugars, and cut in the butter until it is in tiny lumps. Press about half of this mixture (about 2 cups worth) into the bottom of a 9-inch cake pan. This will make the crust for the cake.
Combine the sesame butter, honey, yogurt, and egg. Mix the soda into the flour mixture, then the combined liquids. Pour into the pan on top of the pressed-down crust.
Bake at 375° for about 35 minutes until the center of the cake has risen and is bouncy to the touch. Or stick in a toothpick and see if it comes out clean.
Irish Oat Cakes
Makes one eight-inch pan, or 8 oat cakes.
Preheat oven to 350°
1 cup butter
¾ cup sugar
3 cups oatmeal
½ cup flour
½ tsp salt
½ tsp baking soda
½ cup hot water
Cream the butter and sugar together. Mix in the oatmeal to make a paste. Mix the salt in with the flour, and dissolve the soda in the hot water. Add the flour and water alternately to the oat mix. Spread into a greased 8-inch pan. Or roll out in a round 8-9″ in diameter, cut into 8 pieces and place on greased baking sheet. Bake at 350° for 8 to 10 minutes.