You may know and love Damon Albarn's rough lilt as former frontman for Britpop sensations Blur. But did you know he composed a Buddhist-themed opera based on a classic 16th c. Chinese novel?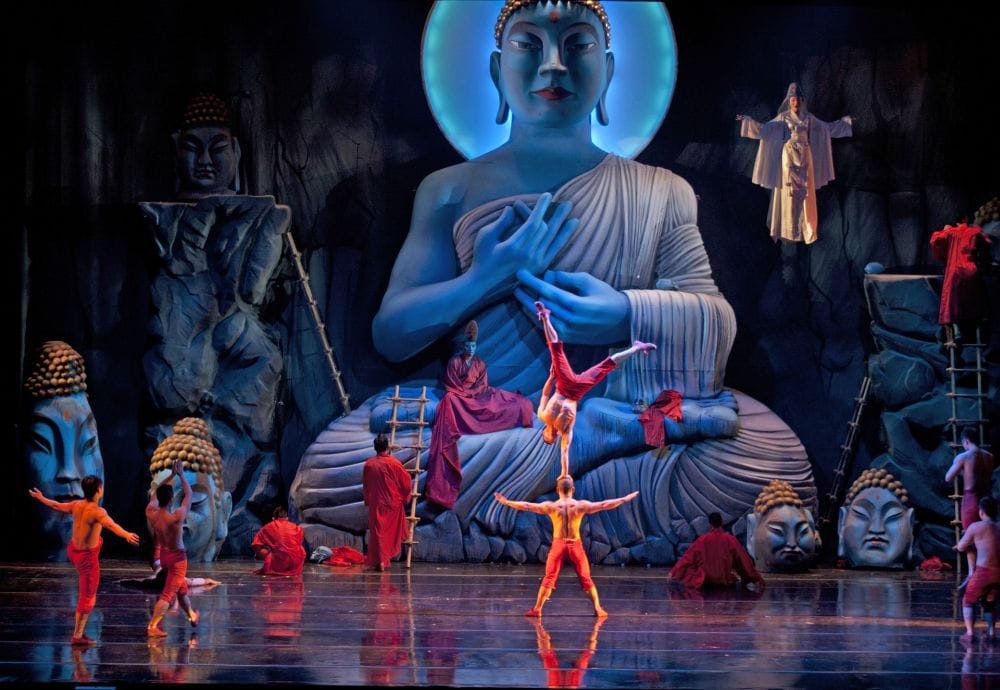 Monkey: Journey to the West, follows the surreal, allegory-rich adventure of the Monkey King and his companions—gluttonous Pigsy and the repentant, formerly murderous General Sandy—as they accompany the virtuous monk Tripitaka on a quest for the Buddhist scriptures in India that will save China.
This elaborate production, with live sets and animation backdrops designed by Albarn's Gorillaz collaborator Jamie Hewlett, features Chinese acrobats, contortionists, and martial artists romping through heavenly worlds, the White Skeleton Demon's lair, volcanic cities, and a fateful encounter with the Buddha himself. Set to Albarn's score, it all adds up, according to The Guardian, to "a high-octane, 90-minute, rock 'n' roll circus."
The original novel is based on the epic scripture-collecting journey to India undertaken by the 7th c. Chinese monk Xuanzang. It was the translation of the detailed journals he kept during 16 years of travel that led to the rediscovery and preservation of innumerable historical Buddhist sites throughout India, Pakistan and Afghanistan.
Monkey: Journey to the West, not staged in its entirety since 2008, opens the Lincoln Center Festival in New York City July 6 and runs through July 28. You can read a full account by Joyce Morgan, co-author of Journeys on the Silk Road, here.