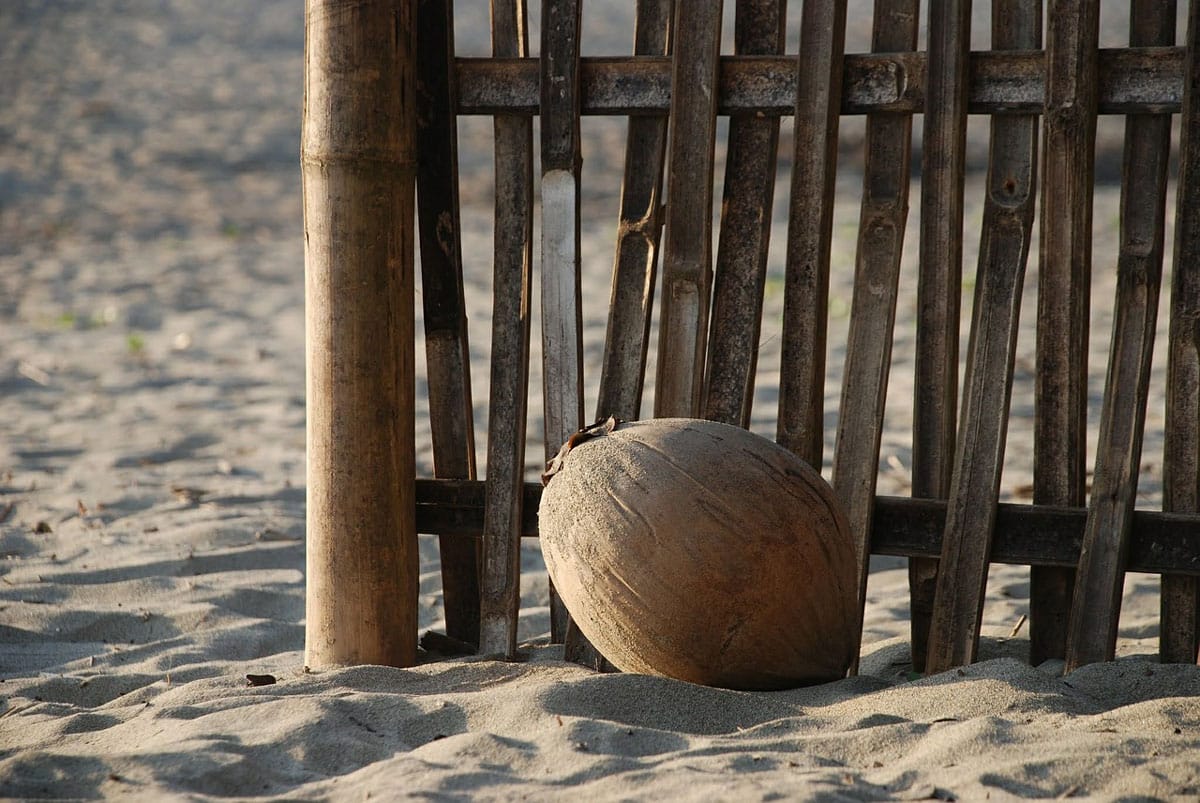 In the garden of gentle sanity
May you be bombarded by coconuts of wakefulness

– Chogyam Trungpa Rinpoche
A broken heart sucks. I won't lie and say it doesn't. However, it can also be a golden opportunity to wake up to your life and realize a new way of being.
In the lines of the poem Timely Rain quoted above, we see one Buddhist teacher's take on this concept. These few words point out that most of us spend our time wandering through our daily routine, our own garden of gentle sanity, relatively unaware of the fact that at any moment we can be knocked about the head with an incident that snaps us out of this innocence.
These coconuts of wakefulness are moments when the rug is pulled out from under you and there is nothing to hold on to. These "coconut moments" are the ones when your lover rejects you, or a family member passes away, or you lose your job. Your heart breaks and you feel deflated. These are the times when you are completely groundless and are not sure what to do next. Yet within this moment of sudden change we are given a beautiful opportunity.
When your normal life hits a major upset, you have two options. One is to curl up in pain, wondering why you have been made the sole recipient of uncertainty and change. You can hide out that way, hoping that change will get bored and go pick on someone else. You can drink, or sleep around, or smoke any number of things but once the hangover/ecstasy/high passes all that you are left with is the same pain as before.
Another way forward is to face your heart-break head on. You can lean into the pain, exploring it, almost daring it to overwhelm you, to realize just how strong you are. Imagine standing at the shore of an endless beach. As you wade into the water a giant wave comes bearing down on you. You have no time to run from it. When it hits, you can kick and fight against the wave but doing so will only drag you further out to sea. Instead, you can dive in directly, facing the wave head-on, and come out the other side refreshed.
The same can be said for any strong emotional upheaval. If you try to hide from it you will be unsuccessful. The more you struggle against the pain, the longer you end up wallowing in it. Instead, you can dive into your turmoil and experience it fully, allowing it to wash over you like a wave, and see if you come out the other side revitalized.
From my experience, I have found Buddhist meditation to be the tool for acknowledging, analyzing, and working through strong emotions. The technique I engage is called shamatha, or calm-abiding meditation. The beauty of meditation practice is that it is just that: practice for the rest of your life.
The more time you spend on the meditation cushion you more you learn to befriend yourself and learn to cut through habitual patterns. It is then up to you to allow that practice to be put into action during the hours that you live the rest of your life. Through shamatha meditation you can learn to be kinder and more mindful in your day-to-day life as well as moments when you are bombarded by coconuts.
Through the practice of meditation you begin to relate to difficult situations in a different way. You see that they are not as solid as you originally thought. For example, you may experience a moment on the meditation cushion where you realize the basic Buddhist truth that everything changes. The bright side of impermanence is that it's not only good things that change; difficult situations are impermanent too. Whatever difficult situation you are facing you can trust that it will eventually shift or fade, and that your heart will heal.
In the Tibetan language there is a word for "warrior" which is pawo. A more direct translation would be "one who is brave." Bravery, in this case, is not referring to someone who will go out and propagate aggression. "Warrior" is not the typical warrior who battles others. Instead, this term refers to someone who is brave enough to battle their own neurosis and strong habitual patterns. Pawo is someone who bravely addresses their heartbreak and, through relating fully with their present experience, comes out the other end a kinder, better person.
We can all be warriors. We can all be brave. When a coconut hits us and we feel our whole life is out of control we just have to remember that this is a beautiful opportunity to practice opening up to wakefulness.
THANK YOU FOR READING LION'S ROAR. CAN WE ASK FOR YOUR HELP?
At Lion's Roar, our mission is to communicate Buddhist wisdom in today's world. The connections we share with you — our readers — are what drive us to fulfill this mission.

Today, we're asking you to make a further connection with Lion's Roar. Can you help us with a donation today?
As an independent nonprofit committed to sharing Buddhist wisdom in all its diversity and breadth, Lion's Roar depends on the support of readers like you. If you have felt the benefit of Buddhist practice and wisdom in your own life, please support our work so that many others can benefit, too.

Please donate today — your support makes all the difference.

Lion's Roar is a registered charity in the US and Canada. All US & Canadian donations are tax deductible to the full extent allowed by law.