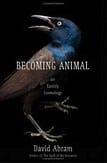 Becoming Animal: An Earthly Cosmology
By David Abram
Pantheon 2010; 336 pp., $26.95 (cloth)
David Abram, cultural ecologist, anthropologist, philosopher, and accomplished sleight-of-hand magician, has a rich and varied background that seems to nurture the many complementary perspectives evident in his writing.
While Abram is well aware of the pervasive and ever-accelerating unraveling of our ecosystems, Becoming Animal diverges from the rash of recent works eager to emphasize environmental degradation or offer overly simplified quick-fix, feel-good solutions. Instead the book offers compassionate and insightful musings on our own misplaced roles within the larger web of life. Abram relates personal tales and anecdotes that were integral to his own understanding of earthly cosmology. Abram is clearly a patient and curious observer of the animate world, often forsaking more entrenched conceptions in favor of truths discerned via his own experiential discoveries. Open-minded and humble in his knowledge, Abram writes, "I've written this book, a spiraling series of experimental and improvisational forays, in hopes that others will try my findings against their own experience, correcting or contesting my discoveries with their own." Rare is the writer receptive to a reader's challenge of their own authorial authority.
Becoming Animal explores some of the same thematic territory as Abram's first book (1997's award-winning The Spell of the Sensuous), yet seems to have been written with deeper insight, greater cohesive focus, and more stylistic maturity. Crafted with a poetic elegance, nearly every one of Abram's sentences shimmers with a melodious resonance that commands an unhurried pace. An abundance of rich, vivid storytelling allows Abram to ably navigate us through to what, for many, will undoubtedly be a new way of thinking about, and engaging in, our world. In Becoming Animal, David Abram has crafted the rarest of literary gems: a sublime effort combining transcendent prose, lucid insight, and lasting consequence.