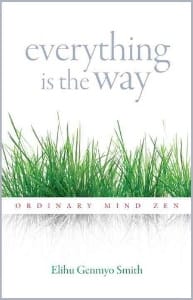 Everything is the Way: Ordinary Mind Zen
By Elihu Genmyo Smith
Shambhala Publications 2012; 240 pp., $17.95 (paper)
A commentary on various Zen koans and teachings, Everything Is the Way is at heart about awakening from the delusions that cause us suffering and pain. "Buddha is never anywhere else, never anything special or extra," says Elihu Genmyo Smith. "So, this Buddha life is always being who you are in the midst of these circumstances and conditions." Smith is the resident teacher of the Prairie Zen Center in Illinois and cofounder of the Ordinary Mind Zen School. He has studied with many of the luminaries of contemporary Zen, including Maezumi Roshi and Charlotte Joko Beck. In recent years, popular media has confused the public about what Zen really is—equating it with anything enigmatic or even relaxed. A meaty text, Everything is the Way sets the record straight.
In our September 2012 magazine, Andrea Miller also reviews Elana Rosenbaum's Being Well (Even When You're Sick), Richard C. Morais' Buddhaland Brooklyn, Bruno Portier's This Flawless Place Between, Katherine Jenkins' Lessons From the Monk I Married, and several other titles worth your while — click here to read them.