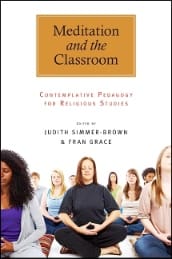 Meditation and the Classroom
Contemplative Pedagogy for Religious Studies
Edited by Judith Simmer-Brown and Fran Grace
State University of New York Press 2011; 279 pp., $29.95 (paper)
"Many students refer to their learning of meditation as one of the most significant assets from their college education," says Fran Grace, an editor of the new anthology Meditation and the Classroom. "Why are meditation methods so powerful?" she asks. "Contemplative teaching activates the 'teacher' within. They learn self-mastery, in addition to mastery of subject matter." Meditation and the Classroom begins with essays from religious studies scholars such as Robert Thurman who have spearheaded contemplative education and contemplative studies initiatives. The second section explores inner journeys of professors who have discovered the power of meditation in their own lives, while the third tackles the potentially sticky issues in contemplative teaching. The fourth and fifth parts take us into the classroom, with examples of contemplative-based courses and contemplative exercises. The final section focuses on what students report as being the concrete benefits of contemplative learning.