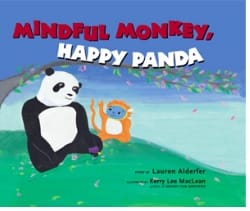 The category of mindfulness fiction has been wide open, and now with Mindful Monkey, Happy Panda (Wisdom Publications), writer Lauren Alderfer and illustrator Kerry Lee MacLean (author of Peaceful Piggy Meditation) have made a serious entry into the field. It's not all that serious, though, since it is intended for children. While I'm certain children will love it, adults are going to enjoy it nearly as much. It's a page turner. I've read it five times myself, and intend to read it again.
Suffice it to say that Monkey has issues. When he's walking, he's thinking about chores. When he's doing chores, he's thinking about reading. When he's reading, he's thinking about eating. We all can identify with Monkey. Fortunately, so can Panda, and he's got some great advice. It's also fortunate that his advice is straightforward, non-judgmental, and non-preachy. We all could use a little Panda.
You'll find more of Barry Boyce's reviews of the latest books about cultivating mindfulness, awareness, and compassion in our Second Annual Guide to Mindful Living, on newsstands now.