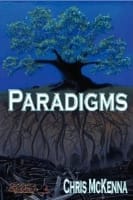 Paradigms
By Chris McKenna
Gypsy Shadow Publishing; 252 pp.
In a post-apocalyptic world, a young man struggles to find his role in the future of his people. Will they be defined by the past or find a new way of being? Paradigms, Chris McKenna's work of fiction, explores the nature of interconnectedness and compassion through the journey of Malcolm, a young clansman. It combines fantasy with traditional Scottish clan culture and Buddhist contemplative thought.
McKenna, a native of Scotland, was born Catholic and began meditating in his early twenties. He wrote Paradigms to better understand Buddhist teachings and to explore his own personal conflicts and questions.
The post-apocalyptic world that McKenna creates is fascinating and offers an opportunity to challenge our current social and cultural expectations on gender, power, and happiness. Malcolm's world is unlike our own, but his need to question social expectations and find meaning in his existence speaks to everyone.
Paradigms is an engaging read and 30 per cent of all profits go toward Book Aid International, an organization that supports literacy in Sub-Saharan Africa.