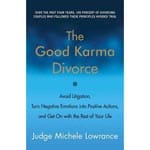 The Good Karma Divorce:
Avoid Litigation, Turn Negative Emotion into Positive Actions, and Get On with the Rest of Your Life
By Judge Michele Lowrance
HarperOne, 256 pp. $25.99
In most cases, divorce is painful for everyone involved.  But in The Good Karma Divorce, Judge Michele Lowrance offers a way to lessen the suffering. With a close-up view from the bench, she has seen many emotional courtroom battles in which couples get caught up in unloading their heartache. Lowrance, a practicing Buddhist, believes that there are two paths that couples can take when ending a relationship: choosing to remain bitter and antagonistic, or opting for soul-searching, which can lead to grace and compassion. Lowrance is like a Sherpa as she guides the reader on a climb toward self-assurance, dignity, and strength. Working with the law of karma, Lowrance explains how acting with understanding and patience can change who you are—for the better. She uses a teaching by the Buddha to sum up her point: "Holding on to anger is like grasping a hot coal with the intent of throwing it at someone else; you are the one who gets burned." Yes, the fiery intensity of a breakup can be overwhelming, but Lowrance's refreshing perspective can help cool your emotions and heal your heart.