Sacred Places
A Mindful Journey and Coloring Book
By Thich Nhat Hanh; illustrated by Jason DeAntonis
Parallax 2016; 80 pp., $14.95 (paper)
Adult coloring books are hugely popular these days as a tool for relaxation, contemplation, and meditation. Sacred Places is the second in a series of coloring books by Parallax offering the wisdom of Thich Nhat Hahn. Artist Jason DeAntonis, illustrator of the Mindfulness Essentials series, has created black-and-white renderings of places and interiors to pair with these teachings. "Each of us needs to belong to a place that feels sacred to us," writes Thich Nhat Hanh. "This place is a spiritual homeland where we can retreat from time to time, much as we may have run to our mothers for refuge when we were young. Even if we cannot actually go there, we only need to think of it, and we can feel the solidity and joy of that place." All images in this book are printed on non-bleed, recycled paper.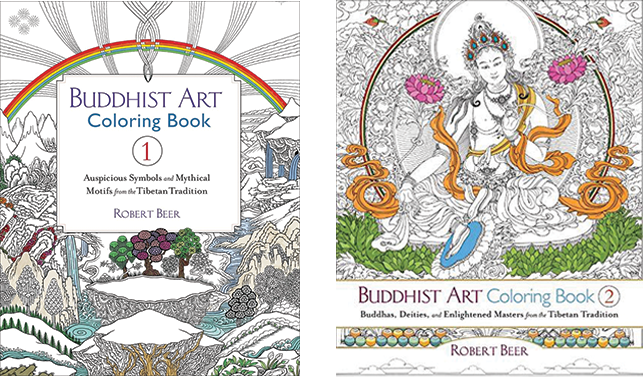 Buddhist Art
Coloring Book 1: Auspicious Symbols and Mythical Motifs from the Tibetan Tradition
By Robert Beer
Shambhala 2016; 112 pp., $15.95 (paper)
Coloring Book 2: Buddhas, Deities, and Enlightened Masters from the Tibetan Tradition
By Robert Beer
Shambhala 2016; 128 pp., $15.95 (paper)
Robert Beer has studied and practiced Tibetan thangka painting for thirty years. In this two-volume series, he invites readers to explore Tibetan Buddhism through coloring some of its most revered figures and sacred art. In the first volume, Beer presents his drawings of traditional Tibetan Buddhist symbols and motifs, meticulously painted by hand with a small sable brush, each accompanied by a detailed description of the piece's meaning. In the second volume, Beer has selected fifty of his brush paintings of key figures of Tibetan Buddhism, including spiritual adventurers, rebellious saints, and tantric masters. Both of these volumes are meant to inspire a sense of connection to the tradition while encouraging a quiet contemplation of one's own essential nature through coloring.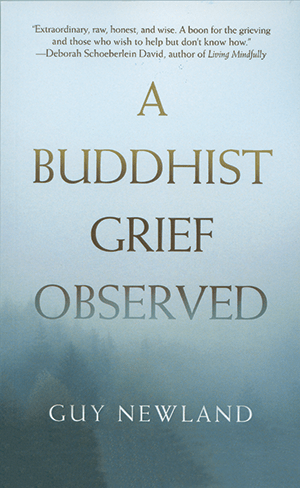 A Buddhist Grief Observed
By Guy Newland
Wisdom 2016; 120 pp., $14.95 (paper)
A Buddhist Grief Observed is the map of a Buddhist scholar and teacher's trajectory through deep grief following the death of his wife. In chapters such as "Pain" and "Taking Care," Guy Newland recounts his journey to make sense of his life after loss by putting Buddhist teachings into action, drawing on Dogen, the Dalai Lama, Pema Chödrön, and ancient Pali texts. Newland's goal with this book is to transform what we usually consider "the private pain of grief" into an awakening that feelings of fear and loss are shared by all—that in our anguish, we are not alone. "Grief is the process of adjusting to unwanted change," Newland writes, "and since change is unrelenting, we bear every day unrecognized micro-griefs." The book ends with a eulogy for the author's late partner.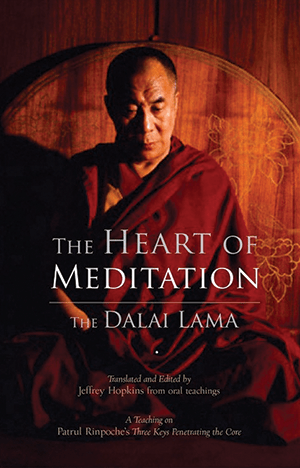 The Heart of Meditation
Discovering Innermost Awareness
By the Dalai Lama and Jeffrey Hopkins
Shambhala 2016; 168 pp., $22.95 (paper)
"We have to work to change the basic perspectives on which our feelings depend." It's on this thought that the Dalai Lama builds his narrative in The Heart of Meditation. Using as his starting point a visionary poem by the great nineteenth-century master Patrul Rinpoche, the Dalai Lama offers his teachings on Dzogchen, the advanced meditation practice of the Nyingma school. Buddha scholar Jeffrey Hopkins interweaves private teachings given to him by His Holiness with the Dalai Lama's seminar lectures at the Camden Centre, resulting in a book that focuses on the identification and cultivation of what the Dalai Lama calls "innermost awareness," the basic and ever-present nature of mind we can discover right now in the gaps between our thoughts.

Becoming Wise
An Inquiry into the Mystery and Art of Living
By Krista Tippett
Penguin 2016; 304 pp., $28 (paper)
In Becoming Wise, Krista Tippett distils the insights she has gleaned from asking questions of extraordinary thinkers over the course of her career as a broadcaster, with a focus on conversations from her NPR show On Being. "I'm a person who listens for a living," she says. "I listen for wisdom and beauty, and for voices not shouting to be heard." In conversation with scientists, theologians, poets, and activists, Tippett explores the many dimensions of what it means to be human.—"places where we pay essential humanity an attention unmatched in our other disciplines—our capacities to love and take joy, our capacities to damage and deceive, the inevitability of failure and finitude, the longing to be of service."

What is Zen?
Plain Talk for a Beginner's Mind
By Norman Fischer and Susan Moon
Shambhala 2016; 208 pp., $15.95 (paper)
In What Is Zen?, Buddhist teacher Zoketsu Norman Fischer and author Susan Moon survey Zen philosophy and practice in a reader-friendly, question-and-answer format. Both playing with and challenging each other, Moon and Fisher discuss history, theory, meditation, and Zen wisdom on contemporary issues. "This book is a conversation between old dharma friends," writes Moon, "but it's not symmetrical; it's a question-and-answer conversation. I'm the Q and Norman is the A." Moon's line of questioning is simple, direct, and personal, which allows Fischer to more deeply and thoroughly examine his long-held beliefs, resulting in a more intimate dialogue. With something for both beginners and longtime practitioners, this book is a window into today's Zen.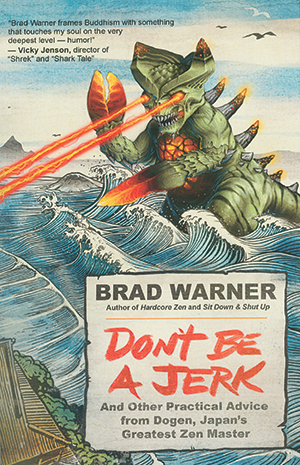 Don't Be A Jerk
And Other Practical Advice from Dogen, Japan's Greatest Zen Master
By Brad Warner
New World Library 2016; 328 pp., $15.95 (paper)
The Shobogenzo is a revered 800-year-old Zen Buddhism classic. It was written by the founder of the Soto school of Zen, Eihei Dogen, who is considered one of Buddhism's most important but difficult philosophers. Zen priest Brad Warner, a student of the Shobogenzo for thirty years, paraphrases this work in his trademark style—irreverent, astute, contrary, and entertaining. With cheeky chapter titles such as "Note to Self: There Is No Self" and "How to Sit Down and Shut Up," Warner's humorous take is interspersed with ruminations on topics such as feminism, reincarnation, and the debate between science and religion.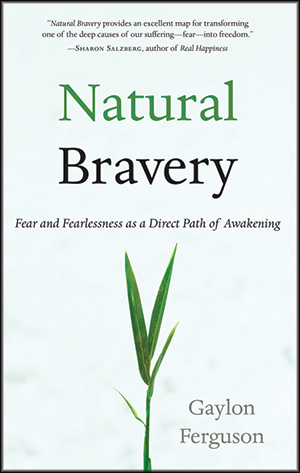 Natural Bravery
Fear and Fearlessness as a Direct Path of Awakening
By Gaylon Ferguson
Shambhala 2016; 252 pp., $16.95 (paper)
"The word 'fear' spans diverse experiences: being somewhat frightened, worried, anxious, having a phobia, breaking out in a cold sweat, completely panicked," writes Buddhist teacher Gaylon Ferguson in Natural Bravery. This book looks at freedom from fear through the lens of ancient traditions featuring courage and compassion, with a specific focus on the Shambhala teachings. Ferguson tells us that generally we create our own fear, and awareness of this fact can help us find our way to bravery—leading to better lives not only for ourselves, but giving us the capacity to extend this newfound fearlessness to others.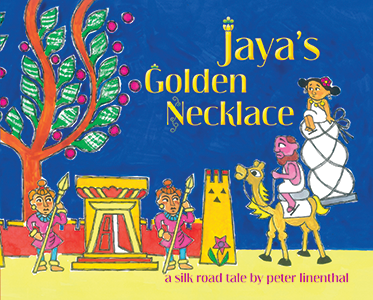 Jaya's Golden Necklace
By Peter Linenthal
Wisdom 2015; 40 pp., $16.95 (paper)
In Jaya's Golden Necklace, young Jaya learns the value of life's most precious resource—believing in yourself. In this children's tale, Jaya sets off on a very important mission given to her by the king. Along the way, she encounters obstacles that cause the deities Shiva, Inanna, and Hercules to appear from the golden coins on the necklace her mother has given her. The deities help Jaya overcome her challenges, all the while showing her strengths she didn't know she had within her. Author and illustrator Peter Linenthal's book teaches children that they already have what they need to be capable, brave, and strong.