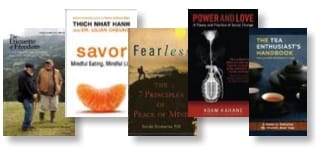 The Etiquette of Freedom: Gary Snyder, Jim Harrison and The Practice of the Wild
Edited by Paul Ebenkamp
Counterpoint, 2010; 160 pp., $28 (cloth)
The lion's share of The Etiquette of Freedom is transcribed conversations between two of America's literary giants: Gary Snyder, the Pulitzer Prize-winning poet often associated with the Beats, and Jim Harrison, the author of more than thirty books, including the novel, Legends of the Fall. Snyder and Harrison consistently offer an intimate look at their lives and thoughts during talks that touch on such topics as poetry, eating bear meat, and Zen. The book comes with a DVD that features The Practice of the Wild documentary about the writers as well as more than an hour of outtakes.
Savor: Mindful Eating, Mindful Life
By Thich Nhat Hanh and Lilian Cheung
HarperOne, 2010; 304 pp., $25.99 (cloth)
This isn't a diet book, not in the classic sense. Savor is teaching mindfulness and—with two out of three adults in the U.S. overweight—this book is also addressing suffering head on. Sure, it's a personal decision whether to scarf down gummy bears and chocolate cupcakes, and then skip the gym. But world-renowned Buddhist teacher Thich Nhat Hanh and Harvard nutritionist Lilian Cheung say the way to shed pounds permanently is to take into account the societal and biological forces that drive us to eat too much and move too little—only then can we stop the cycle of shame and guilt, and start changing our habits.
Fearless: The 7 Principles of Peace of Mind
By Brenda Shoshanna
Sterling, 2010; 224 pp., $22.95 (cloth)
"Many of us depend on fear, thinking it protects us," says Zen practitioner Brenda Shoshanna in her latest book. But it doesn't. Fear is fueled by self-hatred and it destroys our basic sense of confidence and well-being. It takes us off track and makes us prey to those who wish to control or harm us. Fearless gives us an intellectual understanding of fear and offers tools to help us let go of this negative emotion. "Contrary to popular belief, letting it go is not difficult to do," Shoshanna continues. "The truth is that fear is a bully: When you turn around and face it head-on, it becomes powerless. As you do so, you see that the very thing that once seemed so terrifying is simply made of dust and dreams."
Power and Love: A Theory and Practice of Social Change
By Adam Kahane
Berrett-Koehler Publishers, 2010; 168 pp., $16.95 (paper)
Typically, when we want to solve thorny group or societal issues, we either go to war—pushing for what we want at all costs—or we sweep problems under the rug of superficial peace. But Adam Kahane says there is a better way. First, we must understand that these two approaches reflect fundamental human drives: love (the drive to unity) and power (the drive to self-realization). Then we can learn to synthesize love and power and discover the ways in which they complement each other. Kahane has spent twenty years helping leaders around the world tackle daunting problems such as implementing peace accords that ended civil war in Guatemala and addressing critical development issues in South Africa.
The Tea Enthusiast's Handbook: A Guide to Enjoying the World's Best Teas
By Mary Lou Heiss and Robert J. Heiss
Ten Speed Press, 2010; 200 pp., $16.99 (cloth)
Buddhists often talk about how we do not and cannot have independent existence. We may drink our cup of tea in solitude but we can only do so because it's connected to so many people and conditions: the tea sowers and pluckers and sellers, the sun, rain, and soil. To delve into all that goes into our teapot, I recommend The Tea Enthusiast's Handbook; it unpacks the beverage from a multitude of angles—its history, its production, its various classes or types, and the myriad of factors that determine its flavor. The authors have been tea retailers since 1974 and the text is steeped in their extensive knowledge of the subject, as well as their passion for it. The sensual descriptions of leaf and bud had me putting on the kettle.