Pranayama is sometimes translated as "to release life energy from its bounds." When we can free the breath from both mental and physical constraints, it's as good as opening a tight belt after Thanksgiving dinner. Cyndi Lee, founder of the OM Yoga Center in New York, discusses our relationship to the breath and gives four poses that will help us recognize our "authentic breath."
Every chest is expanding and contracting with the constant motion of breathing. Whether you are in a waiting room, sitting on a bus, or lying next to someone watching TV, take a moment to look around right now: all of us are breathing all the time whether we are aware of it or not. We breathe when we are sleeping, when we are eating, when we are exercising, when we are talking, and when we are kissing.
Although we may not pay attention to the movement, texture, or sound of our breathing, the quality of the breath directly relates to both the experience of the mind and the condition of the body. When we become disturbed by external circumstances, our breathing pattern changes. We may gasp, sigh, hold our breath, or even scream, which is an exhale. This breathing response will, in turn, intensify our already unbalanced emotional state, making it even more agitated. This kind of zigzag recycling of reactions creates a bottleneck of energy that can manifest variously as anxiety attacks, tension headaches, a tight chest, a haggard face, and physical weakness due to lack of oxygen.
The good news is that the action of breathing—the only vital function of our body that is both involuntary and voluntary—is easily accessible, right at the tips of our noses. Other circulatory activities such as the flow of blood, water, and lymphatic fluids require specialized physical activity such as massage or yoga practice to even begin to unblock the body's juices and coax them along the proper viaducts. But with a little practice in the ancient yogic art of pranayama we can all begin to experience the benefits of unobstructed wind energy—deep, full breathing. Pranayama is sometimes translated as "to release life energy from its bounds," and it's true that when we can free the breath from both mental and physical constraints, it's as good as opening a tight belt after Thanksgiving dinner.
There are various breathing techniques designed to invigorate or relax the nervous system, balance the active and passive energies, cleanse the sinuses, or cultivate harmony and wellbeing. But before trying to master the pranayama vocabulary, the ancient texts recommend that we begin with the foundation of pranayama—gaining a deeper awareness of ourselves through observation of the breath.
Pranayama is, first of all, a form of familiarization. It is an elemental way of knowing who we are on all levels—heart, body, and mind. Patanjali's Yoga Sutra says the practice of pranayama "removes the veil from the light of consciousness." Pranayama instruction is similar to meditation instruction which invites us to take an unbiased approach to what is going on in our mind, not judging it or trying to change it. The same instruction goes for how to begin working with your breath.
Please note, though, that breath awareness is different than the practice of meditation, where we use the breath as a home base for resting in the present moment. Pranayama is about the actual breath, about cultivating a new relationship to the breath, and about learning to recognize what is called our "authentic breath." Over time the practice of breath awareness will begin to reverse the downward spiral of emotion affecting breathing affecting emotion; the authentic breath will begin to simply "happen" naturally in our everyday lives.
1. Corpse Pose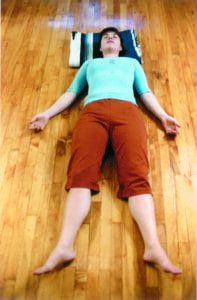 This is sometimes called "relaxation pose," but it is really more than that. It is a technique for recognizing the impermanence of our body and acknowledging that someday we will lose this physical identity. Make yourself as comfortable as possible so that no one part of your body will begin to cry for attention. Let go of all physical effort and tension. Like a corpse, you should feel sensation-less, feel nothing.
Position your arms about 10 inches from the sides of your body with your palms facing up. This position supports the action of the heart and lungs. The legs should be slightly wider than your hips with the feet falling open naturally.
Begin by simply observing the breath. Notice if you have an idea of what good breathing is and try to let that go for now. Watch how your breath flows in and out. Notice where your breath seems to go naturally and where it sometimes feels tight. No problem. There is no right or wrong way for each breath to feel. Observe how the next breath is different from the one before it.
Continue this observation but now place your hands on your lower belly, between your navel and your pubic bone. Feel how they ride up when you inhale and back down as you exhale, like floating in a raft on the ocean. Each breath will be as different as each wave in the sea.
After at least 8 breaths, move your hands to the upper belly, between the navel and the sternum. Feel the opening and closing of the rib cage, like a caliper or a bellows. Lastly, place your hands on your chest, between your sternum and your collarbones.
Feel free to move your hands around in each of these designated areas, exploring the sides of the body as well as the front. Let the part of your torso that is touching the floor give you some feedback for how and where your breath moves in the back of your body.
Sometimes the breath is obstructed for physical reasons; for instance, the muscular support for the breathing apparatus—lungs, ribs, collarbones, diaphragm—may be weak or tight. Each of the following positions creates openings in commonly blocked areas such as the hips and chest. Follow the same breathing awareness instructions. You can remain perfectly still or use your hands to learn more about your breathing.
2. Lying on bolster to open chest
If you regularly sit in a car or at a desk, you may have a tendency to sink in the chest. This makes it difficult to get a full breath into the tips of the lungs. Lying on your back, place a bolster or pillow under the bottom edges of your shoulder blades so that your arms can comfortably extend out to the sides or overhead. Your neck should feel long. You can put a pillow under your head if the neck arch is too much. This position is a big heart opener and you may feel too vulnerable, in which case you can start with a smaller pillow. Stay in the pose for 3 to 5 minutes.
3. Supine cobbler's pose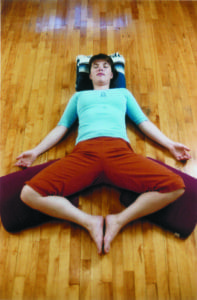 This position creates space in the hip sockets, releasing blocked pelvic energy. It also enables the natural movement of the breath to deepen by freeing the diaphragm. If you are tight in the hamstrings or groins, be sure to place pillows under your thighs so they are supported. You don't want to open your hips too fast. That will be stressful and not helpful for releasing the breath. Stay in this pose for 5 to 10 minutes.
4. Twist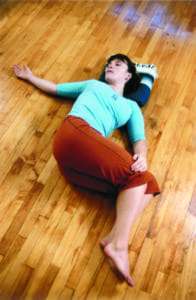 Twisting opens the intercostal muscles between each rib, as well as the muscles on the sides of the abdomen. It also massages the liver, spleen, and intestines. If your top shoulder doesn't touch the ground, place a blanket under it so you can relax completely. If the twist is too intense, separate your knees slightly, so the top one is no longer directly on top of the bottom one. Stay here for 1 to 3 minutes.
Observe the movement of the breath throughout your entire body. Even though you know you are breathing in and out with your nose and the air is going into your lungs, the exchange of oxygen and carbon dioxide is happening throughout your blood stream. In reality, you are breathing with every cell in your whole body. Soften your mind so you can experience this three-dimensional expansion and contraction. With every inhalation, your body expands and radiates out naturally, creating a sense of expanding, energizing, building, and nourishing. When you exhale, your body softens, contracts slightly, and falls back to center, giving the experience of calming and grounding. If you notice this pattern even once a day, you will naturally begin to free the breath, an important key to unlocking the fullness of your life potential. Breath awareness is not only a way to know ourselves, it is the primary method for connecting with the pulsation of everything, everywhere.