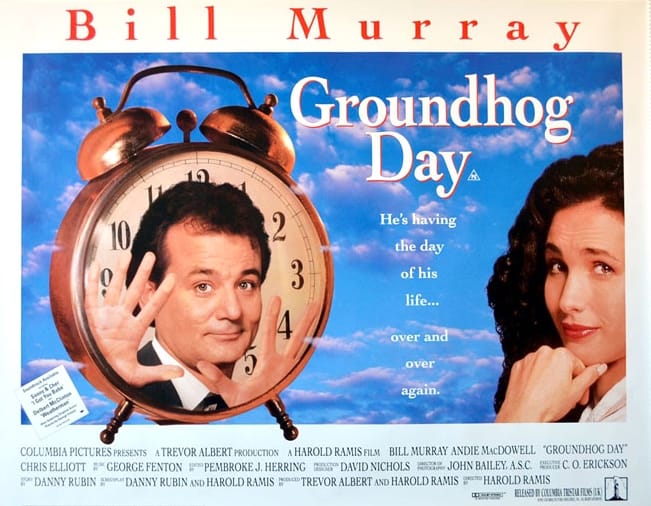 Here's some news comedy fans will like, not least of all Buddhist ones: Groundhog Day, Harold Ramis's beloved 1993 film, has been adapted for the stage and will be headed to Broadway in 2017. But wait, you may be wondering… there's such a thing as Buddhist comedy? I didn't even know Buddhists have a sense of humor! 
Well, comedy is in the eye of the beholder, and everyone, Buddhist or not, seems to agree that Groundhog Day has it all. It's poignant, it's irreverent, and it's darned funny, and it features an at-the-top-of-his-game Bill Murray. As for the Buddhist connection?
As Perry Garfinkel wrote in "And If He Sees His Shadow…", his profile of (the now late) Ramis:
Groundhog Day, the 1993 film Ramis directed and co-wrote with Danny Rubin, became an underground Buddhist classic, despite the fact that the words "Buddhist" or "Buddha" never appear in the script, or that neither Ramis nor Rubin intended it to be Buddhist or Christian or Jewish or any of the other denominations that say it speaks to them and for them. And despite the fact that the film is, after all, a comedy.
Ramis also discussed the concepts in the film with comedian and producer Judd Apatow, as published in Apatow's excellent book of comedy interviews, Sick in the Head (and here on Lion's Roar):
Apatow: As someone who is an existentialist with a dash of Buddhism, if that's your philosophy, you seem like a serene, happy person. How have you taken the darkest philosophy there is and found peace for yourself?
Ramis: Serenity is an illusion, but if anything is possible and I can do anything, then there's a limitless capacity to do good. That's what Groundhog Day is about.
It seems safe to say, we can expect an unusual and very funny theatrical experience. Too bad we have to wait until April.
In the meantime, read up:
Harold Ramis didn't intend "Groundhog Day" to be Buddhist, but it's a dharma classic
Harold Ramis, Judd Apatow talk "Groundhog Day," Buddhism, and San Francisco in the 60s
Interesting update: CNN has published a playful new piece drawing connections between, you guessed it, the Dalai Lama and Bill Murray.
Thank you for reading Lion
'

s Roar. Now can we ask for your help?

Lion's Roar is a nonprofit. Our mission is to share the wisdom of the Buddha's teachings—to inspire, comfort, support, and enlighten readers around the world. Our aspiration is to keep LionsRoar.com available to everyone, providing a supportive, inspiring Buddhist community that anyone can access, from curious beginners to committed meditators. Do you share our aspiration? We can't do this without your help.

Lion's Roar reaches more readers like you than ever before. Unfortunately, advertising and other revenues are falling for print and online media. We know we have something deeply precious to share with the world, and we want to continue this important work. Can you help support our efforts now?

Lion's Roar is independent, unbiased, not-for-profit, and supported by readers like you. Please donate today and help the lion's roar echo for readers around the world.