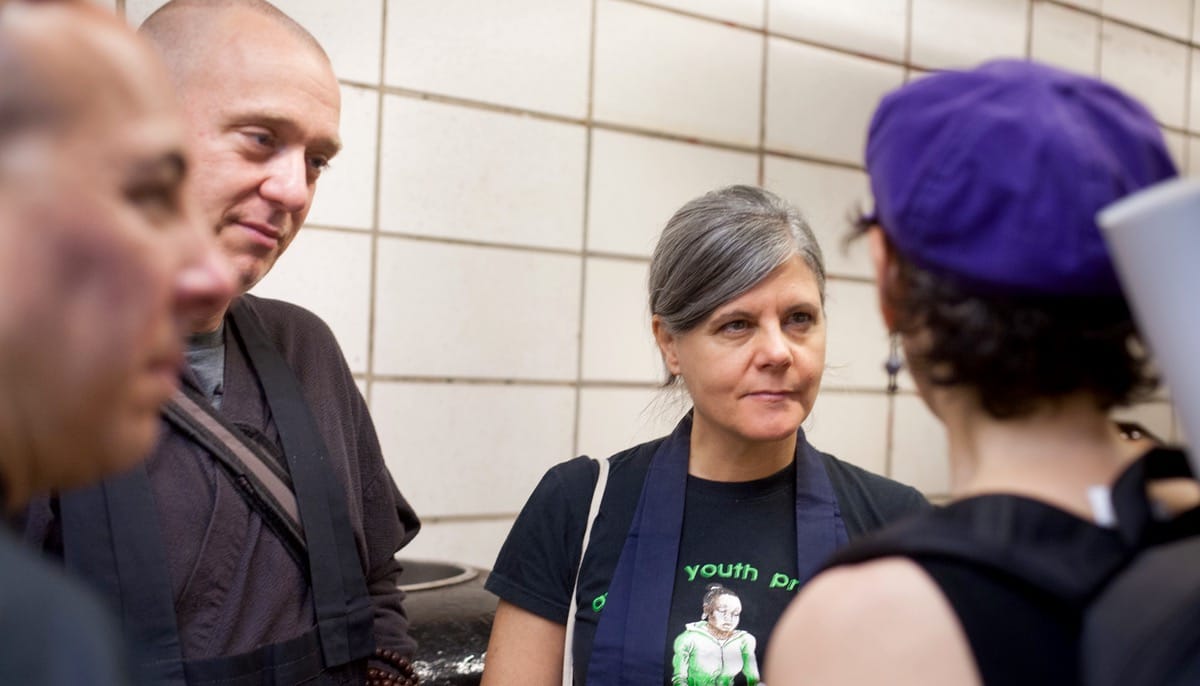 Brooklyn Zen Center co-founders Greg Snyder and Laura O'Laughlin, who jointly accepted the role of guiding teacher at Brooklyn Zen Center. Photo by A. Jesse Jiryu Davis.
On December 2, Brooklyn Zen Center held a ceremony to thank Teah Strozer as she stepped down as the center's guiding teacher, and to welcome Greg Snyder and Laura O'Loughlin who together succeeded Strozer in her role.
Strozer is a Buddhist priest, dharma teacher and lineage-holder in the Soto Zen tradition of Shunryu Suzuki. Practicing meditation since 1967, Strozer studied under Suzuki Roshi, Chogyam Trungpa, and Dainin Katagiri. She served as chaplain for 10 years at the Bay School of San Francisco, teaching meditation and ethics. In the past, she also ran mindful industrial kitchens and taught music and meditation in schools in Nyeri, Kenya.
Synder and O'Loughlin are founders of the Brooklyn Zen Center, and teachers in Suzuki Roshi's lineage. Snyder directs and teaches a Masters of Divinity program at the Union Theology Seminary that focuses on Buddhism and inter-religious engagement. O'Loughlin is a psychotherapist with her own practice in Manhattan, where she uses mindfulness to support healing and transformation.
The "Stepping Up/Stepping Down" ceremony was a key moment in the history of the Brooklyn Zen Center. The event was described as a chance for the sangha (community) to honor and support both past and present guiding teachers while looking forward to the future.
Can you help us at a critical time?

COVID-19 has brought tremendous suffering, uncertainty, fear, and strain to the world.
Our sincere wish is that these Buddhist teachings, guided practices, and stories can be a balm in these difficult times. Over the past month, over 400,000 readers like you have visited our site, reading almost a million pages and streaming over 120,000 hours of video teachings. We want to provide even more Buddhist wisdom but our resources are strained. Can you help us?
No one is free from the pandemic's impact, including Lion's Roar. We rely significantly on advertising and newsstand sales to support our work — both of which have dropped precipitously this year. Can you lend your support to Lion's Roar at this critical time?