There's no shortage of Buddhism-inspired marketing these days – and while some of it's playful, it often can come on a bit strong, too.
Though it seems to depict Budai, the "fat Buddha" so often mistaken for Siddhartha Gautama, the historical Buddha, this new canned drink does away with accuracy altogether, renaming him after the product and creating a new legend for him.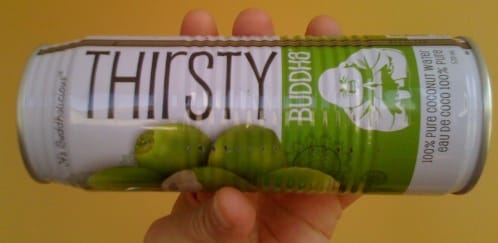 "Thirsty Buddha," reads the can, "believes that adequate hydration is essential to life, so much so that he has spent the better part of his in search of Mother Nature's ultimate hydrator. With his lifelong journey, comes the success of his quest: Thirsty Buddha 100% Pure Coconut Water." …And then, the kicker, at the top of the package: "It's Buddhalicious!"

Thirsty Buddha is hardly the first beverage to try to siphon off a little of Buddhism's cultural cachet. Since I've started covering the many collisions between dharma and mass-culture, I've seen Bodhichitta Wines, Guru Energy drink, and Lucky Beer — which also features Budai in its packaging, and uses flippant marketing language that makes reference to the Dalai Lama, enlightenment, and the Middle Way. And that's just for starts.
By contrast, there's this Washington Post story, that our Associate Publisher / circulation chief Alan Brush notes today: "Former Coke executive slams 'share of stomach' marketing campaign." As Alan says, "Interesting that society has reached a point where a top exec at a major company can talk about 'karmic debt.'"