Talk about upcycling: via Buddhist Art News comes word of a truly unusual exhibit, "A Waste Cardboard Installation: Buddhas from a Bottleshop." In Australian artist John Bradley's own words: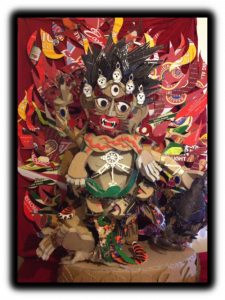 Buddhas from a Bottle Shop is an installation created from recycled cardboard beer and wine cartons and boxes that once held expensive spirits. This installation, in part, represents in three dimensional form the inner heart of a Himalayan Buddhist mandala concerning the great teacher and second Buddha Guru Rinpoche or Padmasambhava.
This naturally begs the question: why use liquor boxes to express this? The answer lies in the intersection of Bradley's 36 years study of the culture within a certain Aboriginal Australian community in which mundane objects are regularly "turned into objects of power" and the sympathetic resonance he felt in the sacred Buddhist sites of Bhutan.
Visit here to read Bradley's full description of the thinking behind his installation, which will be on display at Fitzroy's MIECAT gallery in Victoria, Australia from June 15 – 21.