Each Friday, we share three topical longreads in our Weekend Reader newsletter. This week, LionsRoar.com editor Sam Littlefair reflects on the Buddhist themes in The Matrix, 20 years after the film's release. Sign up here to receive the Weekend Reader in your inbox.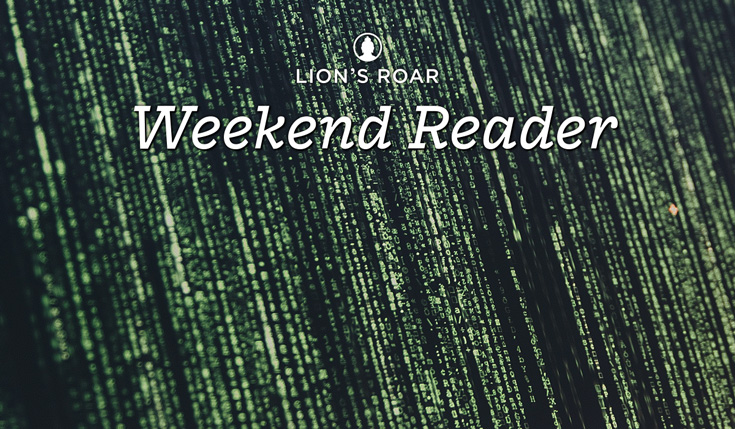 Twenty years ago this Sunday, The Matrix was released. I went to see it in theatres with my dad (I was in third grade), and it instantly became an all-time favorite. A lot of the movie went over my eight-year-old head, but even so the film's central concept — that all of humanity exists in a simulation called "the Matrix" — blew my mind.
The movie had that effect on a lot of people. Within a few years of its release, a popular theory arose that, statistically, it's extremely likely that humanity only exists in such a simulation. To this day, philosophers, tech moguls, and journalists openly debate the question, "Do we live in a 'Matrix'-like illusion?"
The Buddha settled that question two-and-a-half millennia ago with a resounding "yes." That's why so many people view The Matrix as a kind of Buddhist allegory. (Spoiler alerts to follow!) The Matrix itself is humanity's self-constructed illusory prison of the mind — a handy metaphor for the Buddhist concept of samsara. At one point the film's villain, Agent Smith, even goes so far as to say, "I believe that, as a species, human beings define their reality through suffering and misery."
Smith, not actually human but an artificial intelligence program, is akin to the demon Mara, an embodiment of temptation and delusion who tried to foil the Buddha's enlightenment. Neo, the hero played by Keanu Reeves, is the film's bodhisattva-in-training. When Neo becomes aware that he is living in an illusion, Morpheus, a sort of spiritual guide, tells Neo that he is "The One" (like a future Buddha) and shows him how to open his mind to reality. An oracle, though, tells Neo that he is not actually The One: "You got the gift, but looks like you're waiting for something," she says. "Your next life, maybe." He will, she tells him, soon face a choice between letting Morpheus die or sacrificing himself. In the end, Neo renounces everything — including any hope of escaping the Matrix — and gives up his life. In this final surrender, death, Neo is reborn into his new life as The One, and now has the clarity to see through the illusion of the Matrix and destroy the AI programs that keep humanity imprisoned.
In my opinion, Smith is right: we humans do create a world of suffering for ourselves. But Morpheus is also right: we can exit that world of suffering. Let's look at three scenes from The Matrix, through the lens of complementary Buddhist teachings.
—Sam Littlefair, editor, LionsRoar.com
In a training program, Morpheus takes Neo out onto the roof of a building. "Let it all go, Neo," he says. "Fear. Doubt. Disbelief. Free your mind." Morpheus runs and jumps off of the building, landing on another roof fifty feet away. "Okie dokie," says Neo. "Free my mind. Right. No problem."
Ajahn Chah on letting go:
"What is nibbana all about anyway? Nibbana means not grasping. Nibbana means not giving meaning to things. Nibbana means letting go. Making offerings and doing meritorious deeds, observing moral precepts, and meditating on loving-kindness—all these are for getting rid of defilements and craving, for making the mind empty—empty of self-cherishing, empty of concepts of self and other—and for not wishing for anything, not wishing to be or become anything."
Neo stands with the Oracle in her kitchen. She gestures to a wooden plaque. "You know what that means?" she asks. "It's Latin. Means, 'Know Thyself.' I'm gonna let you in on a little secret. Being The One is just like being in love. Nobody can tell you you're in love. You just know it. Through and through. Balls to bones."
Pema Chodron on knowing yourself:
"Dogen Zen-ji said, 'To know yourself is to forget yourself.' We might think that knowing ourselves is a very ego-centered thing, but by beginning to look so clearly and so honestly at ourselves—at our emotions, at our thoughts, at who we really are—we begin to dissolve the walls that separate us from others. Somehow all of these walls, these ways of feeling separate from everything else and everyone else, are made up of opinions. They are made up of dogma; they are made of prejudice. These walls come from our fear of knowing parts of ourselves.
…
"So to know yourself is to forget yourself. This is to say that when we make friends with ourselves we no longer have to be so self-involved. It's a curious twist: making friends with ourselves is a way of not being so self-involved anymore. Then Dogen Zen-ji goes on to say, 'To forget yourself is to become enlightened by all things.' When we are not so self-involved, we begin to realize that the world is speaking to us all of the time. Every plant, every tree, every animal, every person, every car, every airplane is speaking to us, teaching us, awakening us. It's a wonderful world, but we often miss it."
In a fancy restaurant, Cypher — the traitor — is negotiating with Agent Smith. Cypher cuts himself a bite of succulent steak. "You know, I know this steak doesn't exist," he says. "I know when I put it in my mouth, the Matrix is telling my brain that it is juicy and delicious. After nine years, do you know what I've realized?" He takes a bite and groans. "Ignorance is bliss."
Guo Gu on simulation:
"Neuroscientists tell us that what we experience 'out there' is merely a complex simulation that occurs in our brains through synapses and neurotransmitters, and that these simulations are deeply influenced by our specific psychological makeup. Yogacara teachings agree with this but push it further, adding that our sense of the world is the result of the coming together of numerous past and present interdependent conditions. Yogacara calls this the interdependent nature of reality. This understanding challenges the distinctions we tend to make between inside and outside, body and mind, experience and experiencer. Yet we don't tend to live as though that were true."