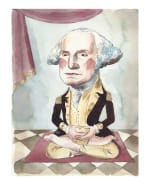 Some say that if you don't want to ruin a perfectly nice time, it's best to stay away from talk of religion and politics. If that's how you feel, you might want to stop reading this now.
In fact, one stalwart commenter on the Shambhala Sun's Facebook page has already dismissed himself because we'd mentioned there mindful politician Eric Schneiderman and his (successful!) primary run to be New York's Attorney General. But Buddhism — which is a religion, to some, and to others, not — and politics do often find themselves entwined. Hence the recent Socially Engaged Buddhism Symposium hosted by Zen Peacemakers. And another New York story, that of the proposed Islamic Center, has been the source of much discussion and action among dharma practitioners, for example, here on SunSpace and also among the Interdependence Project community.
Accordingly, many of our friends in the blogosphere are talking about Buddhism and politics. After the jump: find out what they have to say, and speak your own piece.
Over on the blog Fly Like a Crow, author Adam provides links to much of the online discussion, as well as Wikipedia's short description of Engaged Buddhism:
Engaged Buddhism refers to Buddhists who are seeking ways to apply the insights from meditation practice and dharma teachings to situations of social, political, environmental, and economic suffering and injustice. Finding its roots in Vietnam through the Zen Buddhist teacher Thich Nhat Hanh, Engaged Buddhism has grown in popularity in the West.
Adam's post presents a range of points of view on Engaged Buddhism, and while many might automatically assume that Buddhists are always socially active (and, liberal), he's uncovered some thoughts from younger online Buddhists which might surprise. For example, Kyle Lovett of The Reformed Buddhist presents a nuance that might be overlooked:
When we attempt to justify [socially engaged] endeavors as the purpose or goal of Buddhist teachings, then the practice becomes something other than Buddhism.
Adam, meanwhile, wonders if religious affiliation might actually be an obstacle in doing positive work, positing that whether (for example) a needed well is dug in Haiti by a religious group or by a secular group of citizens doesn't matter — so long as the well is dug.
Others, on the other hand, state that social action and Buddhism can and do go hand in hand. From the blog, The Endless Further:
Socially engaged Buddhism is nothing new. In fact, its roots go back to the Buddha himself. Apparently some people are worried that socially engaged Buddhism is just another way to promote a liberal agenda. But Buddhism has always had a liberal agenda. While the early Buddhists had no choice but to live at times under monarchical rule, it is clear they have always preferred and advocated democracy, which historically has been characterized as liberal. Buddhism has always attracted liberal-minded people because the values emphasized, such as compassion and non-attachment, appeal to them, while others not so liberal-minded may be attracted to other values, such as commerce or militarism.

There's nothing new going on and socially engaged Buddhism is not some vast conspiracy.
The blog goes on to quote Thich Nhat Hanh — "Engaged Buddhism is just Buddhism. When bombs begin to fall on people, you cannot stay in the meditation hall all of the time" — and ends on the note that while Engaged Buddhism is not for everyone, it is worthy of our respect.
And over at Dangerous Harvests (which is also quoted on Fly Like a Crow), blogger Nathan presents his own round-up of the online chatter about Engaged Buddhism, as well as some ambivalence:
I believe there are ways to be inspired by, or driven by, one's spiritual practice that don't lead to the kinds of oppression seen in theocracies, for example, or to the kinds of self-righteousness seen in individuals who believe their path is superior in solving social problems than all others. I understand that even saying this will cause some to believe that I'm no better than folks in the "Christian Right" arguing to outlaw abortions and for a return of prayer in public schools. Perhaps this is the case. I honestly don't know.

I just can't see how it's possible to divorce one's spiritual life from how one engages the big issues in the world.
Perhaps the most telling sentence here is, simply, "I honestly don't know." In saying that, Nathan embodies a lot about what we so often try to realize via Buddhist practice: that we can never really know, and that when we think we do, we may be sacrificing our ability to respond to what needs to be done, right now — beyond considerations of political leanings.
The main thing is to dig the well. Whether it's Buddhism or any one other influence that gets us together and puts the shovels in our hands, might just be beside the point.