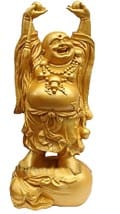 A Buddhist news story has been popping up all over the internet lately. The Geneva-based International Coalition for the Advancement of Religious and Spirituality (ICARUS) has blessed the Buddhist community with a special award: Best Religion in the World. More than 200 religious leaders from different faiths chose to vote for Buddhism above their own religions, due to Buddhism's leading attitude of non-violence and compassion. There's only one problem.

"Basically we can't find anyone to give it to," said Hans Groehlichen, ICARUS director. Apparently, the Buddhists keep saying Buddhism is not a religion, and Buddha nature lies in each of us. "We're going to keep calling around until we find a Buddhist who will accept it. We'll let you know when we do."
Okay, so there's also another problem. The story claims to have been originally written by Tribune de Geneve, but the internet busybodies can't seem to find the article there. In fact, they can't seem to find information on ICARUS anywhere. The only ICARUS I could find was the International Journal of Solar System Studies. At least the fake ICARUS mostly fit the acronym.
So, should Buddhists have won this theoretical prize? Read the full story, and decide for yourself.
One day, dear Buddhists, one day.