Each Friday, we share three topical longreads in our Weekend Reader newsletter. This week, Buddhadharma: The Practitioner's Quarterly editor Tynette Deveaux examines Buddhism's #MeToo movement. Sign up here to receive the Weekend Reader in your inbox.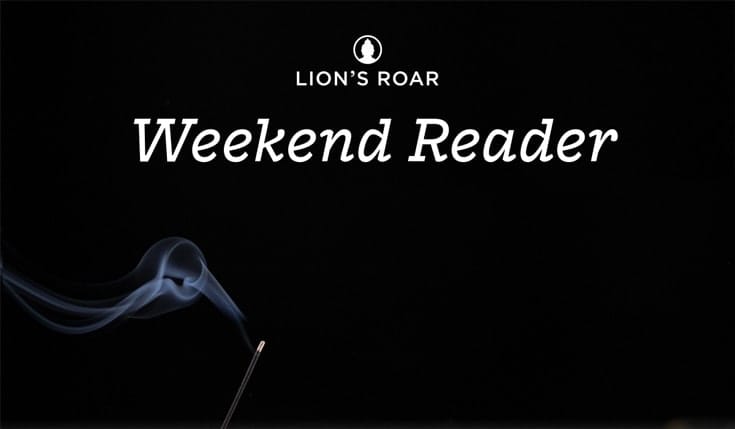 Over the past year, the world has witnessed an unprecedented uprising against sexual misconduct and sexual assault. The overwhelming allegations against Harvey Weinstein proved to be the tipping point, setting off the #MeToo movement, which spread out into all parts of society, bringing down powerful men in the entertainment industry, media, sports, and government.
It has also shaken up Buddhist communities.
While many of the revelations about abuse of power by Buddhist teachers, including sexual assault, are only now finding their way into the mainstream media, in some cases the efforts to bring them to light have been going on for years—just as they have been in other areas rocked by #MeToo.
So, what's changed? It seems we're listening a little better to those who have the courage to step forward and speak out. Perhaps we're less hasty to doubt that a great teacher, celebrity, judge—fill in the blank—could do such a thing. And there seems to be growing awareness, however subtle, that my suffering is not separate from your suffering.
Buddhism has always challenged us not to turn away from the suffering of others. It's hardest to do this when it threatens our cherished views of people and the world—and when it challenges our privilege, should we be lucky enough to have it. This is really where the rubber meets the road: stepping outside of our comfort zone to hear and acknowledge pain that unsettles and even implicates us. But it can be done, with one brave step at a time. We must find the courage to speak up and hear one another, wherever we find ourselves—in our local communities, homes, workplaces, and sanghas.
—Tynette Deveaux, editor, Buddhadharma: The Practitioner's Quarterly
Willa Blythe Baker offers both her painful firsthand account of sexual misconduct by a guru and insight for fellow survivors and communities.
Clergy sexual misconduct. Abuse of power. Exploitation. We don't want to believe these words apply to us or our sanghas. We turn away from them for understandable reasons. We may be afraid of the shame they would bring to our Buddhist communities. We might worry they will threaten our practice or the values we hold dear. We may be afraid to look at the truth that the very teacher we believed to be the embodiment of perfection is, in fact, a complicated human being. Inquiring into these words means questioning everything, including some of our deepest beliefs. The courage and emotional energy required to do this is significant.
Read more »
Longtime practitioner and psychotherapist Rob Preece says even though as students we may be devoted to our teachers, we can't afford to idealize them anymore.
Possibly the most critical issue that arises in relationship to the teacher is the potential loss of appropriate boundaries. For a relationship between a teacher and student to be healthy psychologically and emotionally, ethical boundaries must be clear. I have seen in my work as a therapist and mentor that students who have encountered a teacher's confused or loose boundaries suffer greatly. And because there is a taboo against criticizing the teacher, students may then find they have no one within their community to speak to about it. They may also find that their community does not really want to know. In the end, the very heart of the student's spirituality has been betrayed.
Our teachers need to hold clear boundaries around their emotional and physical behavior so that it does not become harmful to students.
On Sunday night, Karen Maezen Miller logged onto social media to see a steady stream of "me too"s coming across her feed — women identifying that they had been victims of sexual harassment or assault — and it broke down a barrier between "me" and "you."
Suffering can divide us into the perpetrator and the victim, the powerful and the powerless, but it can awaken and unite us, too. In fact, it must.
I've read the #MeToos. I know the fear and pain. I listen to the cries, which echo my own. But what I see in this goes beyond me alone. What I see is you, you, and you: an infinite whole that conveys the magnitude of the suffering, the empathy required of us, and the urgent need for each of us to wake up and begin to do good.