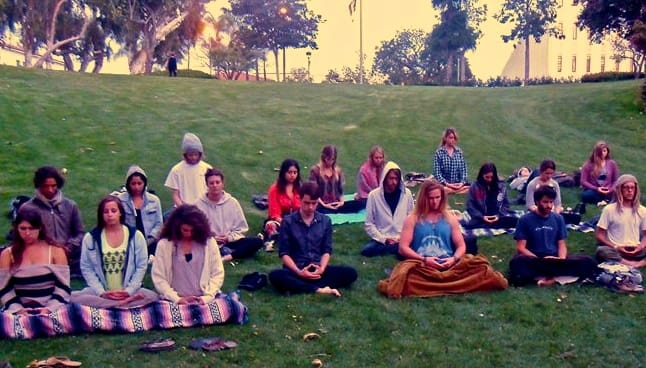 San Diego State University may be the first campus in the USA to open a Buddhist Greek letter organization.
The fraternity, Delta Beta Tau, and sorority, Delta Beta Theta, are the brainchild of Jeff Zlotnik, co-founder of the Dharma Bum Buddhist Temple in San Diego, and Abby Cervantes, a student of the temple. For six years the temple has been offering free "Introduction to Buddhism" and meditation classes at their Buddha for You store on campus and has built a sangha which includes many college students. It was the students' involvement that led to the idea of starting a Buddhist fraternity/sorority.
"To our knowledge and based on basic research, there have never been Buddhist fraternities or sororities in the United States," say the organizers.
Delta Bet Tau and Delta Beta Theta will be based on the Bodhisattva practice of the Six Paramitas. "Life as a college student in our fraternity/sorority will revolve around learning to integrate generosity, morality, patience, diligence, concentration, and wisdom into their academic, social, and family lives," said Zlotnik. He added, "It is not our goal to create perfect little Buddhists, but to teach students how to improve their lives and the lives of those around them through diligent practice."
"Instead of a keg, we'll have a meditation room," Zlotnik told The Daily Aztec, the campus newspaper.
Activities at Delta Beta Tau and Delta Beta Theta will have a strong focus on community service but will also include social gatherings, meditation retreats, and sports teams.
"Our long term vision is to establish a national charter within the Greek system and then start Buddhist fraternities and sororities on college campuses around the country…. We know there are students all over this country that can benefit from the Buddha's teachings. It is our practice to make the Buddha's teachings accessible to all, including college students," said Zlotnik.