Buddhist Global Relief has announced the cities and venues for its 2012 "Walk to Feed the Hungry" fundraising events.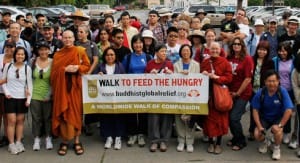 This is the third year in which Buddhist Global Relief will be holding a walk to raise funds for its programs that provide relief to communities around the world afflicted by chronic hunger and malnutrition. The Walk to Feed the Hungry began in 2010 in South Orange, New Jersey, and expanded to three cities in 2011. In the first two years, over $120,000 were raised to support BGR's humanitarian efforts. This year, events are happening in seven cities throughout the country: Seattle, WA (October 6), Ann Arbor, MI (October 13), Chicago, IL (October 13), New York, NY (October 13), San Francisco, CA (October 13), San Jose, CA (October 14), Los Angeles, CA (October 20), and Escondido, CA (October 25). Walks will be led by local organizers and are of varying distances. They will include dharma talks and end with a picnic lunch. The New York, Los Angeles, and Escondido walks will be led by BGR's chairperson, Venerable Bhikkhu Bodhi.
"We are very excited that our walk events have grown in scope and reach," said Kim Behan, BGR's Executive Director. "Walking in solidarity has a long history of uniting people and sparking social change. We are overjoyed at bringing together people from different backgrounds and focusing on what unites us on this path of service."
More information is available at Buddhist Global Relief's website. This links to the BGR First Giving website, allowing interested participants to find out details about each event, register to walk, raise funds, or simply donate. If there's not a walk happening near you, consider organizing your own event and donating the proceeds — for more information, you can send an email to [email protected] or call 888-852-7579.