Shodo Spring is a 65-year-old grandmother of four and a Zen Buddhist priest. In a few weeks, she will begin a 1200-mile walk following the route of the proposed Keystone XL Pipeline from Fort Hardisty, Alberta, to Steele City, Nebraska – a journey she expects will take her at least three months.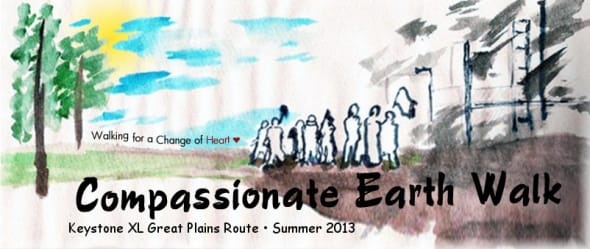 In communities along the way, she and fellow walkers will be lending their skills for service projects as well as offering events, dialogue, and interfaith prayer to those impacted by local economic and environmental issues. Shodo says that she knows that the walk will be rugged, but that she won't be deterred from her conviction to help make change in the world her grandchildren will inherit.
Shodo recently won $1,000 from the Pollination Project, a nonprofit that awards seed grants to individuals making a difference in their communities, to help kickstart her walk. For more details about the walk and how you can support Shodo's efforts, read this post by her at Resilience.org.