The Little Spirits Garden in British Columbia gives parents "spirit houses" to memorialize children lost in miscarriage and stillbirth.
For parents grieving miscarriages, often there is nowhere to grieve. A Buddhist-inspired memorial garden in British Columbia, Canada, seeks to give grieving parents such a space. Opened in 2012, Little Spirits Garden was recently profiled on BBC News. Little Spirits is a memorial garden inspired by Buddhism's Jizo Bodhisattva, located on the Royal Oak Burial Park cemetery in Victoria, which commemorates children lost during pregnancy.
In Japanese Buddhism, Jizo Bodhisattva is seen as the guardian of children, especially protecting the souls of miscarried children and helping them reach the afterlife. Jizo statues have become increasingly more popular in the West, as a physical way for parents to grieve the miscarriage of a child.
Designer Bill Pechet was inspired to create the Little Spirits Garden during his two years living in Japan, where he learned about the Buddhist tradition of Jizo. As Pechet explains, he was inspired by the way the Jizo tradition displays a sense of "collective loss in society," in addition to support for grieving families.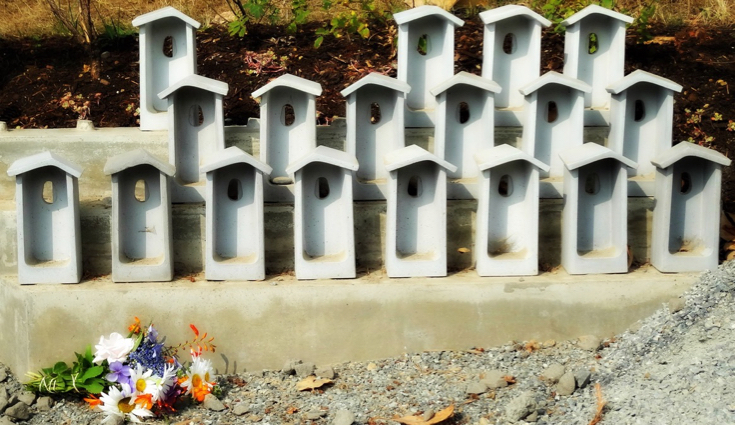 At Little Spirits, families who have lost a child are given concrete "spirit houses," adorned with a womb symbol inscription. The garden is funded by donations and offers services free of charge to parents. Little Spirits is the only memorial garden of its kind in Canada and holds around 400 spirit houses. It has space for approximately 3000 spirit houses. According to the BBC, mourners are not limited to those who have lost children recently:
Working at the burial park for five years has given Susan McMullen an insight into the taboo that prevented discussion of miscarriage in years gone by. She has welcomed a number of elderly visitors, including some who have travelled long distances to get there.

"A woman came recently who had experienced a loss in 1955. She asked if she could still have a spirit house. And of course she could."

Susan thinks it offers a way of closure for people of that generation, who were unable to openly grieve the loss of a pregnancy.
For more on Jizo Bodhisattva, read "For the Children We've Lost," a profile of Zen priest Jan Chozen Bays, and "Calling on Jizo," a teaching by Zen priest and grief counsellor Dojin Sarah Emerson.
THANK YOU FOR READING LION'S ROAR. CAN WE ASK FOR YOUR HELP?
At Lion's Roar, our mission is to communicate Buddhist wisdom in today's world. The connections we share with you — our readers — are what drive us to fulfill this mission.

Today, we're asking you to make a further connection with Lion's Roar. Can you help us with a donation today?
As an independent nonprofit committed to sharing Buddhist wisdom in all its diversity and breadth, Lion's Roar depends on the support of readers like you. If you have felt the benefit of Buddhist practice and wisdom in your own life, please support our work so that many others can benefit, too.

Please donate today — your support makes all the difference.

Lion's Roar is a registered charity in the US and Canada. All US & Canadian donations are tax deductible to the full extent allowed by law.