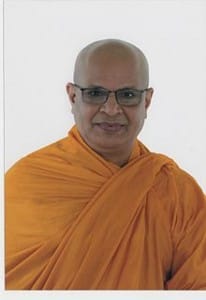 Venerable Bogoda Seelawimala, head priest of the London Buddhist Vihara, has been invited to attend the wedding of Prince William and Kate Middleton. He will be the first Buddhist monk ever to attend a royal wedding in Britain.
Bogoda Seelawimala, the most senior Buddhist monk in Britain, was once visited by Prince Charles in 2005, after the 2004 Boxing Day Tsunami.
Bogoda Seelawimala took the opportunity to offer some sage advice to the soon-to-be newlyweds. He suggested that the key to a happy marriage is meditation: "Discuss your problems and meditate together each morning to empty the mind of all your problems."
THANK YOU FOR READING LION'S ROAR. CAN WE ASK FOR YOUR HELP?
At Lion's Roar, our mission is to communicate Buddhist wisdom in today's world. The connections we share with you — our readers — are what drive us to fulfill this mission.

Today, we're asking you to make a further connection with Lion's Roar. Can you help us with a donation today?
As an independent nonprofit committed to sharing Buddhist wisdom in all its diversity and breadth, Lion's Roar depends on the support of readers like you. If you have felt the benefit of Buddhist practice and wisdom in your own life, please support our work so that many others can benefit, too.

Please donate today — your support makes all the difference.

Lion's Roar is a registered charity in the US and Canada. All US & Canadian donations are tax deductible to the full extent allowed by law.