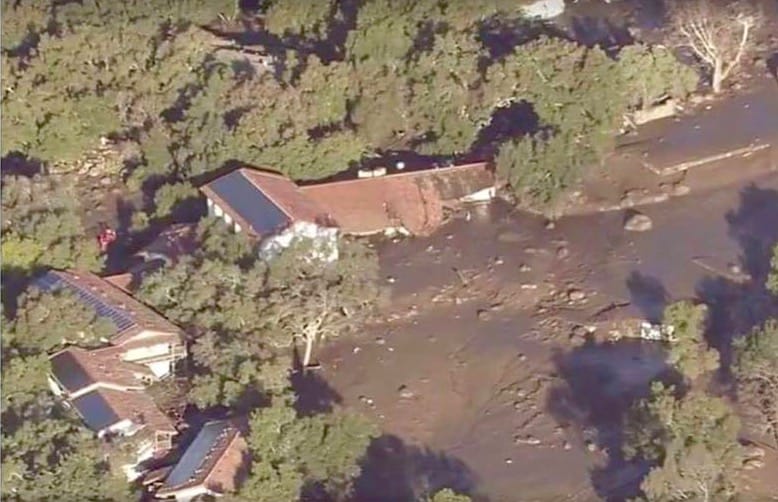 Screenshot via Good Morning America.
Mudslides and floodwaters forced attendees at a meditation retreat outside the costal town of Montecito, California, to evacuate last week.
The meditation retreat titled "Buddhahood Without Meditation" was scheduled from Jan. 7 to 12 at La Casa de Maria Retreat and Conference Center. It was organized by the Santa Barbara Institute for Consciousness Studies and featured Tibetan Buddhist teacher B. Alan Wallace.
La Casa de Maria is located three minutes' drive inland from Montecito, which was hit hardest by the mudslides.
All organizers and attendees were evacuated before the mudslide began, and the retreat was finished at a different location.
La Casa de Maria was directly in the path of the rolling mudslide, burying several structures on the 26-acre property in mud. Despite extensive damage and destruction, the director of the center, Steve Jacobsen, posted an update on Jan. 11, reassuring community members that La Casa de Maria "is not gone."
"Despite the destruction caused by this event, we continue to hold the land as sacred and our mission unchanged," wrote Jacobsen. "We believe the world will always need places of renewal like La Casa, and we are resolute in our determination to recover."
Jacobsen and several staff members visited La Casa yesterday, posting a Facebook update on the status of the property. While many buildings have been swept away, several structures were left untouched by the mudslide. Staff say more updates will be posted in the coming days.
Recent wildfires in the area were the largest in California history, charring more than 281,000 acres in Santa Barbara and Ventura counties. Hillsides left weakened by burned vegetation were unable to soak up excess rainwater, creating ideal conditions for mudslides.
Jacobsen stated that staff members are praying for those who have lost loved ones in the mudslides, those who are still missing, and all rescue personnel.