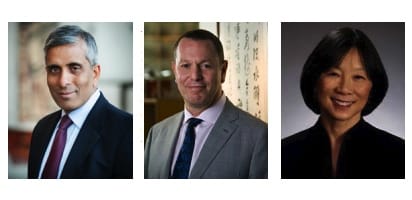 Featured speakers Arvind Gupta, president, University of BC; Ted Lipman, Chief Executive Officer, The Robert H. N. Ho Family Foundation; and Pauline Yu, President, American Council of Learned Societies
From July 7-9, the University of British Columbia in Vancouver will host a private symposium titled "Buddhist Studies Today." The symposium was created by the American Council of Learned Societies (ACLS) with support from The Robert H. N. Ho Family Foundation, and will feature, as the Vancouver Sun reports, "14 recent PhD-level fellowship recipients, along with a number of high-profile Buddhist scholars, […] expected to discuss new ideas of applying Buddhism in contemporary issues."
Last year, the Robert H.N. Ho Family Foundation Buddhist created philosophy grant for scholars, including those working on their PhD dissertations. From a Ho Family Foundation press release:
Grantees come from leading universities worldwide, including Harvard (US), Berkeley (US), École Française d'Extrême-Orient (France), Fudan (China) and the University of Tokyo (Japan), and comprise PhD candidates, postdoctoral fellows, and collaborative research fellows. Their wide-ranging in-depth explorations extend to many different Buddhist traditions and countries in Asia, involving Cambodia, Thailand, Japan and India, among others. They also cross many academic disciplines, strengthening the international and interdisciplinary network of Buddhist studies and enhancing its global impact. […]

The symposium will […] bring together the Program's inaugural cohort of early career Dissertation Fellows to present their work-in-progress after a full year of research. Peers, mentors and senior scholars will participate in critical discussions and share intellectual interests. The symposium will also include a roundtable at which senior scholars will assess the state of the field of Buddhist studies and bring new perspectives to the field.
Click here for the full press release, which features details on the fellowships and grantees.
About the grantees and the symposium, ACLS president (and featured symposium speaker) Dr. Pauline Yu told the Vancouver Sun: "These are people who are just finishing an entire year immersed in their studies, and this gives them a chance to get out of the library and talk about their work, where others can provide comments and suggestions. It helps them sharpen their focus (on their research topics), and that is extremely valuable."
The symposium will begin with a Tuesday-night convocation, including a keynote speech by Donald Lopez. For more details, view the symposium website here, or click here to open a PDF of the symposium program.