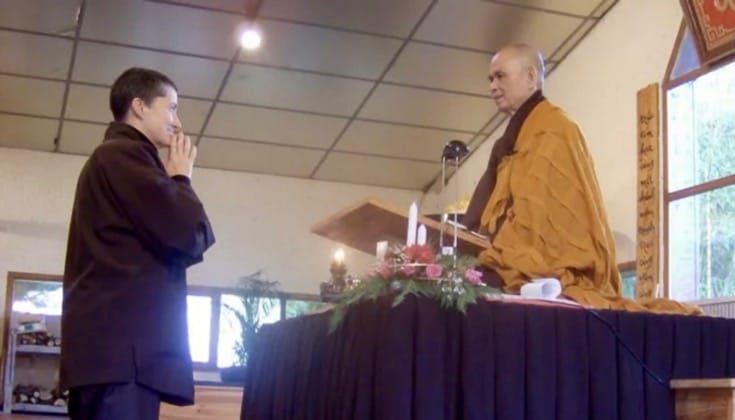 Thich Nhat Hanh ordaining Cheri Maples in 2008. Screenshot via
Vimeo
.
Buddhist teacher Cheri Maples has died, according to an update on caringbridge.com. Maples was injured in a bicycle accident in September of 2016. She died on the morning of July 27th from a systemic infection.
"We were with her, surrounding her with love, and she died peacefully," wrote Eileen Harrington in the update. "Yesterday morning, she said to me, 'I have lived such a good life.'"
Maples was a Buddhist teacher ordained by Thich Nhat Hanh in 2008. She was also a peace activist and a former police captain. In 2016, she wrote "A Buddhist Cop's Approach to Justice," for Lion's Roar.
"She was a pioneering and progressive spirit in championing police work toward a greater embrace in our role as guardians and protectors," Madison police chief Mike Koval told the Wisconsin State Journal.
On Facebook, Buddhist teacher Joan Halifax wrote, "Our beloved Cheri Maples has died. A great loss to the world."
Lion's Roar joins Cheri's family, friends, students in offering wishes for healing and peace.