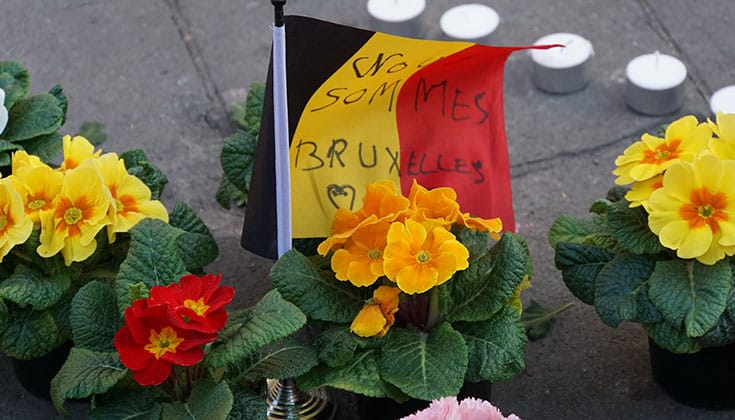 Photo by
Miguel Discart
.
Tuesday morning's terror attacks in Brussels, and those that took place in Turkey on March 13 and 19, have left more than 100 dead and hundreds injured in total. In response, Buddhist teachers and organizations have taken to the web to make related new teachings available, or seized the immediacy of social media to share condolences and prayers. A selection of these follows.
Sylvia Boorstein responded with a post titled "The World is Not less Safe Today Than It Was Yesterday." An excerpt:
For the most part, people travel all over the world every day in monumental numbers and do it safely. And people survive accidents and illnesses. Our bodies are vulnerable even without doing an activity that might be considered dangerous. The only part of us that can be invulnerable is our capacity for benevolence.
Meditation teacher Susan Piver shared "a short practice for the people of Brussels and Istanbul. It is a small offering to help work with the torment, sorrow, and rage in our minds. I hope you will find it useful now or later." See it here.
Come sit… https://t.co/wyJigESxIz

— against the stream (@againststream) March 22, 2016
To our Sangha friends who live in Belgium, we hope you're safe pic.twitter.com/vLjVJiAOFR

— Wake Up (@wkup) March 22, 2016
Sending these thoughts to every corner of the world. #Brussels #Bruxelles #prayforpeace pic.twitter.com/r6ZHRidX2w

— Wisdom Publications (@WisdomPubs) March 22, 2016
Today is a sad day for our global community. In addition to the recent terrorist attacks in Istanbul and… https://t.co/f6SyqWI6R8

— The Sakyong (@SakyongMipham) March 22, 2016
A sad day today with the news of the #Brussels attacks. May the victims and their families find peace. _/|_

— BuddhistGlobalRelief (@BuddhistGblRlf) March 22, 2016
Please join me in sending healing thought and prayers to our brothers and sisters in Brussels. #PrayForPeace #PrayForBrussels

— Lama Surya Das (@LamaSuryaDas) March 22, 2016
Our hearts go to #Brussels

— Parallax Press (@ParallaxPress) March 22, 2016
My heart to Brussels

— Joan Halifax (@jhalifax) March 22, 2016