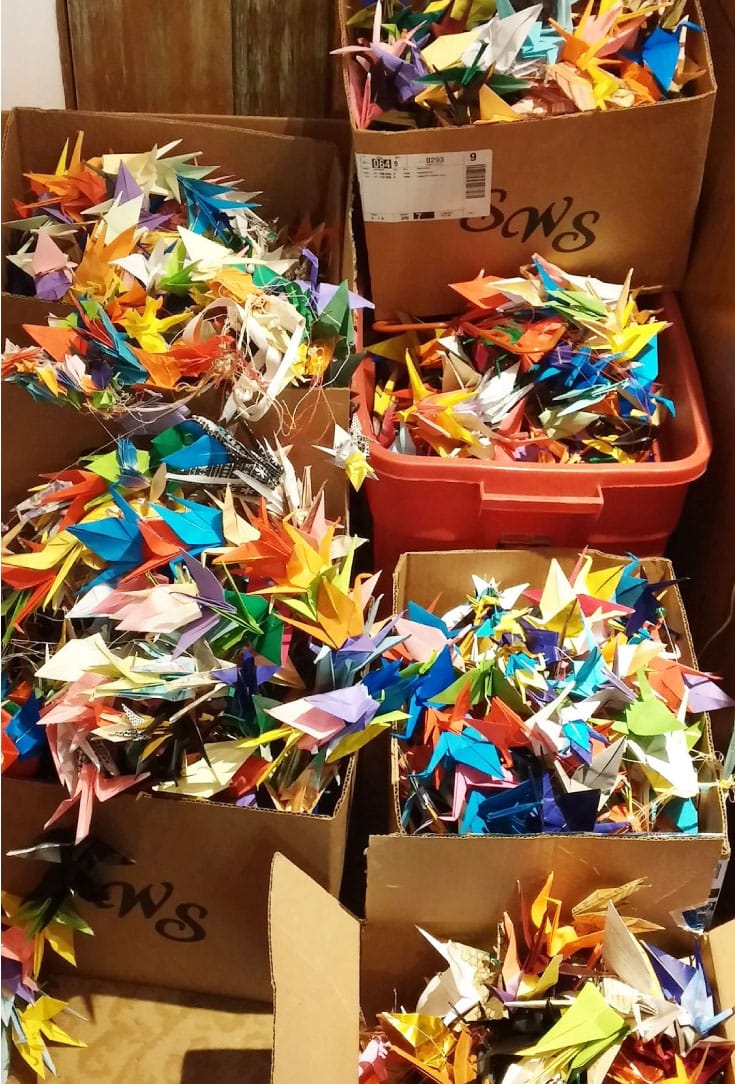 Photos via
Upaya Zen Center
on Facebook.
From August 5-9 Campaign Nonviolence and Upaya Zen Center are marking the 70th anniversary of the atomic bombings of Hiroshima and Nagasaki with programs and demonstrations in Santa Fe and Los Alamos, New Mexico. The 1945 bombings killed 130,000 people — mostly civilians.
On August 6th, 250 people gathered at Los Alamos, where the atom bomb was invented, to bear witness. 70,000 origami peace cranes sent by people around the globe and collected by the Upaya Zen Center were hung over the stage in Ashley Park and renowned peacemaker, artist, and social activist Kazuaki Tanahashi created a large painted banner which led the peace walk down to Los Alamos National Laboratory, the lab that created the first nuclear bombs. The laboratory is currently developing a nuclear weapon three times as powerful as the bombs dropped on Hiroshima and Nagasaki.
Men, women, children, lay people, monks, and nuns walked slowly to the entrance to the lab and all wore sackcloth and ashes, a Biblical gesture of mourning, repentance and prayer for deliverance. They sat in front of the laboratory in the hot sun to call for disarmament and the end to manufacturing weapons of mass destruction.
"Wake up to the real nature of your work. Wake up to the lives of humans, animals and the vast environment," said Sensei Tanahashi in a speech. "I know you have the power to change your life. Our friends at Los Alamos Lab: please, please, please wake up to your consciousness."
The five days of programs included talks by Rev. James Lawson, Erica Chenoweth, and Roshi Joan Halifax, PhD. Roshi Joan Halifax's final words to the crowd on August 6th were those of Thomas Merton, "Violence is not completely fatal until it ceases to disturb us."