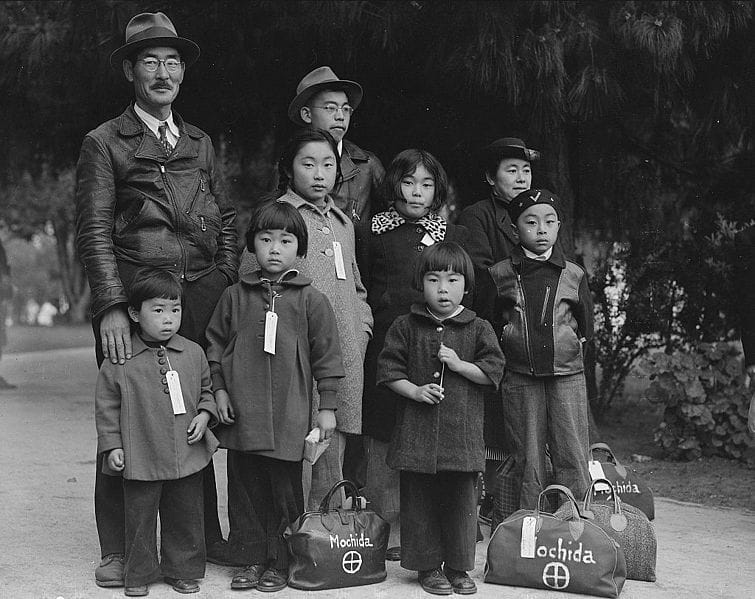 "Photograph of Members of the Mochida Family Awaiting Evacuation" by Dorothea Lange, c. 1942.
Today on CNN, columnist Peter Manseau writes about the persecution endured by Japanese Americans during the Second World War, and how, much like the Islamic faith today, "the Buddhist faith practiced by many Japanese Americans was itself regarded as a potential threat."
"Even before the war," writes Manseau, "Japanese Buddhists were thought to be less 'Americanized' than their countrymen who had converted to Christianity, and in some ways this was true." They were more likely than Japanese Christians to maintain their native language and customs, and to follow the news about Japan.
This put them under suspicion from the FBI: "In Hoover's system, Buddhist priests were designated 'A-1': 'dangerous enemy aliens' whose arrest was considered a matter of urgent concern."
As a five-year-old child, George Takei was one of those suspects, along with his brother, infant sister, and California-born Buddhist parents, when they were interned in a camp. Writing for Lion's Roar, Takei says, "I was born to a Buddhist family — my father was Zen and my mother was Shin, and both were rather casual about it. Before Internment all I remember of Buddhist temples are the funerals and the weddings. Then the Internment came. It was a very chaotic time. I don't remember much religion except that my mother had created a tiny altar in our little barrack room."
Today, February 5th, President Obama and the Dalai Lama attended the National Prayer Breakfast, their first time together in public. Manseau writes that, after decades of strife, the meeting is an "acknowledgment that Buddhism is firmly established as one strand among many in the tapestry of American spiritual diversity."
Obama addressed an audience of about 3,000 people. "I want to offer a special welcome to a good friend," he said. The president described the Dalai Lama as "a powerful example of what it means to practice compassion. [He] inspires us to speak up for the freedom and dignity of all human beings."
THANK YOU FOR READING LION'S ROAR. CAN WE ASK FOR YOUR HELP?
At Lion's Roar, our mission is to communicate Buddhist wisdom in today's world. The connections we share with you — our readers — are what drive us to fulfill this mission.

Today, we're asking you to make a further connection with Lion's Roar. Can you help us with a donation today?
As an independent nonprofit committed to sharing Buddhist wisdom in all its diversity and breadth, Lion's Roar depends on the support of readers like you. If you have felt the benefit of Buddhist practice and wisdom in your own life, please support our work so that many others can benefit, too.

Please donate today — your support makes all the difference.

Lion's Roar is a registered charity in the US and Canada. All US & Canadian donations are tax deductible to the full extent allowed by law.