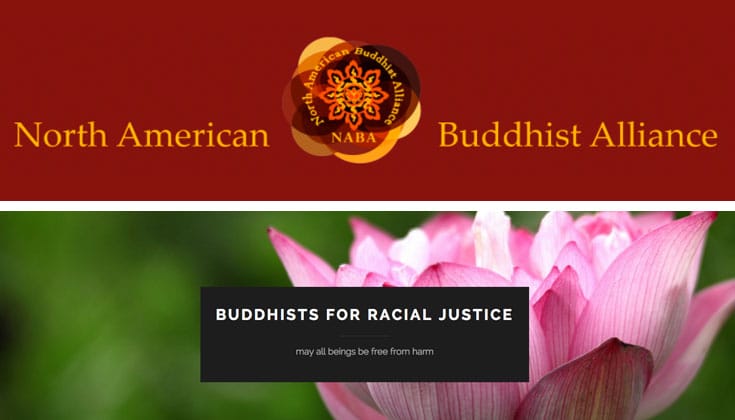 After 2015's historic gathering of Buddhists at the White House, Buddhists for Racial Justice (BRJ) was quickly launched, sharing resources and issuing both a "Call for Buddhist Practitioners of Color to Solidarity" and a "Call to White Buddhists." Described initially as "an emerging national network of Buddhist practitioners and communities from across Buddhist traditions and racial, ethnic, and cultural background," BRJ has now been folded into the work of the North American Buddhist Alliance, whose mission is to share "Dharma resources across Buddhist traditions. We aim to foster supportive networks. We encourage inclusive and equitable collaboration, communication, and interaction among Buddhists and Buddhist groups."
According to a press release, NABA and BRJ's work together is to manifest in three key ways:
 Buddhist teachings for individuals to selectively apply as each addresses that discriminating nature within and according to one's relative social position within the context of structural racism.
 A directory of Buddhist diversity trainers available and a collection of educational multimedia modules such as NABA's recent video recordings of the teachers' webinar on Gender and Race in a New Era with Venerable Pannavati and Venerable Lekshe.
A repository and sharing of collective Buddhist initiatives or actions meant to be antidotes for systemic or structural racism.
To this end, NABA is already planning to host "two separate calls about racial justice with White Buddhists and Buddhists who are Persons of Color (POC)" on May 18, and May 25. You'll find details on joining those calls here.