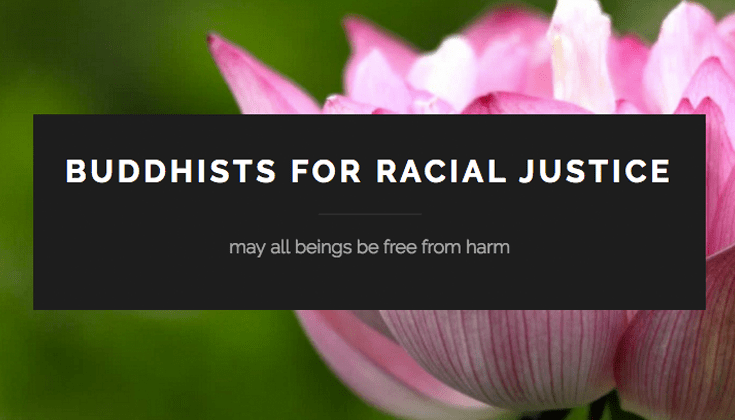 The group and website Buddhists for Racial Justice (BRJ) has released its "Call for Buddhist Practitioners of Color to Solidarity for Racial Justice."
BRJ is described as "an emerging national network of Buddhist practitioners and communities from across Buddhist traditions and racial, ethnic, and cultural background." Last year, the group created a Call to White Buddhists for Racial Justice, requesting "white Buddhist teachers, leaders and practitioners to engage in the healing of racism as an essential part of our journey of awakening."
At the beginning of June, BRJ announced their plans to release a follow-up call for practitioners of color. The new call to Buddhist Practitioners of Color requests "solidarity among Buddhist teachers, leaders, and practitioners of color across traditions to support racial justice and healing within the United States."
The outline of the call reads:
We invite practitioners of color to "re­member" ourselves as Buddhist practitioners devoted to racial justice and therefore to join together in Response to this Call:

To Heal To recognize and repair internalized oppression and its impact on our relatedness as a diverse body of practitioners of color. We need time together to apply our practice towards discovering more personally who we are as a diverse body of color.
To Discover: To know who Practitioners of Color are as a diverse body, recognize the integral roles we play in the broader spiritual community, discover how we currently enhance racial equity, leverage resources, and form natural collaborations.
To Bridge: This call invites us to explore how we align our energies in ways that bridge racial separation between historically divided communities of color. Many of us also seek to reconcile and collaborate with white practitioners, allies, and institutions without causing or experiencing harm.
To Justice: We call practitioners of color to humbly recognize our interdependence across the very systems which perpetuate the vestiges of our exploitation/enslavement, including economic, healthcare, educational, environmental, transportation and legal systems controlling housing, property and national borders. Of relevant concern to us is how racism relies on greed and class stratification, the weight of which is not only ravaging the poorest communities of color but also rapidly destroying the planet.
Huffington Post recently published a piece outlining the importance of the call, authored by Buddhist teacher Tara Brach and Anurag Gupta, the founder & CEO of Be More America. The full call can be read on the group's website.