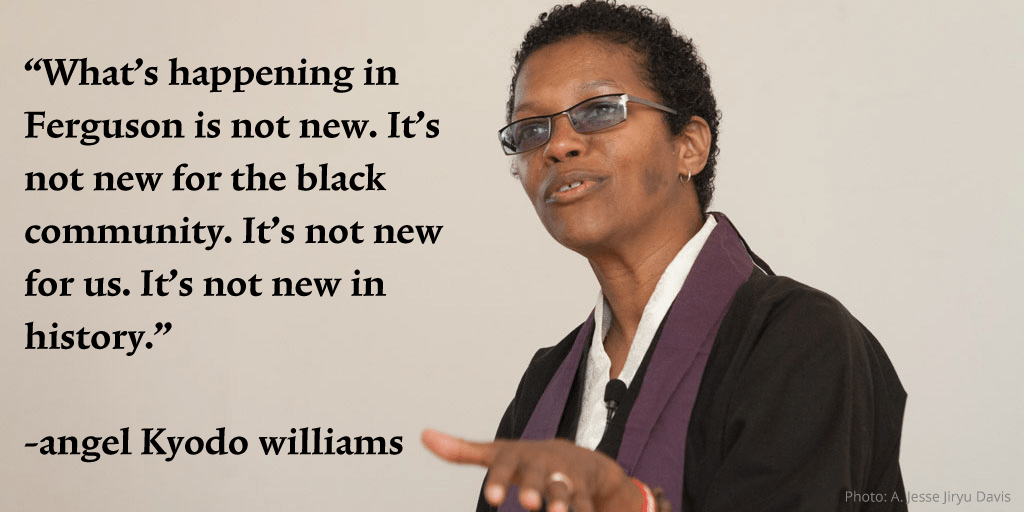 Over the last two weeks, we have watched two non-indictment verdicts appear in headlines—first in Ferguson, then in New York City. As these events have unfolded, amidst anger, confusion and sorrow, a handful of Buddhist voices have demonstrated that we can react to thoughtless violence with intelligence and compassion. Here, we've gathered a sample:
On November 24, we posted a conversation on race in Buddhist America, between Zen priest angel Kyodo williams and Lama Rod Owens, in which williams said "What's happening in Ferguson is not new. It's not new for the black community. It's not new for us. It's not new in history."
A few days later, Insight Meditation Society teacher and founder Sharon Salzberg posted an interview with radio host CJ Liu, in which she offers insight on how to cope with the anger arising from Ferguson.
#Ferguson: A Buddhist Perspective on Anger with Sharon Salzberg & CJ Liu http://t.co/OlOgiiotXA pic.twitter.com/NHEbWzfdH5 — Sharon Salzberg (@SSalzbergNews) December 6, 2014
On December 4, a grand jury opted not to indict the police officer who killed Eric Garner by chokehold. angel Kyodo williams was one of the first to speak out:

WTF people? we just want to live our lives in harmony & safety. but #ICantBreathe until #BlackLivesMatter — angel Kyodo williams (@ZenChangeAngel) December 4, 2014
Thousands more, of course, followed online and in the streets:
Amazing. RT @Lnonblonde @jeffrae Thousands Of NY Protesters Sitting In Silence For #EricGarner #ICantBreathe @jeffrae pic.twitter.com/Gv7ClLSPzO — Ethan Nichtern (@ethannichtern) December 5, 2014
Thousands of people here. Doesn't feel like enough. #ericgarner #foleysquare #alllivesmatter http://t.co/omMCzFx8B6 — Ethan Nichtern (@ethannichtern) December 4, 2014
#blacklivesmatter #ICantBreathe pic.twitter.com/ojsWDmHqbN — ambikacooper (@ambikacooper) December 4, 2014
MT @ozchrisrock Garner unarmed. Chokehold banned. Coroner ruled homicide. It's on video. None of this matters #EricGarner #BlackLivesMatter — Brenda Salgado (@BrendaSalgado33) December 4, 2014
How can someone be resisting arrest when they are gasping, "I can't breathe?" #EricGarner #ICantBreathe — The Buddhist Blog (@TheBuddhistBlog) December 4, 2014
Powerful: Bearing witness that #blacklivesmatter outside Lorraine Hotel, where MLK was killed. [via @louisianabrown] pic.twitter.com/ceKGUb0eSh — Steve Silberman (@stevesilberman) December 6, 2014
we have a moral imperative to speak up and not stop until deep change comes. #ThisStopsToday because #iamhuman AND #BlackLivesMatter — angel Kyodo williams (@ZenChangeAngel) December 7, 2014
#BlackLove is radical aspirational healing commitment. remembering who you, and we, are..#BlackLivesMatter #wagelove http://t.co/9hUXD7ETy4 — Brenda Salgado (@BrendaSalgado33) December 7, 2014
And still more took to the media. Shambhala Buddhist teacher and author Lodro Rinzler wrote a piece for the Huffington Post on the need for compassion training in the NYPD: "There are ways for our officers (and leaders in general) to learn to connect to others from a place of empathy and compassion, rather than letting their fixed ideas of a situation run the show."
I wrote something for @HuffingtonPost imploring the #NYPD to consider empathy training: http://t.co/0JvTkjE5E2 #AllLivesMatter — Lodro Rinzler (@lodrorinzler) December 4, 2014
In an article on ElephantJournal.com, Buddhist Reverend M. Jamil Scott contemplated the Dalai Lama's words, "anger toward social injustice will remain until the goal is achieved. It has to remain," concluding:
"I would like to invite my brothers and sisters, black and brown, to not just sit with this anger but to really feel every aspect of it. Do not let it slip into dullness, marigpa. I suggest that there is a brilliance in it that can be revolutionary for our own spirits and for the world. I'm not asking that you sit on a cushion and meditate with it, do what you have to do to satisfy your spiritual calling to action; go and protest, confront racist internet trolls, write articles, make speeches, but please don't let go of this anger."
Do Bodhisattva's get Angry? A Response to the Killing of Eric Garner. http://t.co/AWIsECCCCZ #EricGarner #WeCantBreathe — Waylon Lewis (@elephantjournal) December 6, 2014
Author Susan Piver also wrote that we should deeply feel our emotions, though her response wasn't anger: "When you look out at this world, what you see will make you very, very sad. This is good. You are seeing clearly."
My effort to offer something useful to counter the great wave of grief we all feel over #EricGarner. #Dharma http://t.co/OpQw1VwgaF — Susan Piver (@spiver) December 4, 2014
And Dawn Haney, co-director of the Buddhist Peace Fellowship, responded with gratitude in the face of despair: "remember what gives you hope and strength amidst challenging times."
We have utterly failed. To the families who lost these dear children, who are preparing for a Thanksgiving… http://t.co/d5eO7dgKgf — BPF (@BuddhistPeace) December 1, 2014
In response to the second grand jury's non-indictment, we posted our full interview with angel Kyodo williams from the current issue of the Shambhala Sun, in which williams offers powerful, heartfelt advice on changing the structures of oppression in society:
"We are bred to consume. And, so, for us to break our own chains is just as difficult as it was for blacks to resist the slavery that they'd been born into for generations and was all they'd ever known.

"There's no such thing as being neutral. You're either playing along with how things are or you are disrupting them and turning them on their head. Those are the only options."
Buddhists are you listening? "There's no such thing as being neutral." @LionsRoarOnline http://t.co/FDsbMPXRzG #iamhuman #ThisStopsToday

— angel Kyodo williams (@ZenChangeAngel) December 7, 2014
All of this has put any "conversation about race" into perspective.
SEE: 10 of the Most Striking #EricGarner Cartoons (so far)… http://t.co/4hKv1KbBn4 — Brenda Salgado (@BrendaSalgado33) December 7, 2014
Over the weekend, Tibetan Buddhist scholar Jan Willis wrote to us, to explain, in beautiful, concise eloquence, "Why We Can't Breathe": "Without the exchange of air —inner and outer–we would die. We are not independent. We are dependent."
As events continue to unfold, let us know what you want to see happen on Twitter and Facebook, and see more of our coverage on race and diversity in the Buddhist world: