On Saturday, hundreds of thousands of people gathered at the March for Our Lives in Washington, a student-led rally calling for tighter gun control laws in the US following a massacre at a high school in Parkland, Florida that left 17 people dead last month. Demonstrations were held in more than 800 cities in the United States, Canada, and around the world. Many Buddhist teachers, practitioners, and communities took part in the marches or expressed their solidarity with the cause. Here's some of how they participated.
From Zen Center of New York City (ZCNYC):
Marchers from Fire Lotus Temple, Zen Mountain Monastery, and various other sangha marched as part of the Buddhist Moral Action coalition in New York City. Photos courtesy of Steven Miron.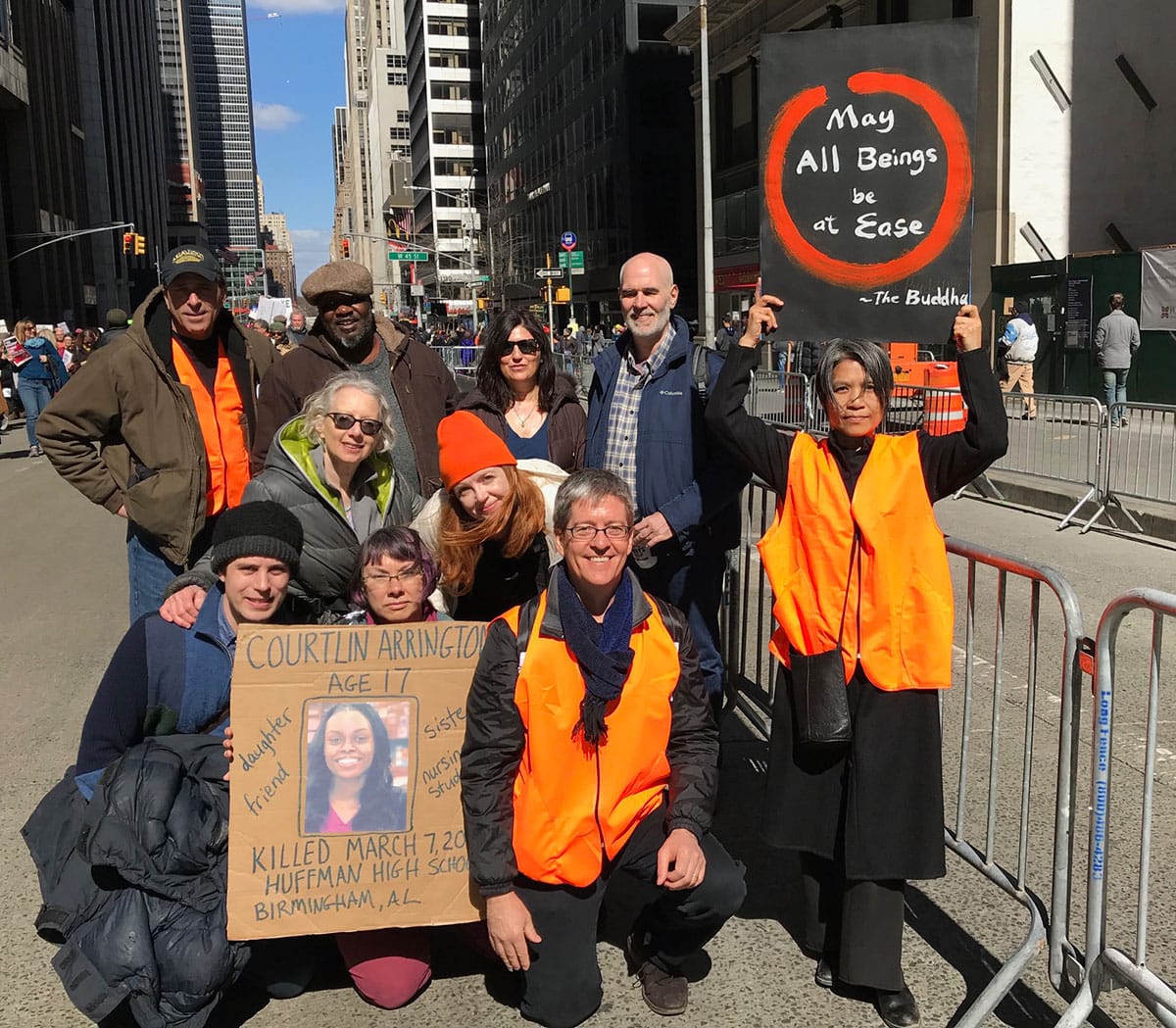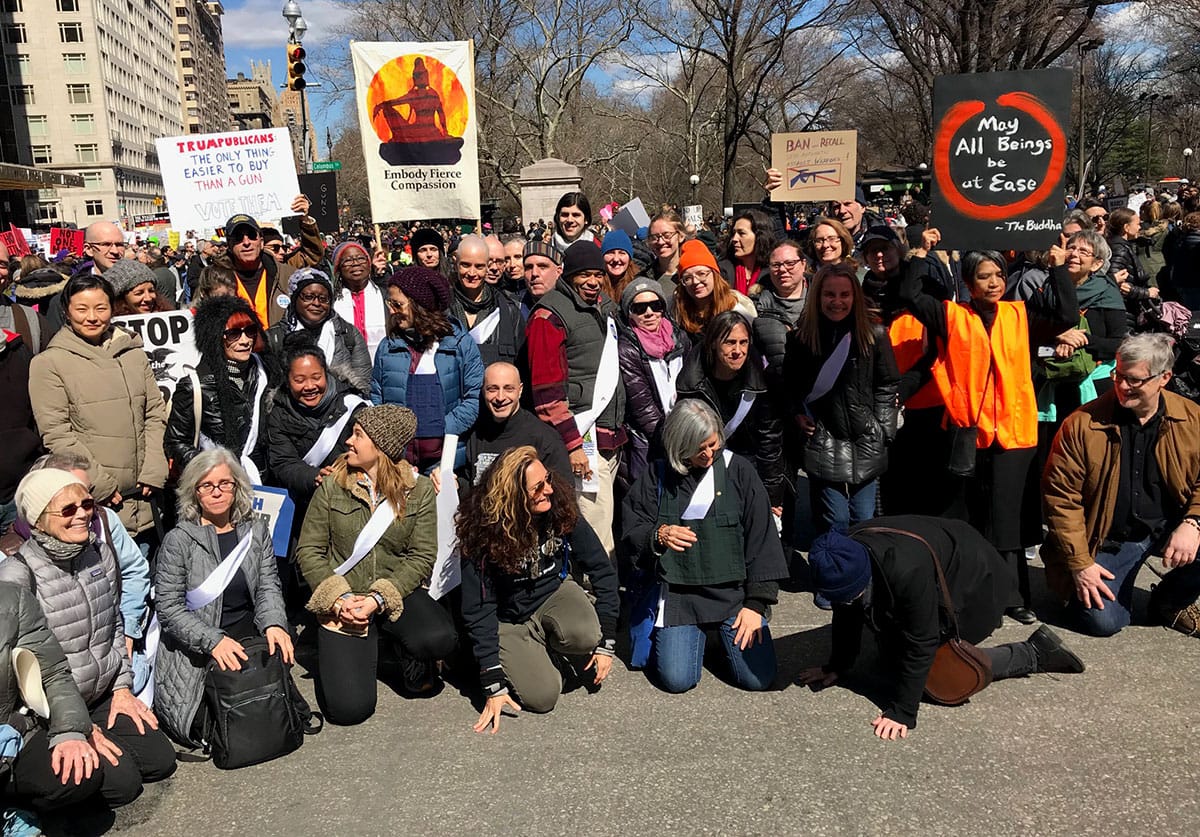 Donna Nicolino of ZCNYC writes:
"Our sangha has been engaging in increased conversation about how we can put our vows and the precepts into action in our divided and hurting country, and how we as Buddhists can bring our practice actively into the world to help relieve some of this suffering. Participating in this march seemed like a natural step in that direction.
It was heartening and inspiring to see such a strong turnout, and I'm sure I'm not alone in my feelings of admiration and hope at seeing young people at the forefront of this movement. But they should never have had to be put in this position in the first place.
Sensible gun legislation is essential, and this is where we need to start: really holding our elected officials accountable and pushing for reform. However, there is so much more under the surface of this problem of gun violence and how we address it: issues of how we conceive of masculinity, the glorification of force, white privilege and violence against people of color; a dualistic and overly-simplistic way of approaching problem-solving, etc. I think this is where we as Buddhists can really help. Our practice is all about dealing with complexity, sitting with discomfort and developing compassion. They are qualities that are much needed, and will continue to be in the days ahead."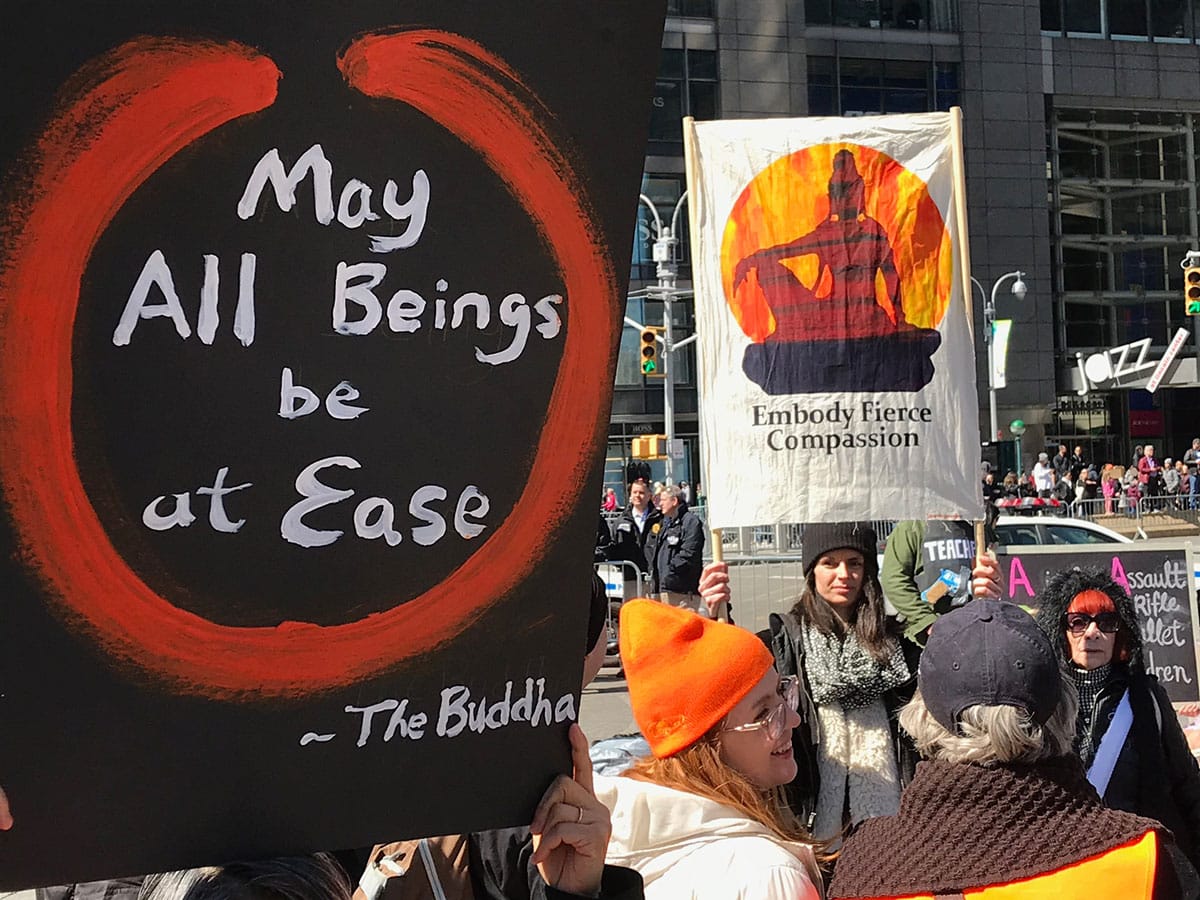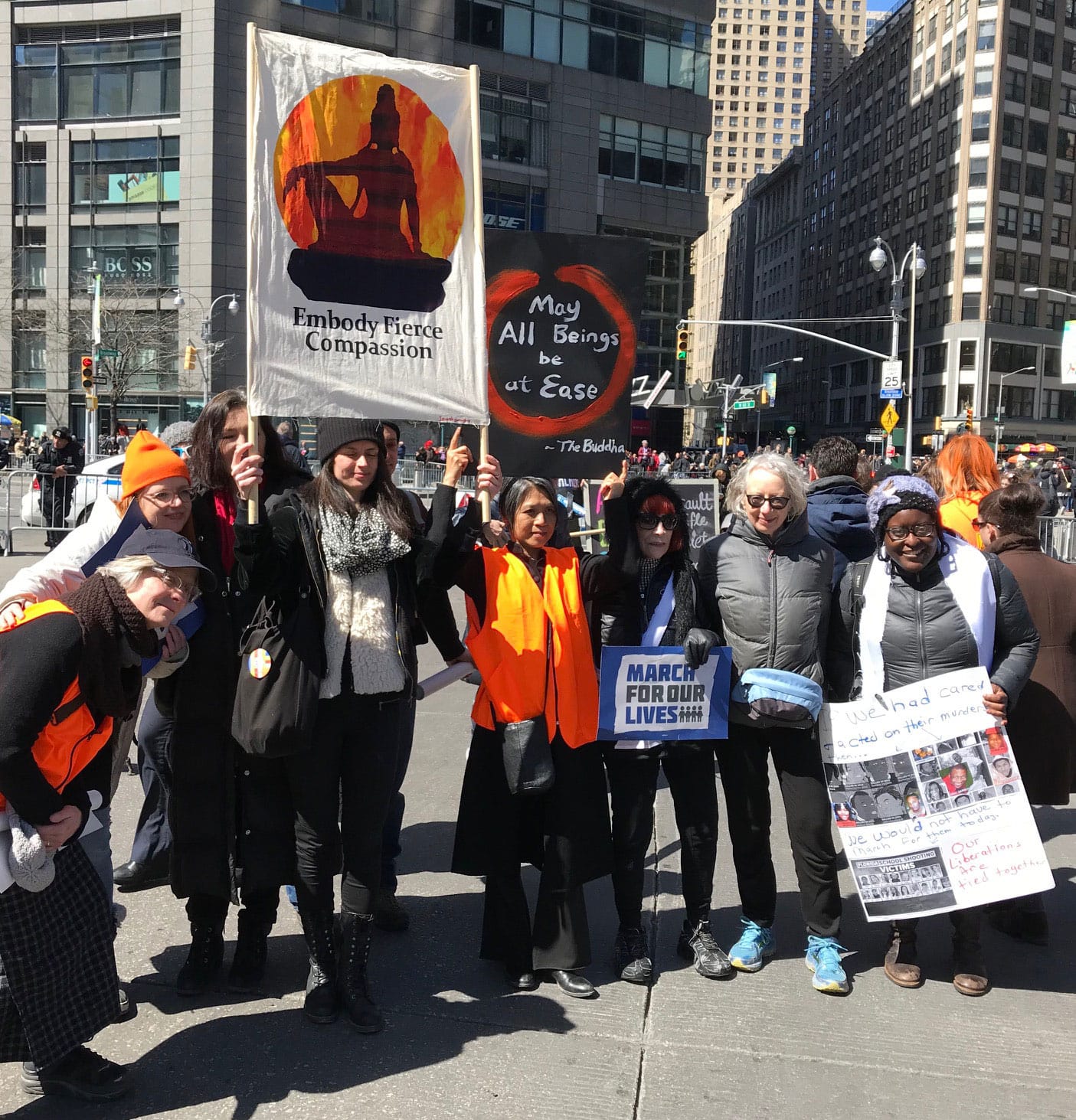 From Grace Schireson, Zen teacher
Zen teacher Grace Schireson shared these photos of herself with Lion's Roar just before she made her way to the New York City March for Our Lives: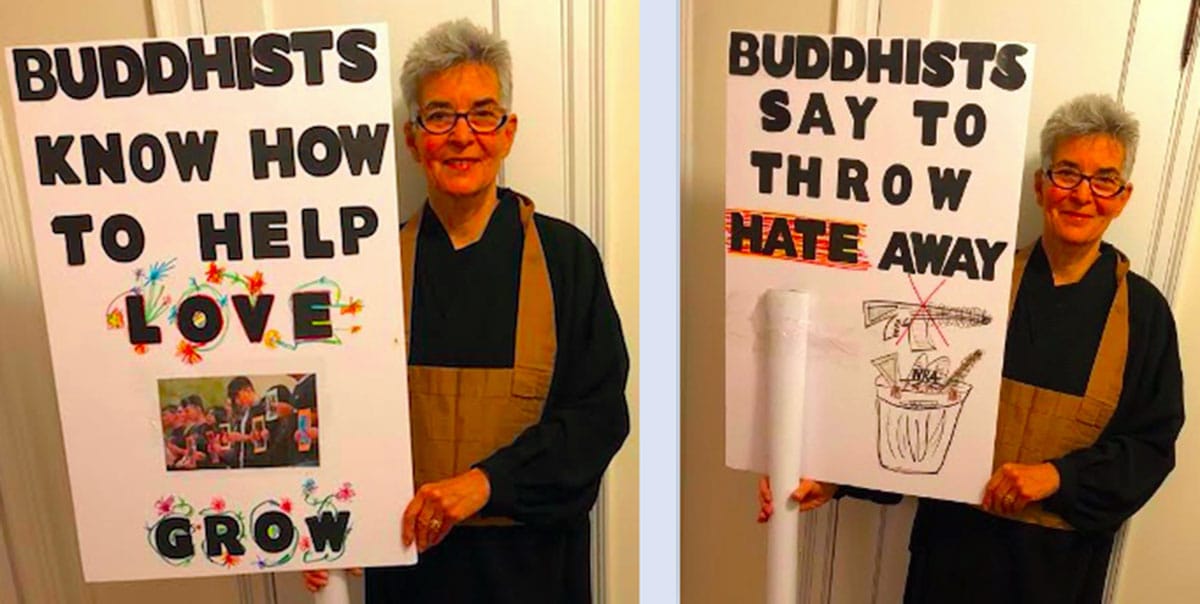 From Rebecca Li of Chan Dharma Community:
Chan Buddhist teacher Rebecca Li attended the March for Our Lives in New York City. "On the train to join the march in NYC," she wrote on her Facebook page. "Surrounded by high school students from New Jersey holding signs to join the march. I am already on the verge of tears being so moved by their enthusiasm."
Li writes:
"What a moving experience watching children and young adults marching with the older adults! The most harrowing signs are: 'am I next?' held by a young child around 6, and 'my mother killed herself with a gun that she should never have been allowed to obtain' held by someone my age. Allowing the sorrow and distress of all to touch my heart so that I won't turn away."
Li also shared these photos from the march with Lion's Roar: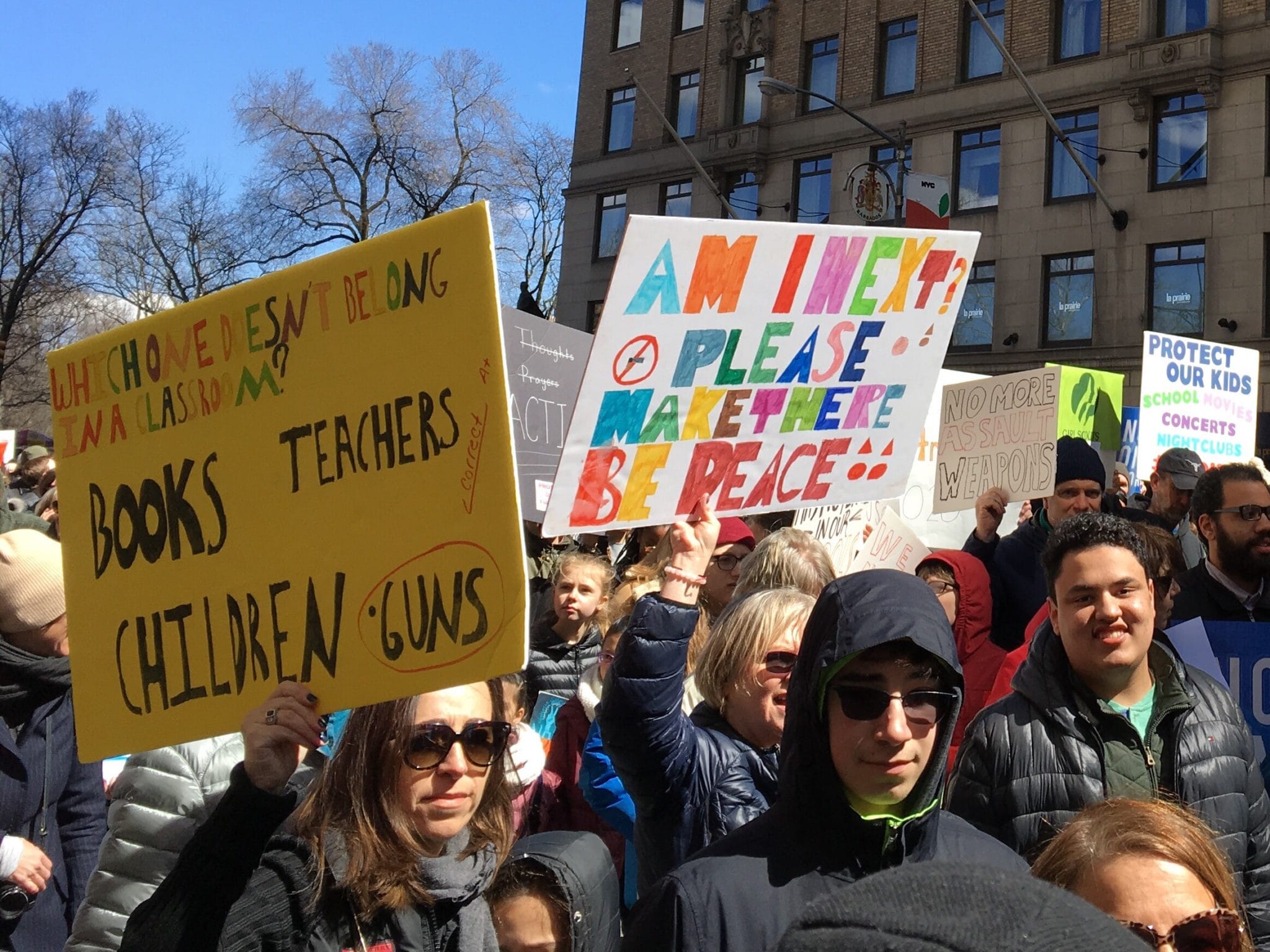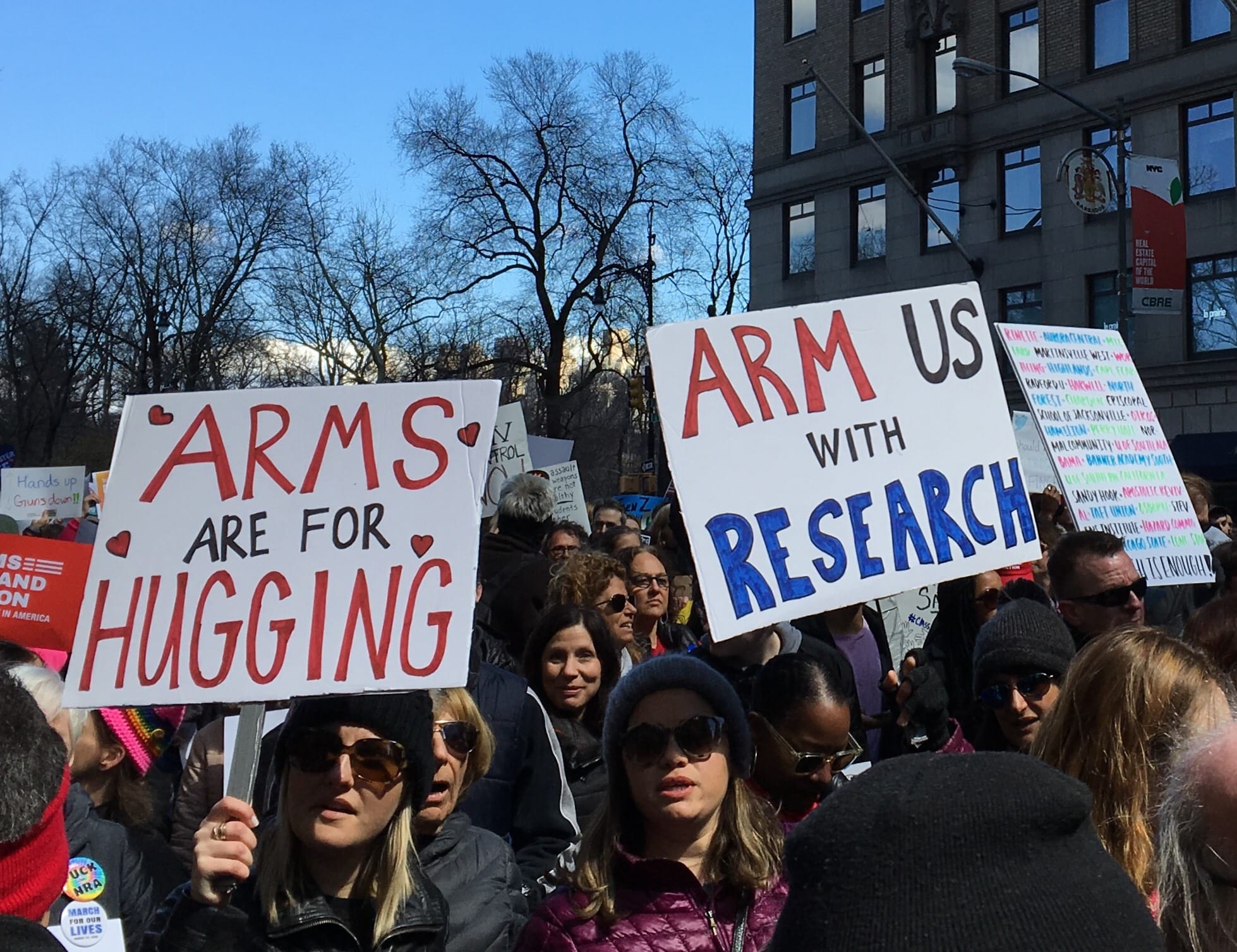 From Brooklyn Zen Center:
The Brooklyn Zen Center sangha joined other Buddhist sanghas and the huge crowds at the New York City March For Our Lives. Photos courtesy Dulce Fernandes, Communications Coordinator, Brooklyn Zen Center.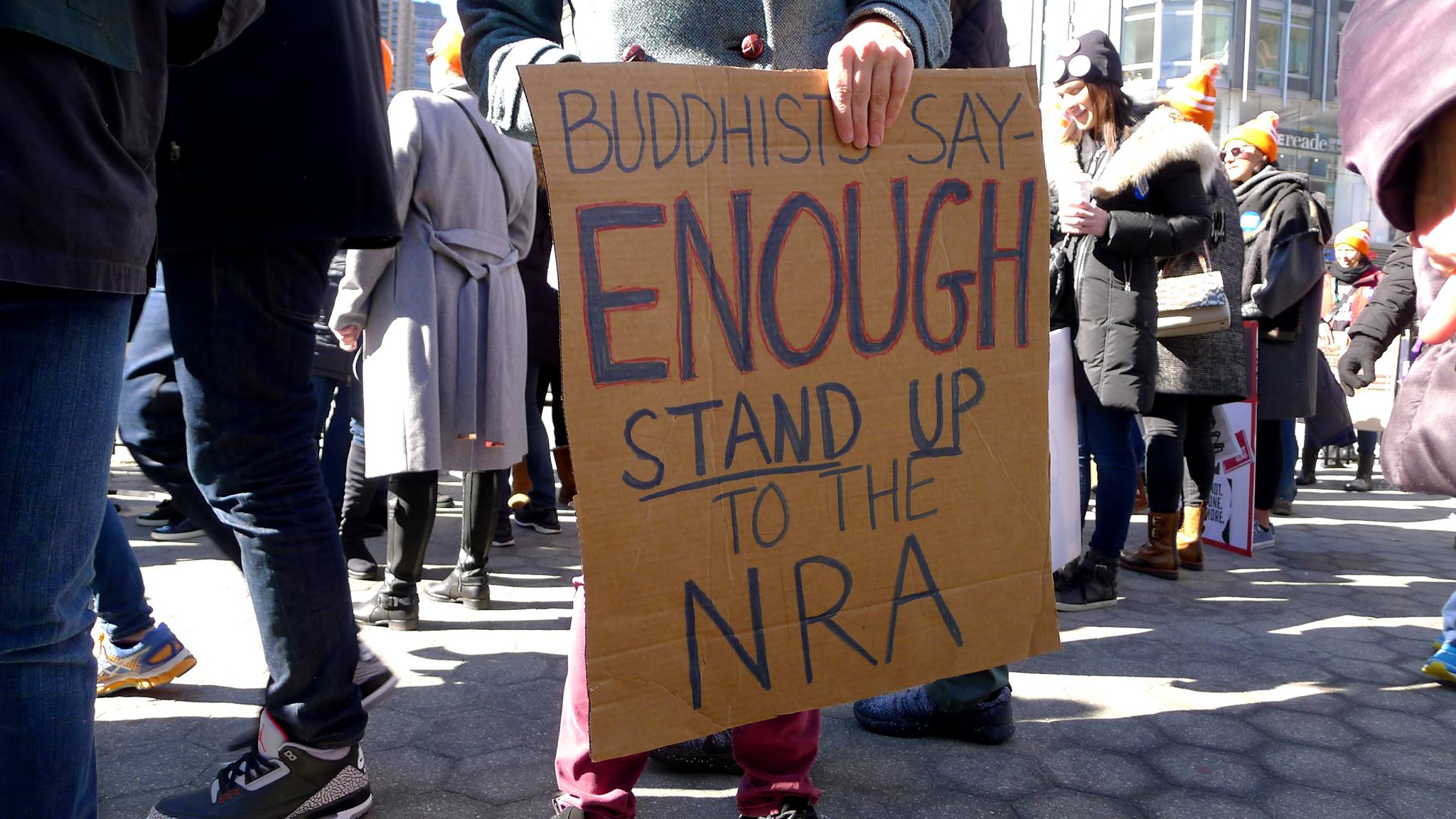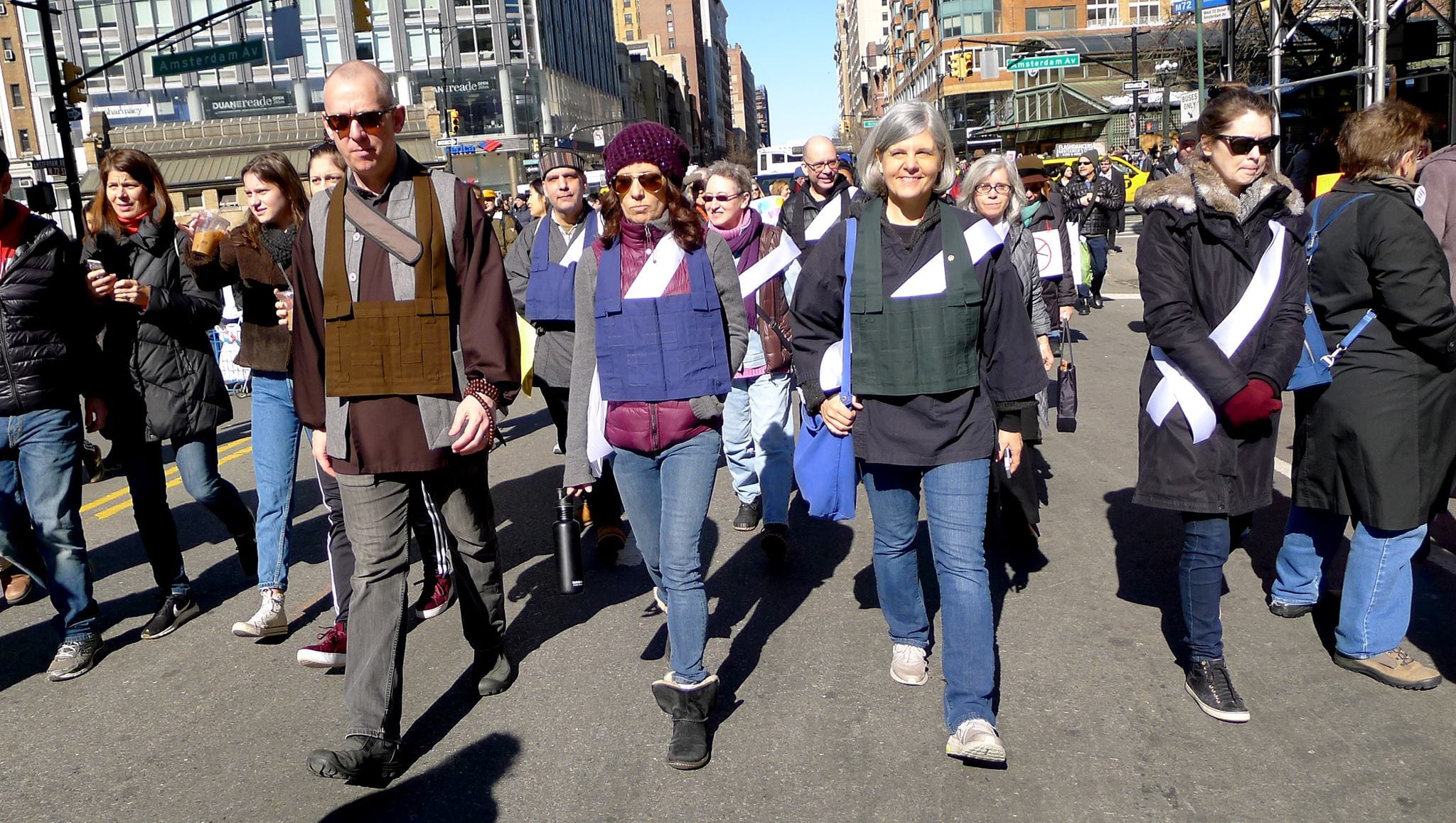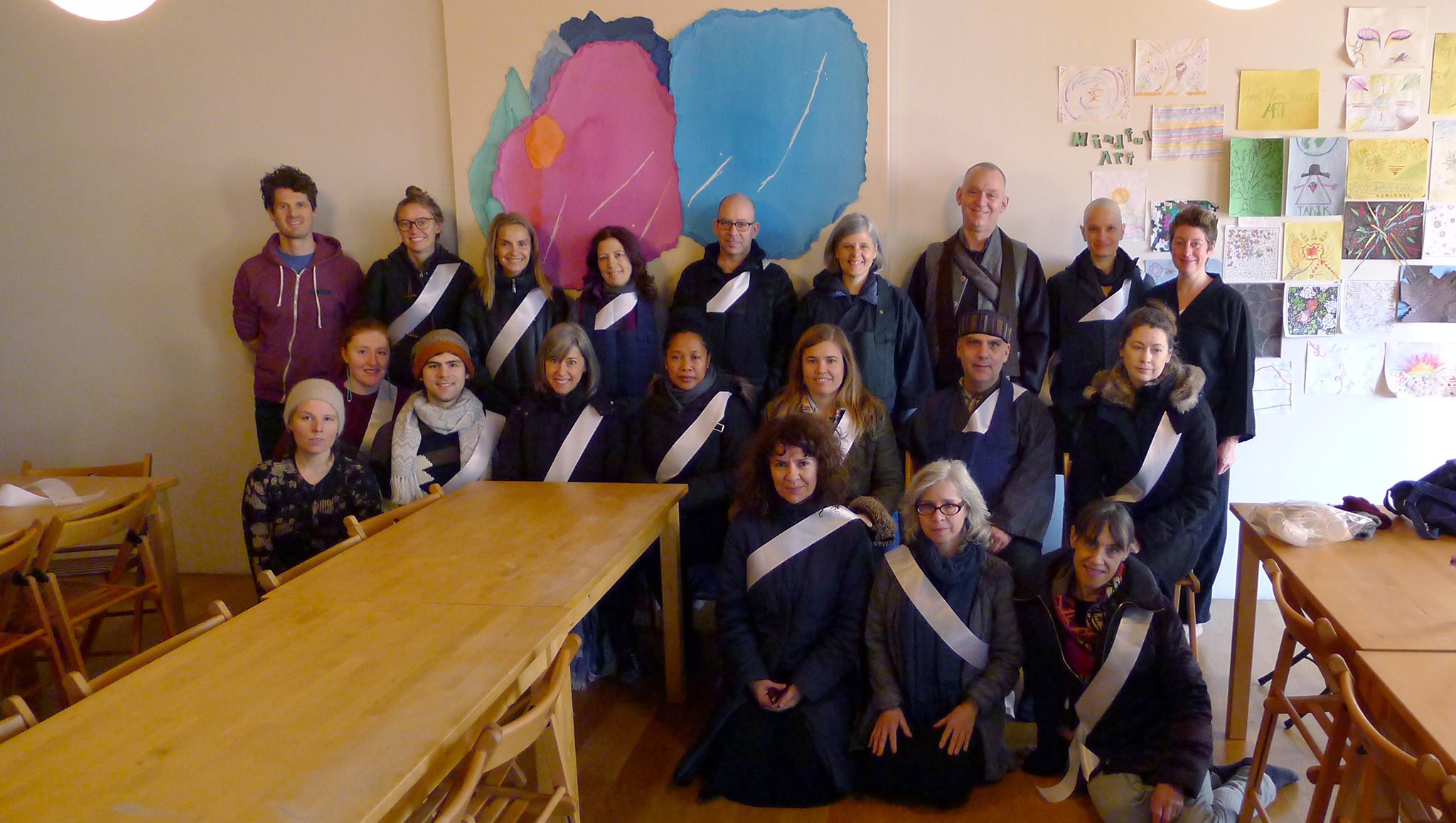 From Roshi Joan Halifax of Upaya Zen Center:
From David Rynick of Boundless Way Zen Temple:
From Regina Valdez, coordinator for Buddhist Global Relief and Compassion NYC:
From Faith Stone, Buddhist artist:
From Omega Institute:
From Setsuan Gaelyn Godwin of Houston Zen Center:
From Buddhist Peace Fellowship, Portland:
From Sravasti Abbey:
From Ram Dass:
THANK YOU FOR READING LION'S ROAR. CAN WE ASK FOR YOUR HELP?
At Lion's Roar, our mission is to communicate Buddhist wisdom in today's world. The connections we share with you — our readers — are what drive us to fulfill this mission.

Today, we're asking you to make a further connection with Lion's Roar. Can you help us with a donation today?
As an independent nonprofit committed to sharing Buddhist wisdom in all its diversity and breadth, Lion's Roar depends on the support of readers like you. If you have felt the benefit of Buddhist practice and wisdom in your own life, please support our work so that many others can benefit, too.

Please donate today — your support makes all the difference.

Lion's Roar is a registered charity in the US and Canada. All US & Canadian donations are tax deductible to the full extent allowed by law.