As Lion's Roar's directory of Buddhist actions related to the Inauguration and Women's Marches showed, there was no small number of such events. Many Buddhist communities were keen to be part of Saturday's massive (and arguably unprecedented) marches, or to otherwise express solidarity. Here's just some of how they participated.
Zen Women for Democracy Gathering in DC:
In the run-up to the Women's March in DC, Zen teacher Grace Schireson told Lion's Roar, "We will be marching as Zen Women with a banner, 'Zen Women for Democracy' and a sign that says 'Zen Women Making Compassion Great Again.' Any and all Buddhists can join our group." The group of course made it, and Schireson sent us proof: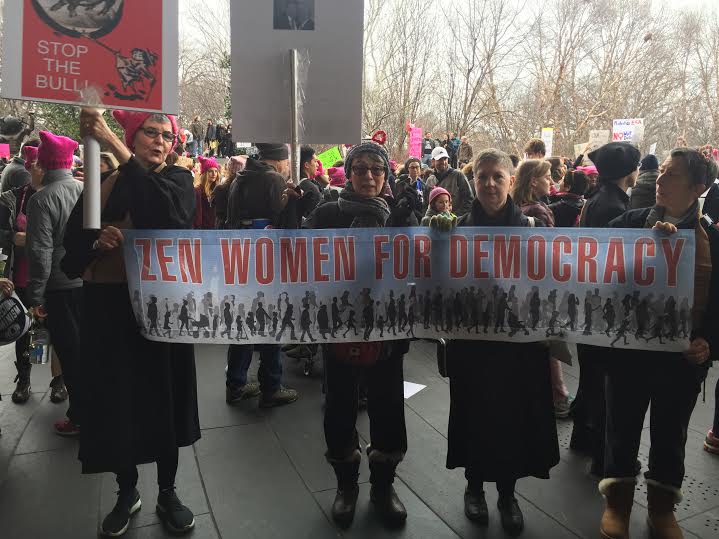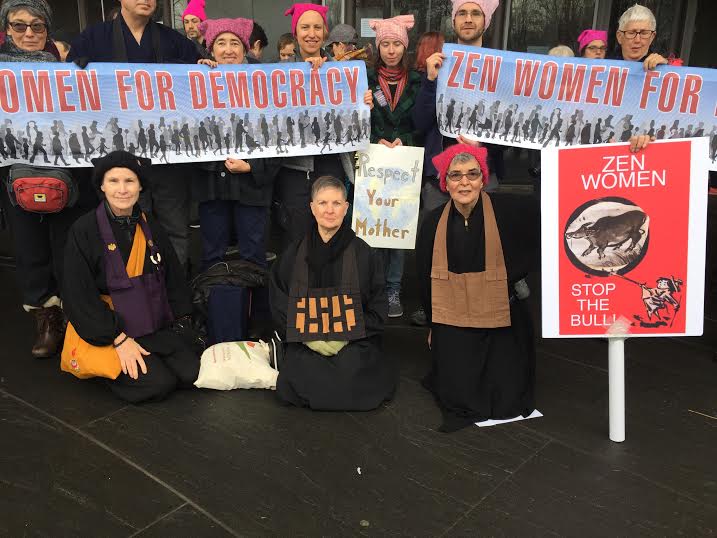 Before departing, the group performed a Zen ceremony "calling forth female ancestors as protectors to bless the March."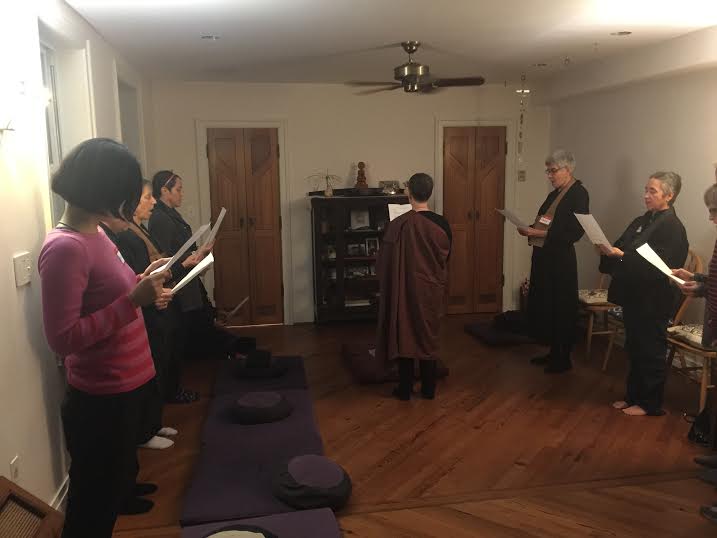 From Teva Dawson of the Des Moines Zen Center:
"Between 10-8 we had over 60 people drop in for meditation on Inauguration Day. Most of them had never been before. In fact, one heard about our event because of your website. She lives in a small town and was shocked to see on your site that Des Moines has a Zen center.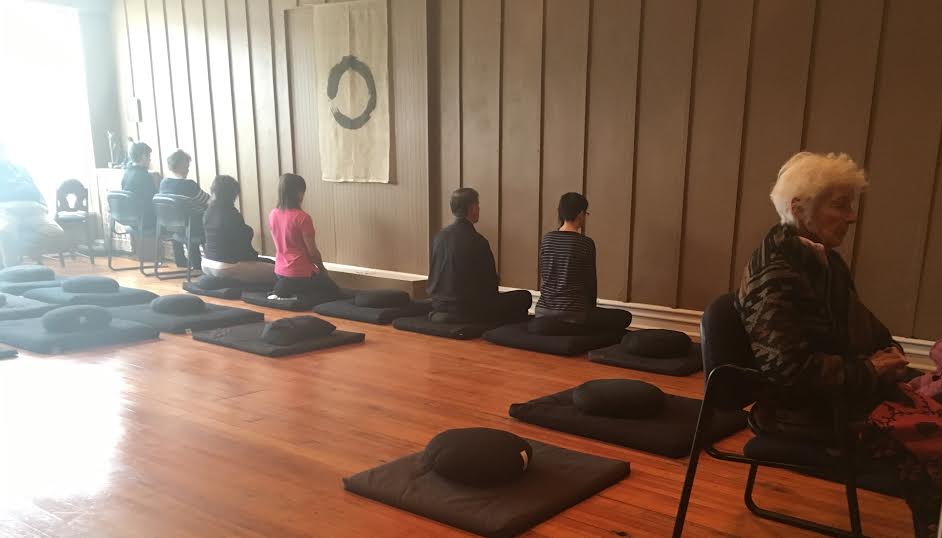 "And here are some shots of members at the Women's March in Iowa."

Upaya Zen Center:
Roshi Joan Halifax posted this photo to Facebook on Saturday, captioned, "Upaya Sangha on our way to the Santa Fe Women's March."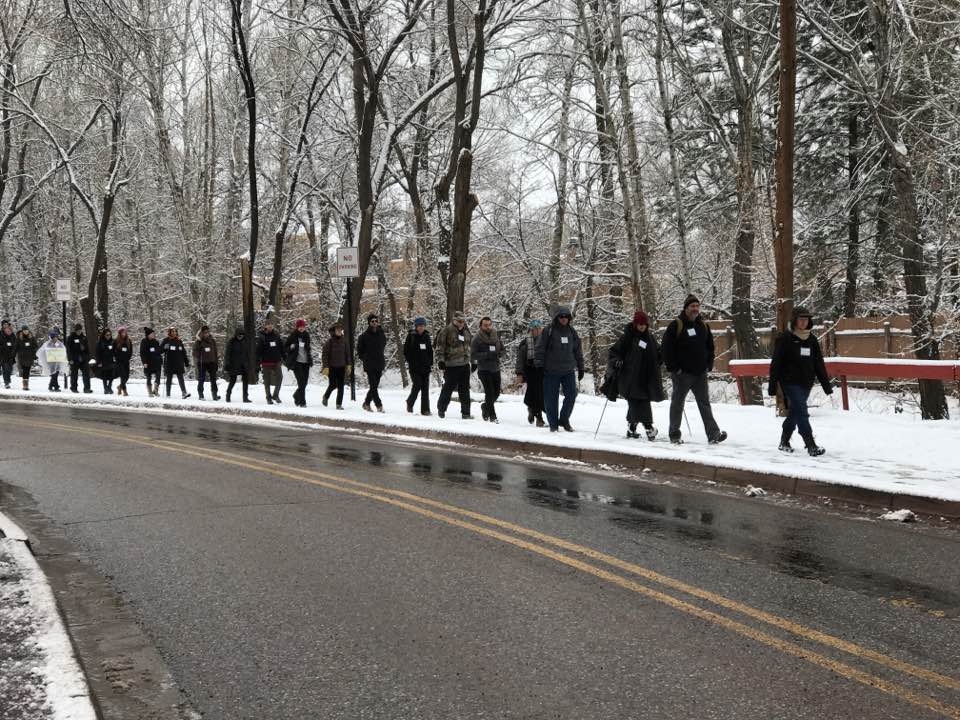 From Roshi Pat Enkyo O'Hara of The Village Zendo:
The Village Zendo joined the Women's March in New York City.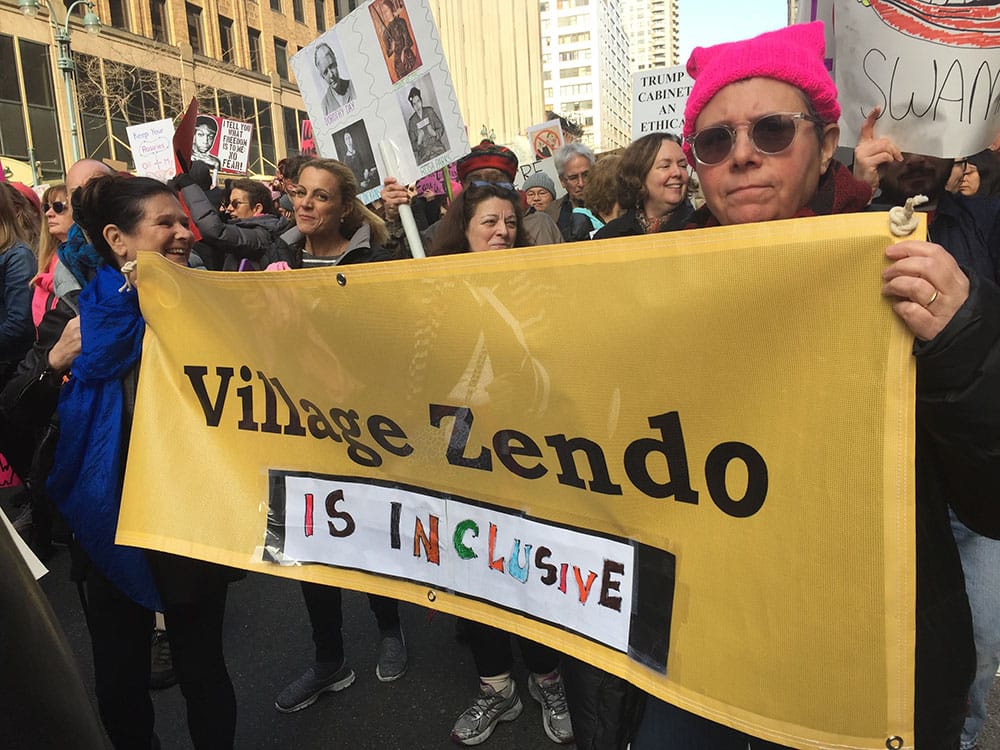 The Interdependence project (IDP) held a pre-march meditation before heading to New York City's Women's March. IDP's Executive Director and meditation teacher Kimberly Brown writes:
"60+ attended our pre-march meditation, which is a very full house for us and the first time we'd had a big crowd in our new space so it felt very auspicious. Teacher Caitlin Bailey and Board Director Allison Canton led the pre-march meditation, a contemplation on Thich Nhat Hanh's Five Mindfulness Trainings":
"Then we met about 50 more people at the march assembly site uptown":
On Facebook, IDP Teacher Emily Herzlin wrote about the sign she carried throughout the march:
"The sign I brought to the march just said "you are loved." The sign was almost an afterthought. I made it right as I was heading out the door. At first I felt self-conscious carrying it around, but that little sign was responsible for some heartwarming moments. A woman on the train from Astoria saw it and smiled this huge smile. A police officer on 5th Avenue near Trump Tower saw it and said "I needed that today." An overwhelmed-looking marcher herding his kids said thank you. A woman came up to me at the end of the march and showed me her new tattoo on her arm that said "compassion" and told me that she recently started studying dharma and we had a sweet conversation…
I think I am keeping this sign around for the next march or protest."
From Bright Way Zendo:
Domyo Burk, Sensei, founder of Bright Way Zendo and the founder of "Buddhists for Change," attended the Women's March in Portland, OR, as seen below:
From Rene Ramirez, Soka Gakkai International-USA member:
Ramirez attended the Los Angeles Women's March. "Was proud to wear my Nam Myoho Renge Kyo sweatshirt!!! There were several members that marched that day as well!"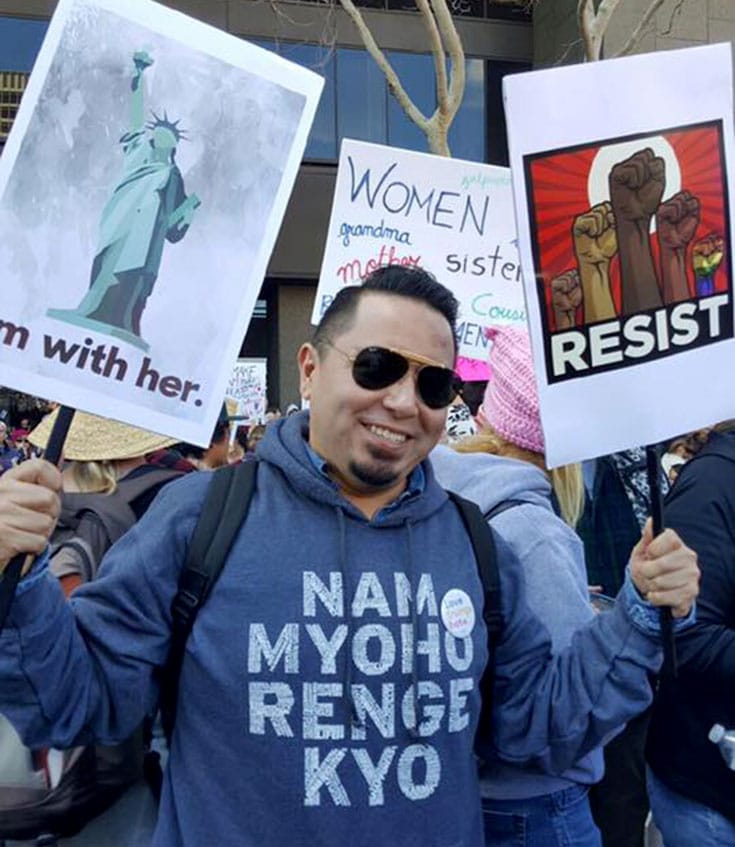 From Glenna Olmsted, Executive Assistant to Pema Chödrön:
"Even in Steamboat Springs we had over 1000 people marching in this small little ski town," writes Olmsted.

From the Women's March in Denver, CO:
From the Philadelphia Shambhala Center:
"Approximately 30 members of our sangha proudly participated in this powerful day of practice and action!"
Minister Ian McIlraith of Soka Gakkai International—USA:
McIlraith wasn't part of the Marches; rather, he represented Buddhists at the National Prayer Service. His prayer:
"We remember before you the poor and neglected. The unemployed and underemployed. The homeless and the destitute, the sick and the suffering, the rejected and disempowered. Give them the blessing of your presence, that all in need may be relieved and protected. Bless all whose lives are closely linked with ours."
Greg Snyder of Brooklyn Zen Center:
Snyder shared the following message on his Facebook Page:
Moved by yesterday's efforts, both in the zendo and in the streets. Moved by the powerful leadership of women in our nation. Moved by the inter-religious work that is happening all over the country. Moved by the strength of the organizing happening in my community. Because this is unfolding in the spirit of crossing lines and fiercely unifying around love, I am moved to the point of shaking with gratitude and awe. What is to come will certainly be a daunting struggle, but I could not be more encouraged. I am reminded of Steve Bannon's comment after the election regarding his assessment of a strategy of love and hope, "Darkness is good… Dick Cheney, Darth Vader, Satan. That's power. It only helps us when they get it wrong. When they're blind to who we are and what we're doing." Love and hope did not lose. We simply must work to deepen and widen our love to include all beings. Those who believe in love and hope are not getting it wrong. We are not blind and clearly we are no discouraged. Love, kindness, wholeness and justice will win. It is not that those who root their efforts in love are naively blind to the power of evil, it is that the desperate power of evil, rooted in deluded separation, will never fully comprehend the totality of love's force in the universe.
On social media, Buddhists teachers and communities expressed their solidarity:
Rev. angel Kyodo williams posted a link on Facebook to inspiring quotes, writing:
Whether you're marching on Washington or anywhere today or maintaining a fierce protest of the heart, may these inspire your spiritual warrior and your love. Both are needed. […] I hope you find the inspiration in them that I found by leaning into radical warrioriship AND love. #staywoke
Roshi Joan heading out to the Women's March in Santa Fe. Thousands were there, and so many Upayans. The Beginning… pic.twitter.com/E5ZgNlU9tk

— Joan Halifax (@jhalifax) January 21, 2017
Women's March Oakland, now! #EBMC contingent gathers. pic.twitter.com/DXfyIdabBo

— EBMC (@ebmc_oakland) January 21, 2017
Marching together, across the country and around the world! https://t.co/HR2lv3bm6u

— Sylvia Boorstein (@SylviaBoorstein) January 22, 2017
There are literally millions of people peacefully walking toward Trump Tower right now. I'm so hopeful. #womensmarchnyc

— Ethan Nichtern (@ethannichtern) January 21, 2017
At the @womensmarchla pic.twitter.com/eA2ZW6XNbQ

— Jack Kornfield (@JackKornfield) January 22, 2017