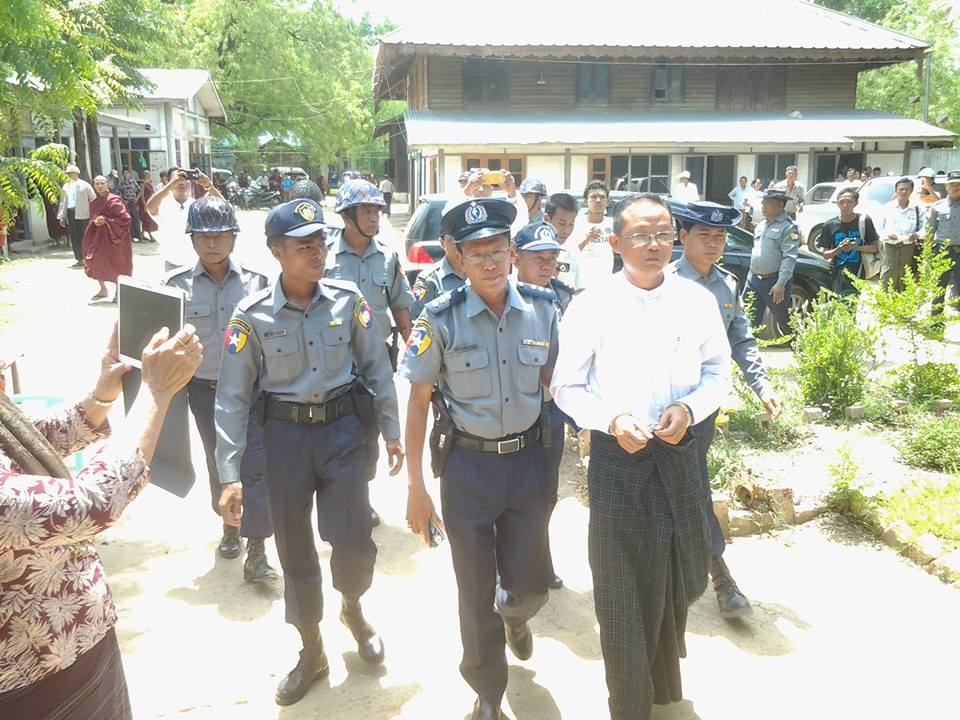 Htin Lin Oo being escorted by police. Photo via
Htin Lin Oo on Facebook
.
A Burma court has sentenced Htin Lin Oo — a former official of Aung San Suu Kyi's political party — to two years in jail with hard labour for "insulting Buddhism." Htin Lin Oo was charged on Tuesday for a speech he made last October, in which he promoted religious tolerance and decried Buddhist extremism.
Irrawaddy.com offered a translation from one line of the speech: "Buddha is not Burmese, not Shan and not Karen—so if you want to be an extreme nationalist and if you love to maintain your race that much, don't believe in Buddhism."
A 10-minute clip from the two-hour speech was circulated widely online, drawing fierce criticism. Shortly thereafter, Htin Lin Oo was relieved of his position with Suu Kyi's party.
Htin Lin Oo's lawyer maintains that his client was only criticizing monks who use Buddhism to incite hatred. That issue is making global headlines as thousands of Burmese Muslims remain stranded in wooden boats off of the coast of Malaysia, having fled anti-Muslim violence in their homeland.
This is the second high-profile charge of "insulting Buddhism" in Burma this year. In March, New Zealander Philip Blackwood and his colleagues, Tun Thurein and Htut Ko Ko Lwin, received the same sentence for creating a poster of the Buddha wearing headphones to promote an event at their bar.